Why is Khaite so expensive? (6 Reasons to own Khaite + Cool Pictures)
So many have been wondering why is Khaite so expensive. Khaite has become one of the most talked-about brands in fashion, both among editors and buyers. The brand's founder, Catherine Holstein, submitted that they dress a lot of celebrities.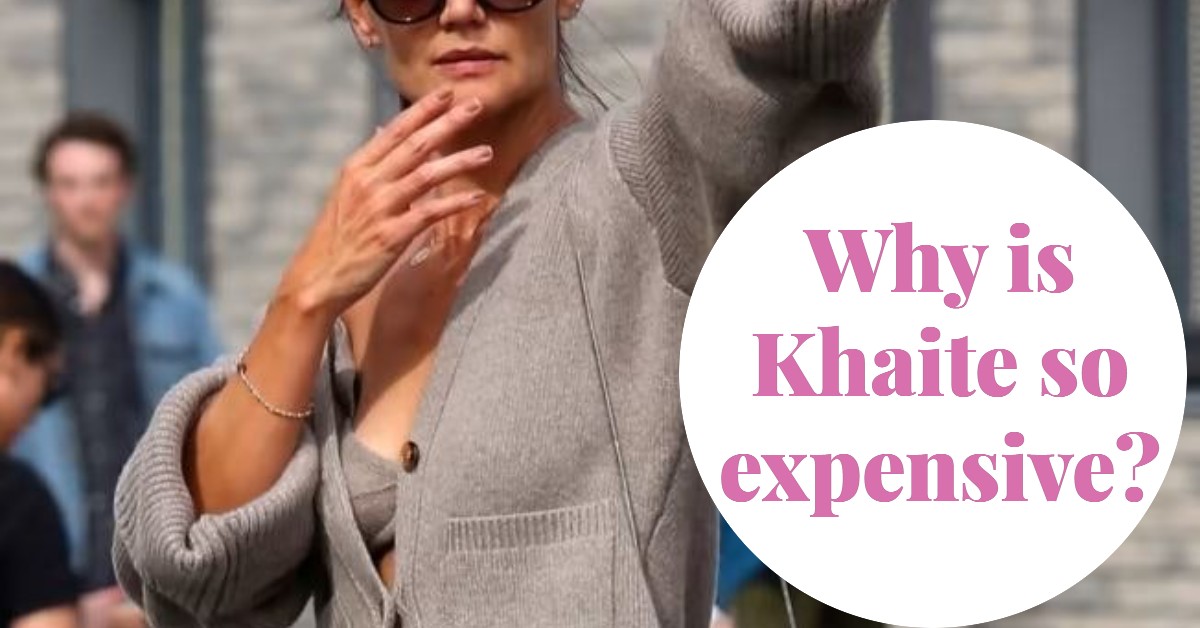 One of the fashion moments of 2019 was the unusual pairing of the girl-next-door actress (Katie Holmes) and sexy "bra-digan," as it was dubbed. The £1,154 cardigan has previously sold out and is still in high demand.
The brand behind Holmes's bra is Khaite, a new player in the "by women, about women" field.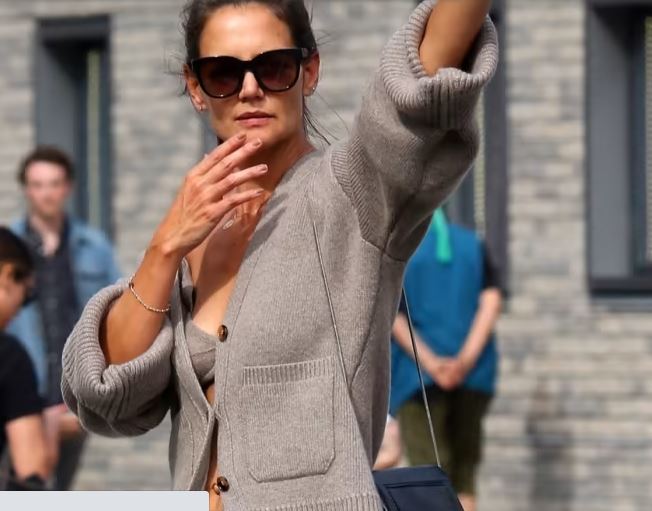 You may not realize it, but you've probably seen (and swooned over) something from the fashion label Khaite recently. Khaite is only six years old, making it a baby in comparison to other fashion houses. But that doesn't make it any less powerful. It does have a cult following, which includes some of our favorite celebrities and influencers.
What does the concept "So Expensive Fashion" mean?
The concept of looking expensive is a very common expression. It is particularly used by some fashion magazines, in the sense of wearing clothes with a certain price and thus with a sophisticated and elegant touch. The thing is, true expensive looks can be spotted in seconds by a trained eye.
"Expensive" is a concept that describes a fashion and luxury that most people cannot afford.
For decades, brands and magazines have told us that 'to say you dress well, you must spend a lot of money,' conveying the message that, yes, we are what we wear.
Expensive brands are those for whom the concept becomes a matter of "you know if you know." They are brands that don't need big logos, loud patterns, or statements to give shape to a truly exclusive idea of luxury, and for the few, $2000 cashmere sweaters that encapsulate an entire lifestyle that millions of people can only dream about.
So we can confidently say Khaite is expensive. But why is Khaite so expensive?
Why is Khaite so expensive?
Every article written about fashion since 2021 has mentioned Katie Holmes's cashmere cardigan and matching bra, probably. Even writing out that sentence gives me déjà vu.
People didn't just want to talk about the absurdity of a cashmere bra; they wanted to own the cashmere bra. They wanted it so badly that it sold out hours after Holmes was infamously spotted hailing a cab in it. And as flashy as a $520 cashmere bra is, it also feels like a piece of clothing that's all about what women want: It's beautiful and comfortable and subtle and sexy.
Reasons why Khaite is so expensive (and worth the cost)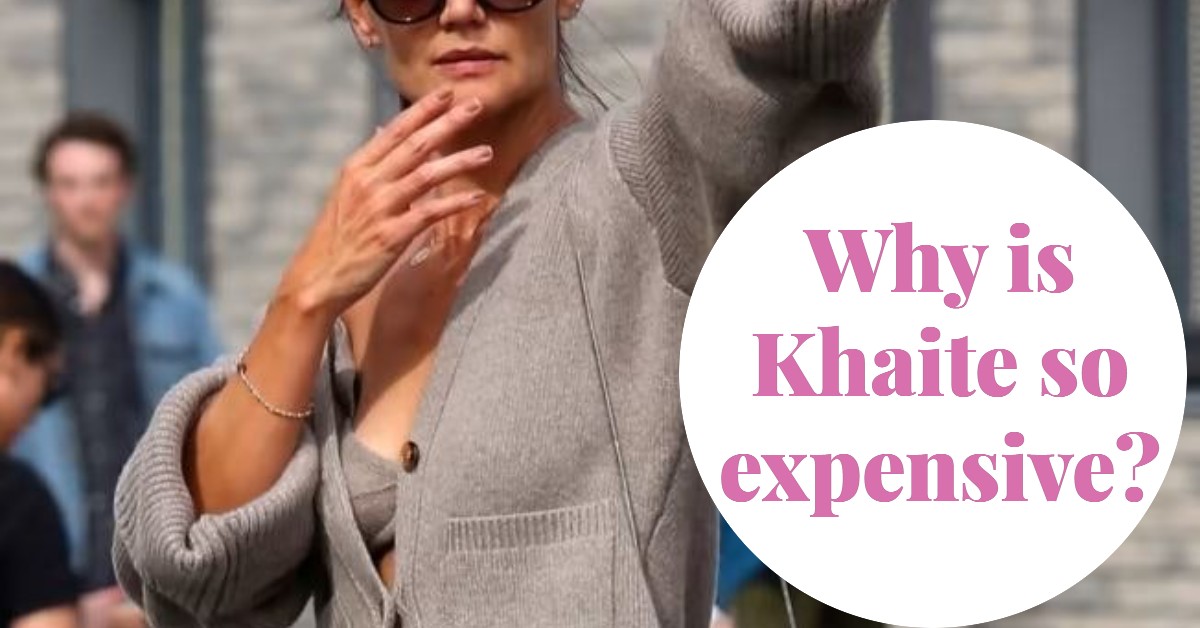 Here are the top reasons why Khaite is so expensive.
Since its debut in 2016, the Khaite brand has emphasized simple but not boring styles that exude understated sophistication, such as on-point tailoring, beautiful knitwear, and out-of-the-ordinary silhouettes. This makes it expensive.
Everything it makes is something you probably felt your closet needed but couldn't put your finger on, like a stretch cashmere polo sweater, a cotton twill midi dress or a crepe black satin shirt. Khaite is commercial, but it's also too beautiful not to admire.
Khaite clothing is "pieces to be cherished," as the brand itself says. Khaite is not trend-led by shapes, materials or colors. They are timeless items that look as expensive as they are. Khaite design basics but "cherished objects."
To put it another way, if you bought the entire collection, you'd have the ideal capsule wardrobe and always look put together. You'd almost certainly never have to buy anything again—and we don't say that lightly.
Catherine Holstein, the brand's creative director, seems to know exactly what we want to wear before we even realize it. Khaite strikes the ideal balance between femininity and the practicality of masculine dressing. Shirts are an important part of the collection, but they are always unique. The blazers are oversized, but the jeans fit perfectly.
Celebrities and influencers have Khaite at the top of their fashion. For example, Kendall Jenner's latest outfit and Rosie Huntington-Whiteley's social media all prove that Khaite has prevailed.
Must Read: What is Koolaburra by UGG? All you need to know (2023 Review)
Celebrities Wearing Khaite
Khaite is expensive, and it is worn by celebrities.
Jennifer Lawrence, Hailey Bieber, Kaia Gerber, Dakota Johnson, and Selena Gomez have all worn and re-worn Khaite. The label is the rare kind that appeals not just to celebrities but to retailers and the fashion world alike.
Below are examples of top celebrities rocking Khaite.
1. Caro Daur wears Khaite knee-high boots at Fashion Week.
See the photo below.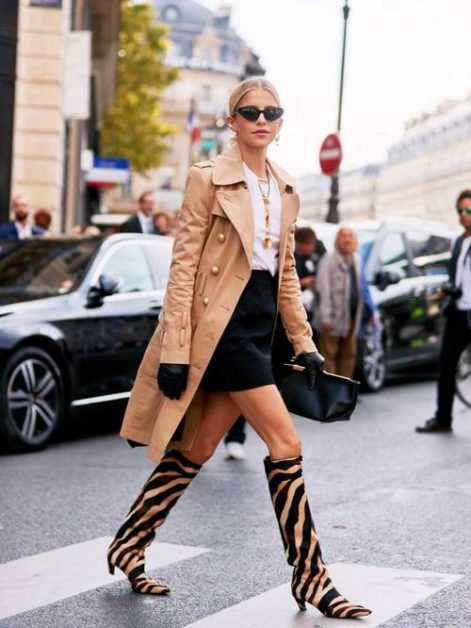 2. Katie Holmes in that sellout cashmere bra–and-cardigan set from Khaite.
What a beautiful image!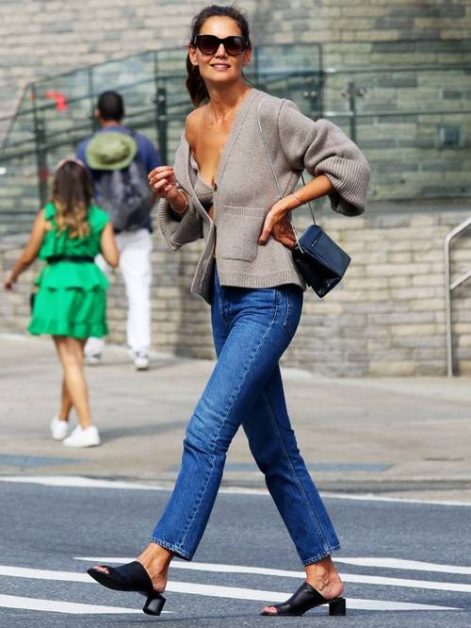 3. Aïda proves the bra-digan set has serious staying power.
Here she is wearing it in 2022.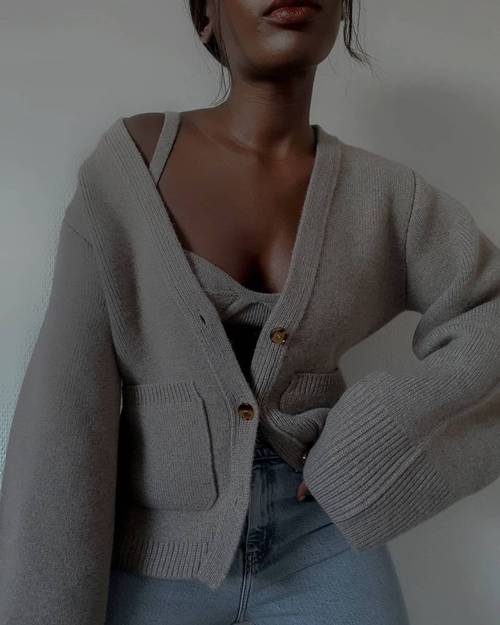 4. Kaia Gerber wore this Khaite blazer when leaving the Chanel fashion show in Paris.
See the photo below.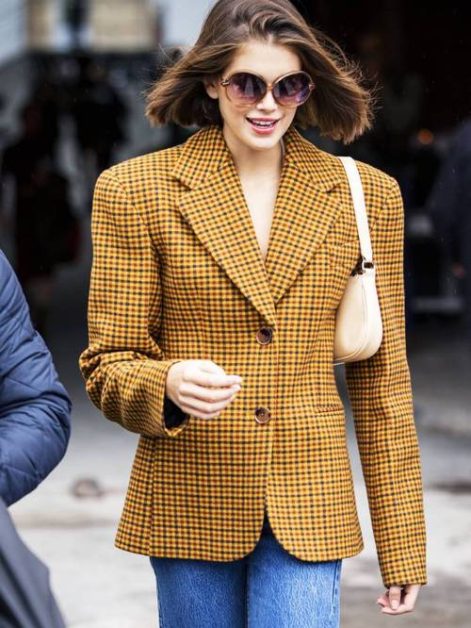 5. Influencer Pernille Teisbaek wears the Khaite oversized circle tote at fashion week.
An amazing dress, one must say.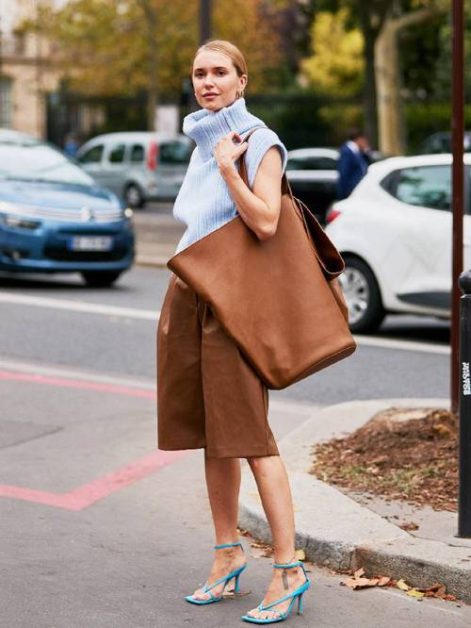 6. Marianne Smyth wears a pair of Khaite jeans
The same pair Kendall Jenner has been living in of late. It looks so great, as always.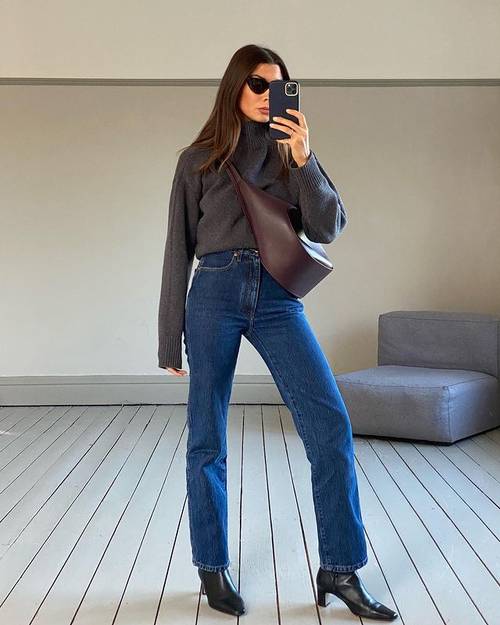 7. Rosie Huntington-Whiteley looks amazing in this red Khaite top with such an interesting neckline.
This is beauty from Khaite.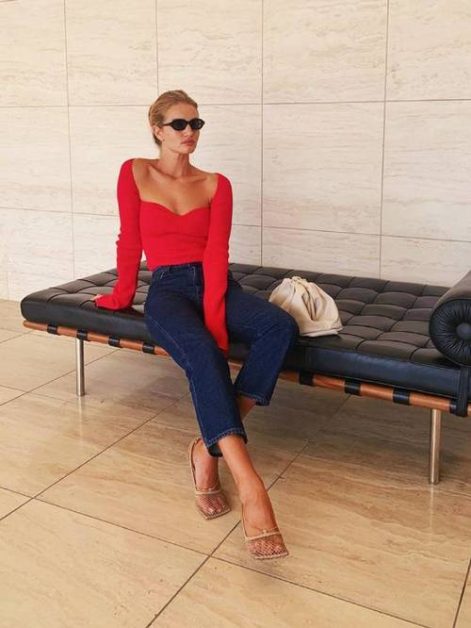 Must Read: Why Khaite is America's Next Top Label (2022 Report)
About Khaite
Khaite (pronounced Cate) translates to "long, flowing hair" in Greek.
Khaite, founded in 2016 by designer Catherine Holstein, has become known for its signature balance of structure and fluidity, strength and softness, masculine and feminine – all of which combine to create an elevated, elegant collection. Effortless cashmere and denim, as well as simple shirting and dresses, are key.
The New York Times described it four years ago as both a low-key label to know and one of the most intriguing brands the paper had discovered. Nonetheless, it had remained relatively unknown for a previous couple of years until that viral moment.
Khaite is needed in fashion now more than ever. It designs fundamentals but "cherished objects."
Khaite provides you with top quality:
Accessories
Bags
Clothing, and
Shoes
Who is the brain behind Khaite?
Holstein, 36, is a lively conversationalist who speaks quickly and vividly about her life and career.
She was born in New York, the daughter of a banker father and a Cartier employee mother (surely the perfect genetic provision for a luxury fashion designer). Her four siblings moved from New York to Connecticut to San Diego so frequently that Holstein says, "I don't know where I come from."
Holstein was already well-known as a fashion designer. She dropped out of fashion school at the age of 21 to launch her eponymous label, which debuted at Barneys and is now sold in over 40 stores. She left around the time of the 2008 financial crisis, not because the brand was in trouble, but because the climate was fearful ("When the blood's in the water, the sharks are out," she says), and went on to work at Gap, Vera Wang, J Crew, Maiyet, and The Elder Statesman.
It wasn't until later that Holstein began to consider her own wardrobe and the items she couldn't live without. "It was my sister's 1990s cashmere sweater from Paris, my mother's Kelly bag, an old pair of Levi's…" These were the things that, if I lost, would cause me to crumble. "How come there isn't a brand that offers me all of these items, making it easy for me?" I wondered. When she told her future business partner, investor Adam Pritzker, she told him she should go for it.
Khaite was founded in 2016 with funding from Pritzker and Vanessa Traina's holding company, Assembled Brands. "I was extremely fortunate. Adam is well-versed in business, and Vanessa has worked in styling and magazines. "I couldn't have done it without their help," she says.
Nominations and Awards
In 2021 and 2022, Holstein was nominated for American Womenswear Designer of the Year at the CFDA Awards.
She is an alumnus of the Parsons School of Design.
What is Khaite known for (Summary)
Khaite is a women's ready-to-wear collection that reimagines classic American sportswear for the twenty-first century. Designed to be cherished, each piece proposes a fresh balance of opposing elements – past and future, masculine and feminine, strength and softness, structure and fluidity – while embodying a signature sensuality and ease.
Founded in 2016 by creative director Catherine Holstein, New York-based Khaite evolves with each new season, building upon a foundation of robust yet polished items distinguished by exceptional materials and subtle yet striking details.
As we have said, the collection (pronounced "Kate") takes its name from the Greek word (χαίτη), meaning "long, flowing hair."
Favorite Khaite pieces
Why is Khaite so expensive? Check out these favorite Khaite pieces:
1. Caro scoop-neck cashmere cardigan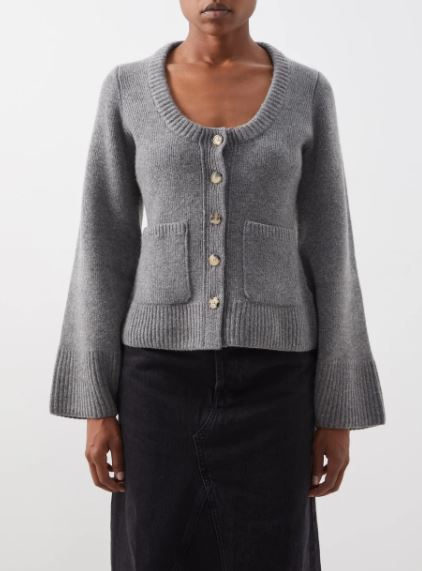 Khaite gives a modern slant to knitwear showcased by this grey Caro cardigan, crafted from a cashmere blend with a scoop neck and wide sleeves.
Cost: £1,258
Available Here.
2. Tanner double-breasted leather blazer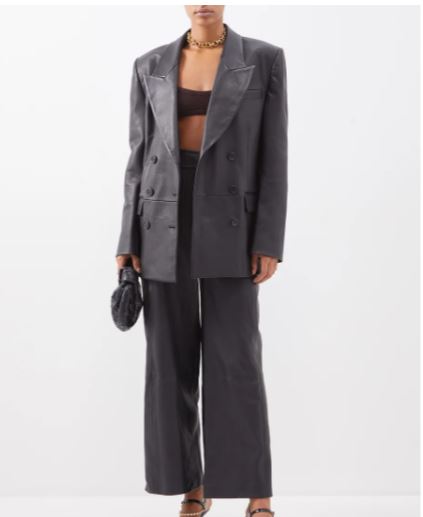 Cost: £2,483
Available Here.
3. Gioca scoop-neck ribbed cashmere-blend cropped top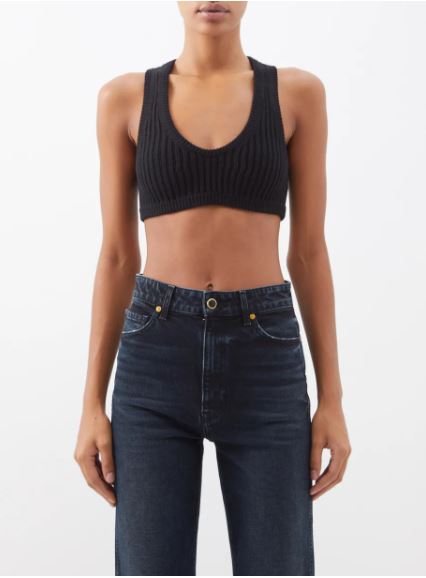 Cost: £450
Shop here.
4. Sidney 65 jewel-embellished leather pumps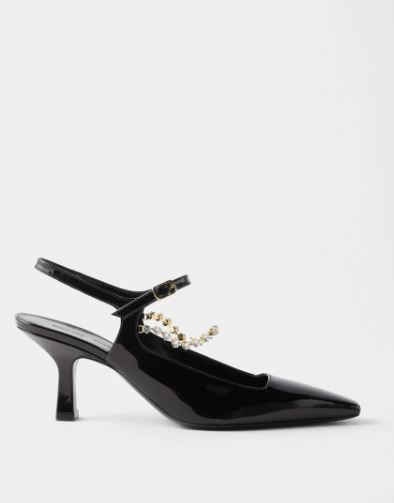 Cost: £641
Available Here.
5. Leon cotton straight-leg trousers
Khaite's ivory Leon straight-leg trousers are tailored from crisp cotton with a flattering high waist – expressing the label's minimalist vision.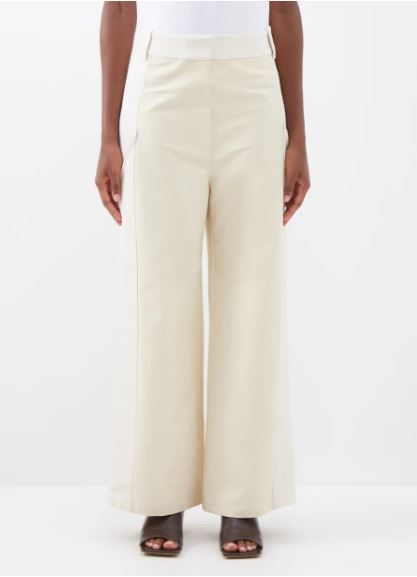 Cost: £733
Shop here.
6. Fleurine flared cashmere mini dress
Seven stitches of soft Mongolian cashmere comprise each inch of Khaite's grey Fleurine dress, shaped with a round neckline and flared mini hem.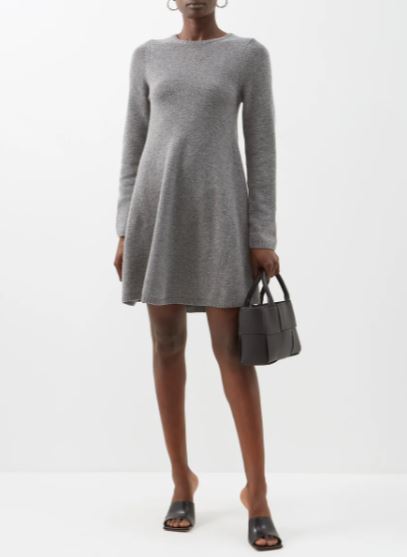 Cost: £833
Shop Here.
7. Lilith leather shoulder bag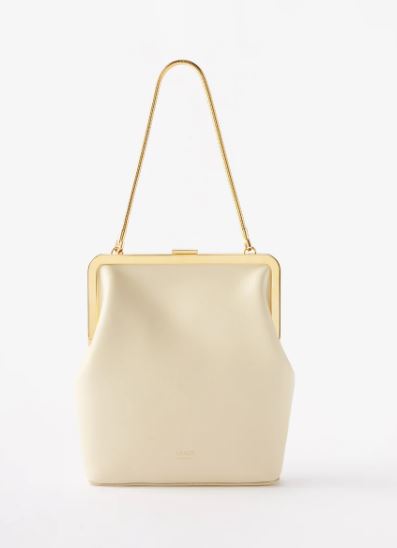 Khaite channels a retro sensibility with the classic hinged frame construction of this cream Lilith shoulder bag, Italian-made from smooth leather with polished gold hardware.
Cost: £1,241
Shop Here.
8. Khaite Admiral 45 suede knee-high boots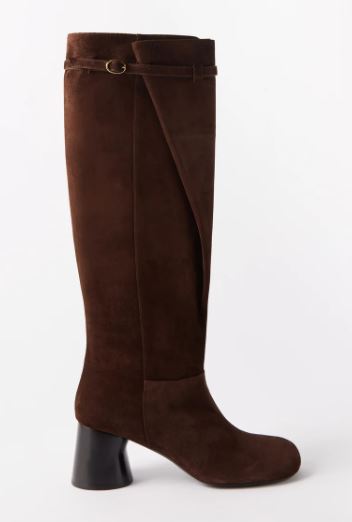 Khaite shapes its Admiral boots from supple tan leather suede to a knee-high profile with a block heel, channeling the label's contemporary ethos.
Cost: £1,175
Shop Here.
9. Dallas pointed-toe suede boots
The slanted heel elevating these pointed-toe brown suede Dallas boots brings Khaite's contemporary aesthetic to the forefront of this cowboy-inspired silhouette.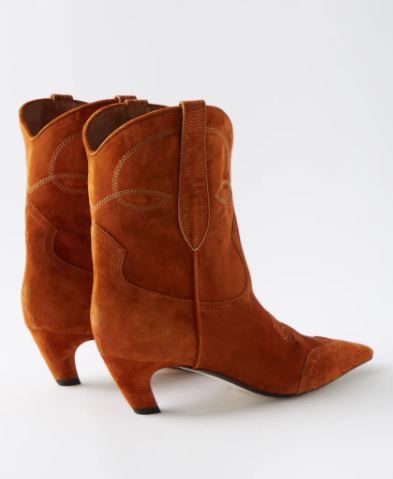 Cost: £691
Available Here.
10. Layas V-neck pleated crepe dress
Khaite conveys a relaxed mood with this walnut-brown Layas dress, which is cut from smooth crepe with a deep V-neckline and pleated skirt.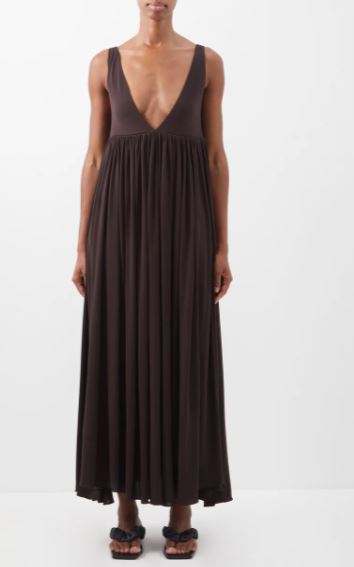 Cost: £1,033
Shop Here.
11. Phelton wool coat
Khaite's camel Phelton coat is crafted from sumptuous double-faced wool with playful wide-cut sleeves offset by a smart point collar and belted cuffs.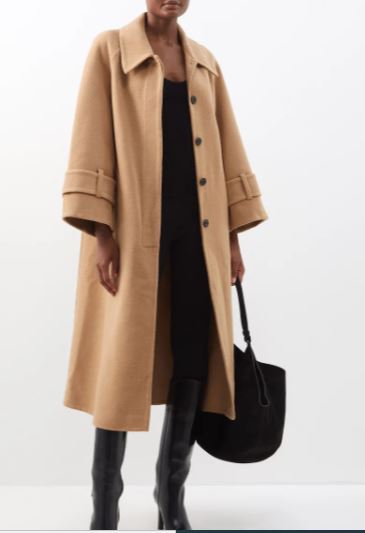 Cost: £1,941
Available Here.
12. Genoa ribbed cashmere roll-neck sweater
Khaite's tan Genoa roll-neck sweater is rib-knitted from chunky cashmere with loose sleeves that lead to cozy longline cuffs with small slits.
Cost: £1,291
Available Here.
13. Khaite Bea paneled cotton-poplin shirt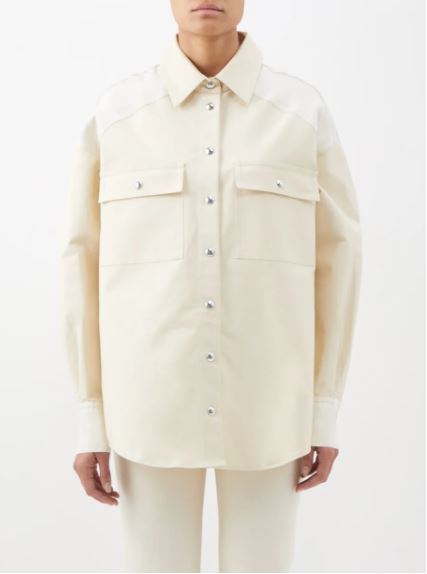 Khaite renders this ivory Bea shirt in high-density Italian cotton with white wool-blend shoulder panels for a contemporary update of a classic workwear staple.
Cost: £583
Shop Now: Here.
14. Bridgit scoop-neck ribbed-jersey dress
Khaite's black ribbed-jersey Bridgit dress showcases the label's charming aesthetic, highlighted by the scoop neckline and back slit hem.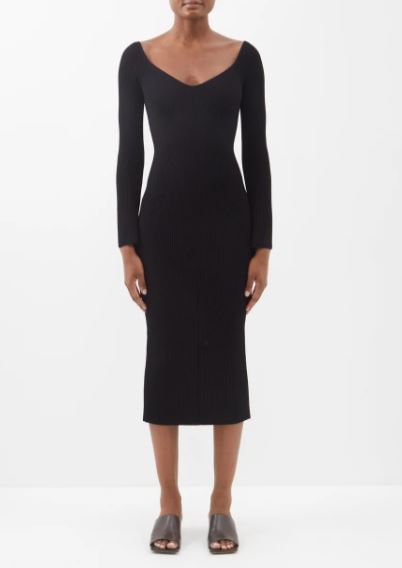 Cost: £920
Shop Here.
15. Lucca studded leather clogs
Opt for the 1970s mood of Khaite's black Lucca clogs, crafted from smooth leather set on a chunky wooden sole and finished with gold-tone studs.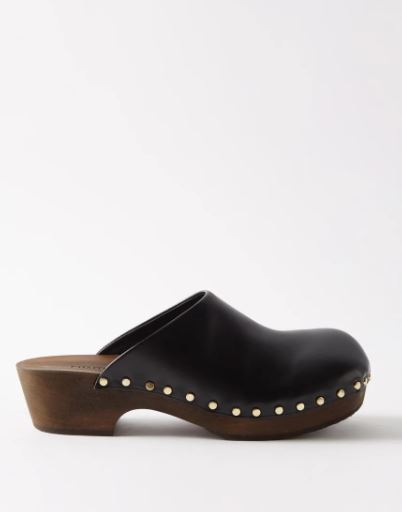 Cost: £766
Shop here.
16. Khaite Lotus suede tote bag
The sculptural folds of Khaite's black suede Lotus bag create a lightweight, supple construction framed with a flat base and single leather strap.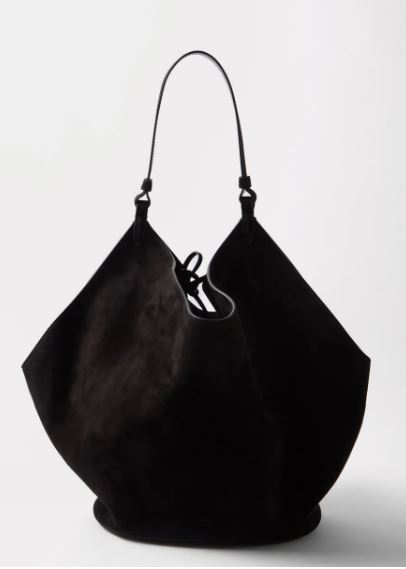 Cost: £1,633
Available here.
17. Khaite Andrina ruffled washed-cotton midi slip dress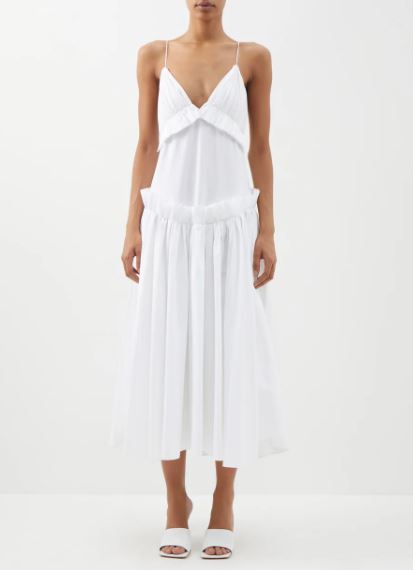 Khaite's Andrina dress is made from washed-cotton twill that's draped to a deep V-neck and a backless, drop-waisted frame finished with ruffles and raw edges.
Cost: £966
Available Here.
18. Opal open-knit cotton-blend maxi dress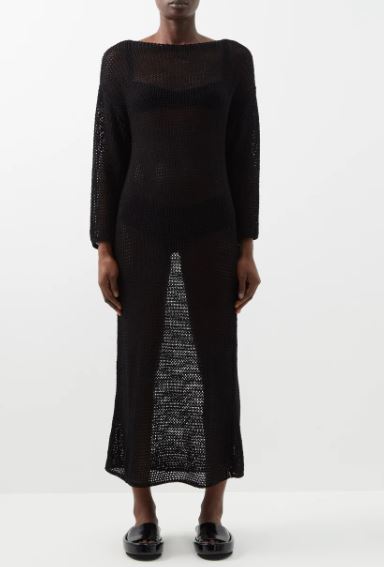 Khaite channels a bohemian mood with the open-knit construction of this black Opal dress, made in Italy from an airy cotton blend to a slouchy, relaxed silhouette.
Cost: £716
Available Here.
19. Luana belted leather skirt
An elegant rendition of biker influences, Khaite's black Luana leather skirt features a detachable belt and silver zips.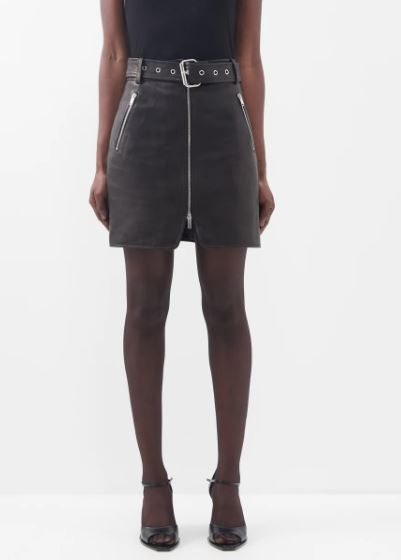 Cost: £1,441
Available Here.
20. Khaite Kyle Relaxed Straight-Leg Jeans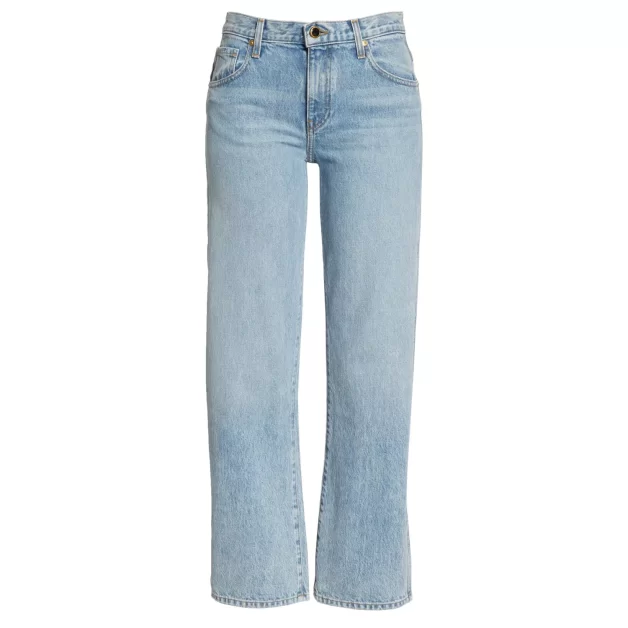 Cost: $360
Shop now: nordstrom.com
21. Khaite Circle Medium Leather Tote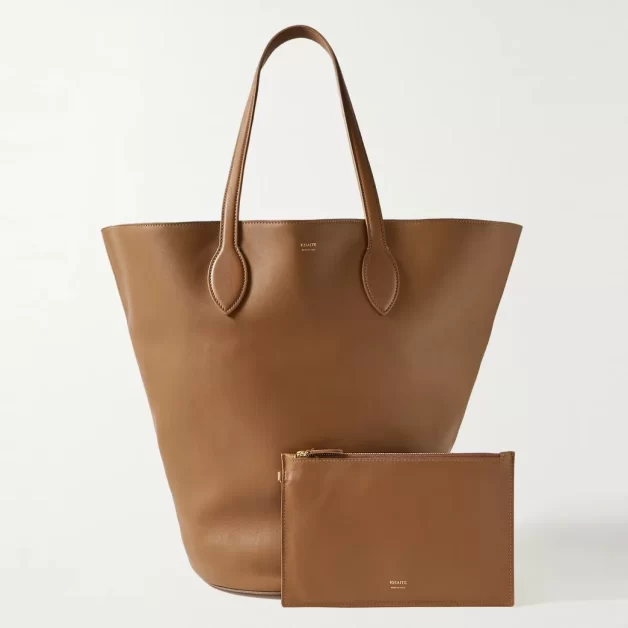 Cost: $1,560
Shop now: net-a-porter.com
22. Khaite Jo Stretch Cashmere Polo Sweater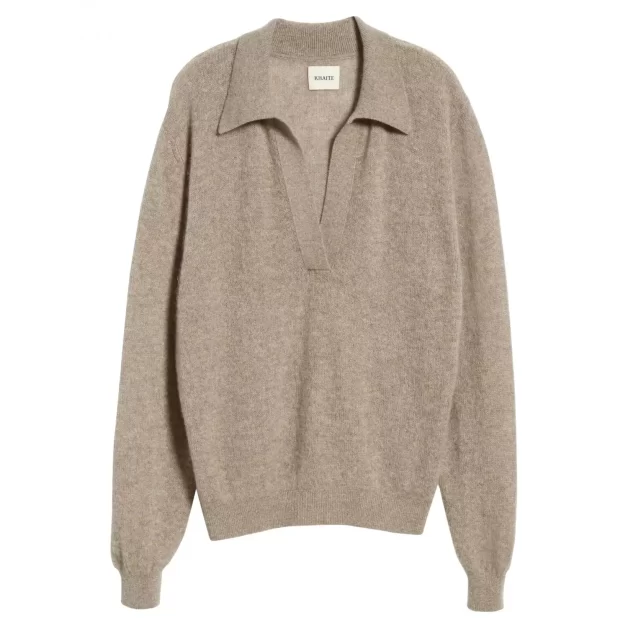 Cost: $720
Shop now: nordstrom.com
23. Khaite Viola Stretch Cashmere Sweater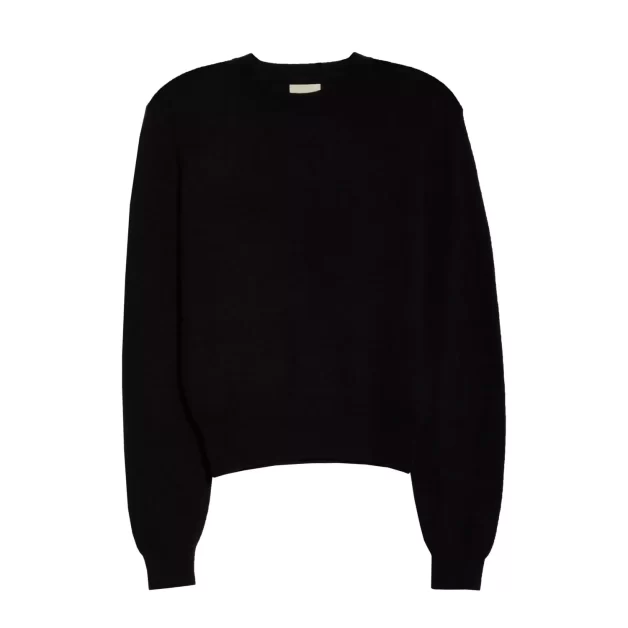 Cost: $680
Shop now: nordstrom.com
24. Khaite Lace Inset Satin Midi Slipdress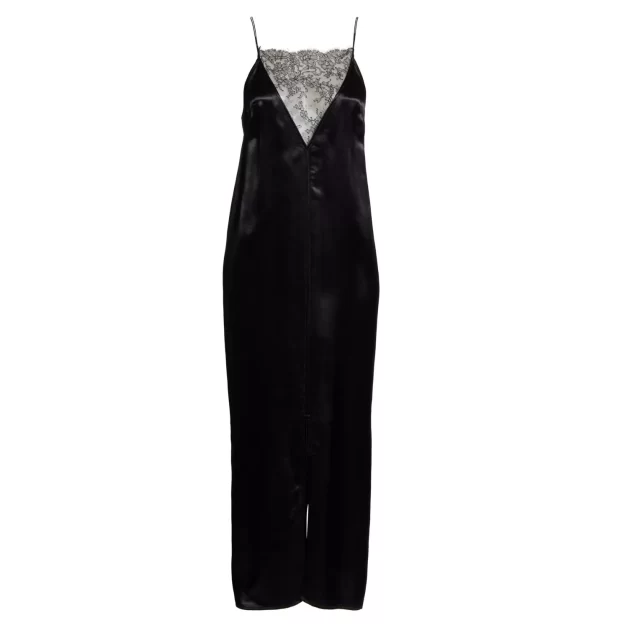 Cost: $1,380
Shop now: nordstrom.com
25. Khaite Roberta Puff Sleeve Satin Top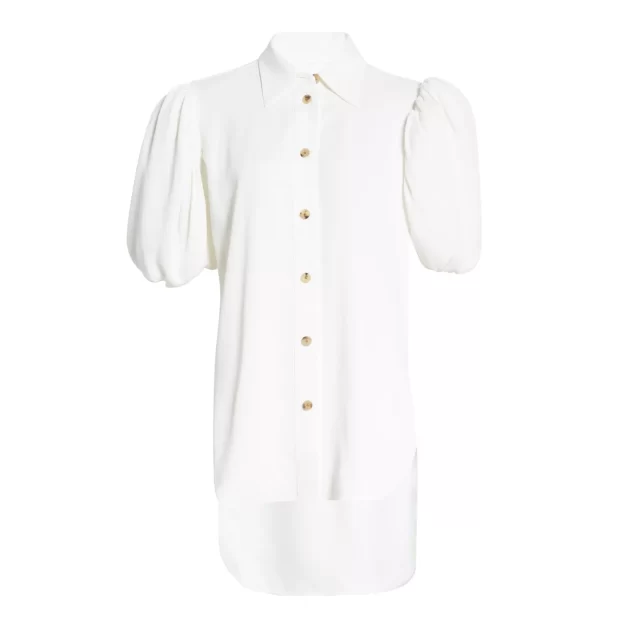 Cost: $880
Shop now: nordstrom.com
26. Khaite Envelope Pleat Leather Clutch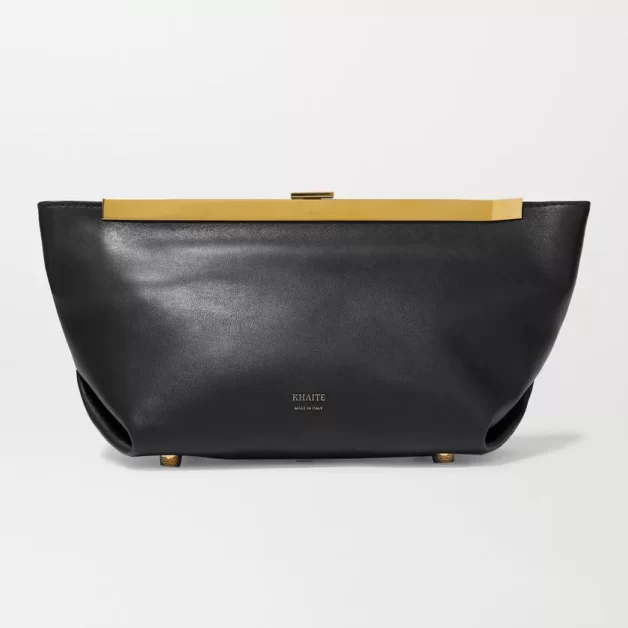 Cost: $1,260
Shop now: net-a-porter.com
27. Khaite Kyle Ripped Relaxed Jeans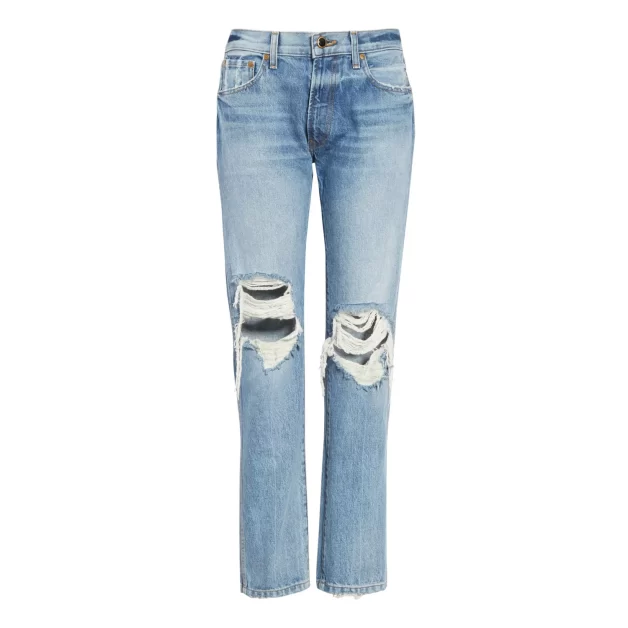 Cost: $420
Shop now: nordstrom.com
28. Khaite Vera Stretch Twill Blazer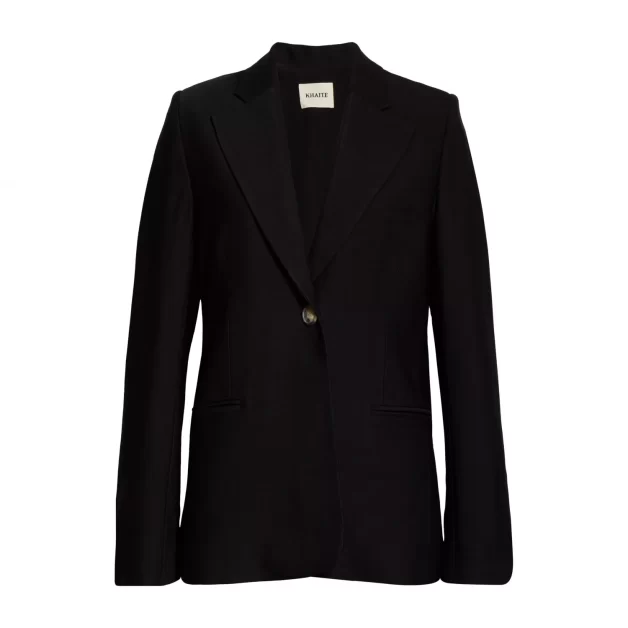 Cost: $1,680
Shop now: nordstrom.com
29. Khaite Magdalena Reconstructed Denim Maxi Skirt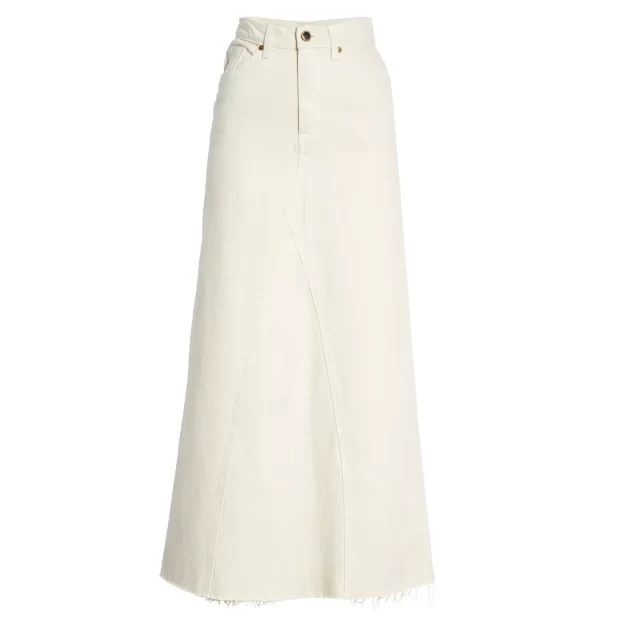 Cost: $480
Shop now: nordstrom.com
30. Khaite Kerrie Straight Leg Jeans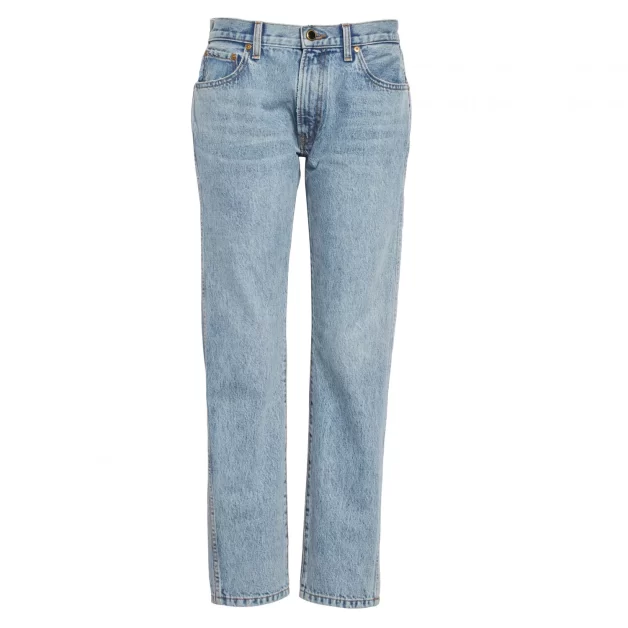 Cost: $380
Shop now: nordstrom.com
Why is Khaite so expensive? We now know. Khaite is quality and simplicity in one place. Shop your favorite Khaite clothing and enjoy the class.
Recommended:
Why Khaite is America's Next Top Label (2023 Report)
Why is Circle K so expensive? (10 quick reasons)
Top Most Beautiful Female Actresses