Where did Tyreek Hill go to college
Tyreek Hill is a wide receiver for the Miami Dolphins of the National Football League (NFL). He was born on March 1st, 1994. Tyreek Hill was Track and Field News "High School Athlete of the Year" in 2012. He reportedly attended Coffee High School in Douglas Georgie. But where did Tyreek Hill go to college? Find out below.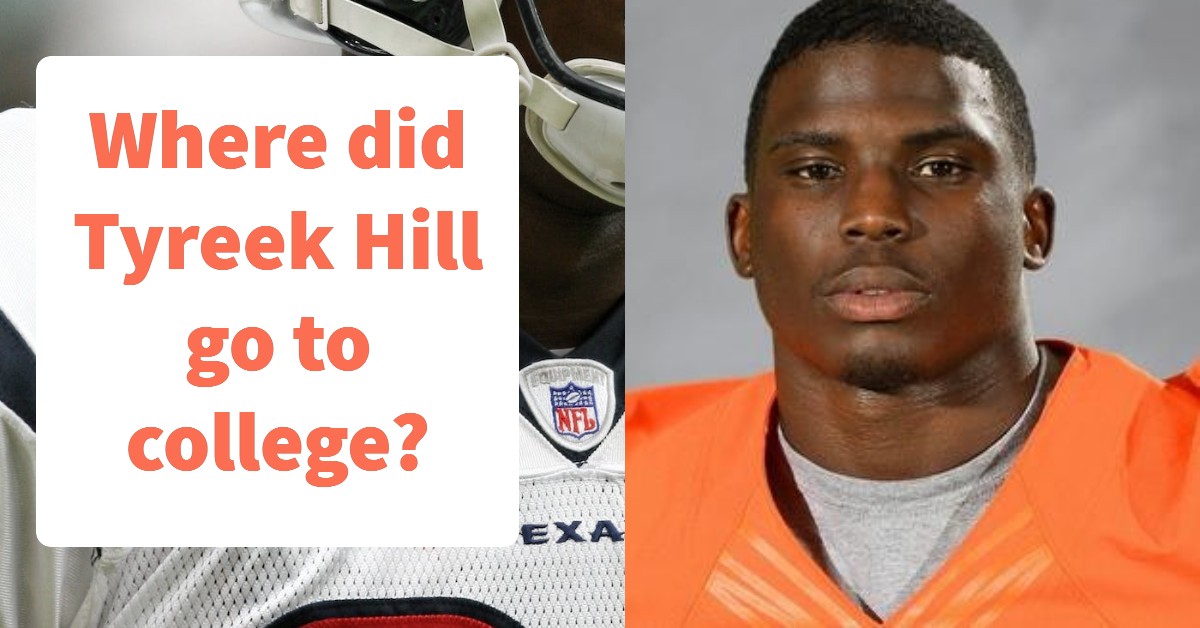 You will also find all information about Tyreek Hill in this article.
Who is Tyreek Hill?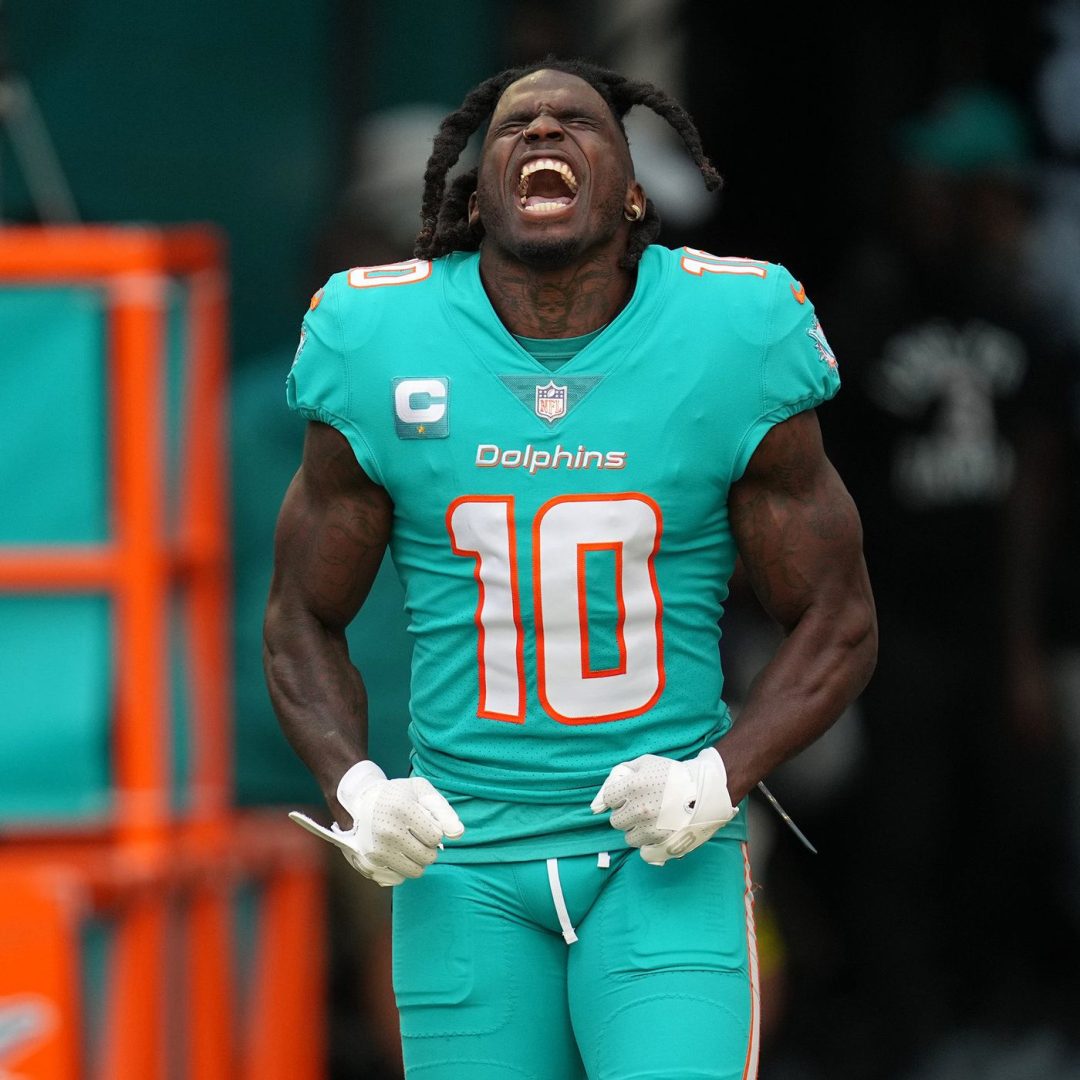 Tyreek Hill, nicknamed "Cheetah" for his speed, is an American football wide receiver for the Miami Dolphins of the National Football League (NFL). He was drafted in the fifth round of the 2016 NFL Draft by the Kansas City Chiefs.
Tyreek was traded by the Kansas City Chiefs to the Miami Dolphins on March 23, 2022, in exchange for a 2022 first-round pick.
Hill agreed to a four-year, $120 million contract with $72.2 million guaranteed, making him the highest-paid wide receiver in the NFL.
He won the Super Bowl in 2019. And was selected to six Pro Bowls in his six years in the league.
Tyreek Hill grew up in Pearson, Georgia.
Where did Tyreek Hill go to college?
Tyreek Hill appeared to emerge from nowhere to become one of the most exciting offensive weapons in the NFL today. The Miami Dolphins star (wide receiver and return specialist) has set a record with 119 receptions and 1,710 receiving yards in the 2022 season.
Hill was not a household name upon graduation because he did not attend Alabama, Clemson, or another regular championship contender. So, where did he attend college, and what were his stats like?
Where did Tyreek Hill go to college? – Name of Institutions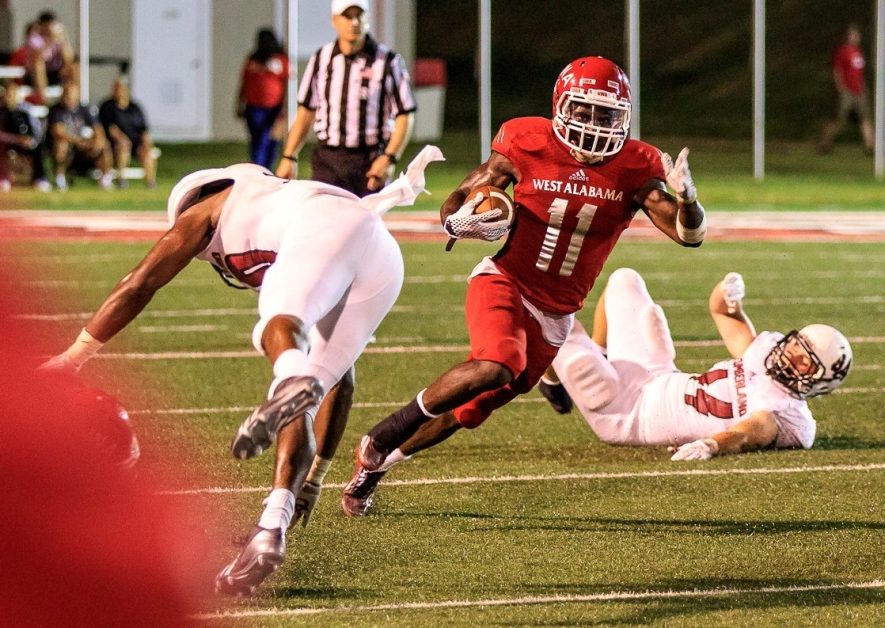 1. Garden City Community College
Tyreek Hill ran track and played football at Garden City Community College.
Hill ran for 659 yards and five touchdowns as a sophomore for the Broncbusters football team in 2013 while also catching 67 passes for 532 yards.
2. Oklahoma State University
Tyreek Hill was a highly sought-after junior college recruit who chose Oklahoma State University after graduating from Garden City Community College.
The young athlete made his Cowboys debut on August 30, 2014, and caught a season-high six passes for 62 yards in a loss to the Florida State Seminoles.
Oklahoma State fired Hill from their football and track teams on December 11, 2014, following his domestic violence arrests a few days earlier.
In his first and only season with the Cowboys of Oklahoma State University, Hill had 102 rushing attempts for 534 rushing yards and one touchdown. He had 31 receptions for 381 receiving yards and a touchdown. Also, he had 30 kick returns for 740 return yards and two touchdowns. And he made 27 punt returns for 256 punt return yards and a touchdown in his only season at Oklahoma State. He had 1,811 all-purpose yards and six touchdowns as a running back, wide receiver, and returner.
His combined return yards of 996 ranked second in the country. In terms of all-purpose yards, he was ranked 11th in the country.
Must Read: How Much do Dallas Cowboy Cheerleaders Make
3. University of West Alabama
On September 1, 2015, the University of West Alabama announced that Hill enrolled and would play football for the Tigers.
Hill again was used as a running back, wide receiver, and returner for the Tigers, and he dominated the Division II level in the open field.
In his lone season at West Alabama, Hill scored two touchdowns as an offensive weapon and four as a returner. He entered the 2016 NFL draft as one of the most divisive prospects in the class, and he made it all the way to the fifth round before the Chiefs took a chance on him.
Hill's path to the NFL was unusual, but he's already proven to be a worthwhile investment for the Chiefs.
Quick Facts About Tyreek Hill
Here are quick facts about Tyreek Hill
Full Name
Tyreek Hill
Date of Birth
March 1, 1994
Birth Place
Pearson, Georgia
Nick Name
Cheetah
Religion
Christianity
Nationality
American
Ethnicity
Afro-American
Zodiac Sign
Pisces
Age
29 years old
Height
5 ft 10 in (1.78 m)
Weight
185 lb (84 kg)
Hair Color
Black
Eye Color
Black
Build
Athletic
Father?s Name
Derrick Shaw
Mother?s Name
Anesha Sanchez
Siblings
N/A
Education

Coffee High School, Georgia (High School)
West Alabama (College)
Garden City Community College
Oklahoma State University
The University of West Alabama

Marital Status
Married
Girlfriend/Partner

Crystal Espinal (Ex-wife)
Kymsley Jackson (Ex-girlfriend)
Keeta Vaccaro

Kids

A son, Zev Carter (born in 2015)
Twins Nakeem and Nyla (born in July 2019)
Tyreek Hill Jr., aka Deuce (May 2, 2019)

Profession
Football Player
Position
Wide Receiver
Affiliations

Kansas City Chiefs
Miami Dolphins (Since March 2022)

Active Years
2016-present
Net Worth
$40 million
Social Media
Merch
Jersey, Poster
10 Facts You Didn't Know About Tyreek Hill
1. Growing up in Georgia, Hill faced a number of challenges, which is likely part of the reason he has had criminal issues as an adult.
From 1989 to 2016, the wide receiver's grandfather, Herman, was a suspect in 16 criminal cases. Herman was accused of physically assaulting a woman at one point, but she failed to appear in court, resulting in the charges being dropped.
Hill not only grew up with a grandfather who was incarcerated, but he also grew up in impoverished Pearson, Georgia. Forty percent of the people in the small town live in poverty.
2. In March 2019, it was reported that Tyreek Hill was involved in a physical altercation with his son
The three-year-old boy's arm was allegedly broken as a result of the altercation. Hill and his former fiancée Crystal Espinal were both investigated for child abuse as a result of the incident. The Kansas Department of Children and Families investigated the pair and determined that they were not responsible for the child's broken arm.
Hill and Espinal were both cleared of child abuse allegations after a month of investigation.
However, a tape surfaced showing Hill threatening Espinal and telling her she should be afraid of him.
3. Hill and Espinal had a rocky relationship, to say the least
Hill is said to have been investigated for child abuse after Espinal blamed him for their three-year-arm old's break. Prior to the 2019 incident with their son, the couple had a history of domestic abuse.
Hill pleaded guilty to choking Espinal while she was pregnant in 2015. Espinal gave birth to twins in July 2019, after the couple had divorced. Espinal filed for paternity with Tyreek Hill shortly after the twins were born.
4. The Kansas City wide receiver has had stormy romantic relationships in the past but is now looking to settle down in calmer waters.
Tyreek Hill and Keeta Vaccaro's relationship was revealed in December 2020. The two made their relationship public by posting photos on their Instagram accounts.
But who is Keeta Vaccaro?
Keeta Vaccaro is the sister of Tennessee Titans player Kenny Vaccaro, for starters. She is also a self-proclaimed entrepreneur who owns and operates "1996 the Label organization." She also serves as the CEO of Misurare by Vaccaro.
5. After leaving Oklahoma State University due to dismissal by the team, Hill joined tiny West Alabama.
Tyreek Hill, a wide receiver, spent one season with the Tigers before entering the 2016 NFL Draft. Despite knowing about Hill's criminal history, the Chiefs selected him in the fifth round as the 165th player taken.
A large number of Chiefs fans were outraged by Hill's selection at the time. Those people are probably no longer as upset because Hill is an important part of the team's offense.
6. In October of 2019, the Chiefs signed Tyreek Hill to a three-year, $54 million contract extension.
The move was made despite the fact that the team was aware of Hill's long history of criminal issues dating back to his college days. Hill transferred to Oklahoma State after two years in junior college, but he left after one year due to a domestic violence charge.
Crystal Espinal, Hill's pregnant girlfriend, filed the charges after she claimed Hill choked her and punched her in the stomach. He was sentenced to three years probation for the incident. The couple may have split for a short time, but they later reconciled. The conflict between them did not end there.
7. Long before being drafted by the Kansas City Chiefs, Tyreek Hill was an all-purpose back at Garden City College in Kansas.
Tyreek Hill was able to develop and showcase his skills for D1 coaches across the country at the small junior college. He appeared to be headed to Florida State after graduating from Garden City but instead chose the Oklahoma State Cowboys.
Hill had received interest from Arizona, Alabama, Nebraska, and a number of other top D1 schools. With other top schools showing interest, his decision to attend Oklahoma State came as a surprise.
8. Tyreek Hill is considered the fastest player in the NFL
Tyreek Hill earned the nickname "the Cheetah" due to his blazing speed.
9. During the NFL's 2020 offseason, Tyreek Hill shared his workout routine with followers on social media.
Yoga was one of the unexpected additions to his offseason workouts that surprised NFL fans. Yoga has become a popular low-impact workout among professional athletes in recent years. And Hill is a lover of it.
Yoga is "much harder than it looks," Hill wrote on social media. Hill can improve his flexibility and breathe with the addition of yoga. It is also intended to help his muscles last longer in the high-stress environment of the NFL.
10. Tyreek Hill donated 6,000 meals to families affected by the coronavirus.
Hill has made headlines for all the wrong reasons throughout his career, but in March 2020, he made positive headlines.
Hill provided 6,000 meals to Corona virus-affected families. The Kansas City Chiefs wide receiver then challenged his teammates to do the same. The funds came from the wide receiver's "Tyreek Hill Family Foundation." The foundation's mission is to provide those in need of life enrichment, life skills, and educational opportunities.
Tyreek Hill's Net worth
Tyreek Hill's net worth is estimated to be around $20 million. Of course, the star's fortune stems primarily from his lucrative NFL contract. In addition, he has a good number of endorsement deals.
Tyreek signed a three-year contract extension with the Kansas City Chiefs worth $54 million in 2019, including $35 million guaranteed and a $5.8 million signing bonus.
Most people might think it's crazy if we break down the crunch numbers that Hill received as a salary.
Furthermore, Miami Dolphins wide receiver Tyreek Hill's annual salary will be around $18 million.
Similarly, he received around $550,000 in his rookie year in 2016, $568,760 in 2017, and $687,496 in 2018.
Furthermore, Dolphins wide receiver Tyreek Hill makes a good living from his business, Greep Boost, which manufactures better-grip football gloves.
His most recent contract with the Miami Dolphins is a four-year, $120 million deal with a $25.5 million signing bonus and $72.2 million guaranteed. This makes him the highest-paid wide receiver in the NFL.
FAQs Related to "Where did Tyreek Hill go to college?"
1. Where did Tyreek Hill go to college?
Tyreek Hill attended college in the following institutions:
Garden City Community College (2012–2013)
Oklahoma State University (2014)
University of West Alabama (2015)
2. Where does Tyreek Hill play?
The Kansas Chiefs traded Hill to the Miami Dolphins on March 23, 2022, in exchange for a 2022 first-round pick, a 2022 second-round pick, two fourth-round picks, and a 2023 sixth-round pick. Hill signed a four-year, $120 million extension after the trade was completed. This includes a guaranteed $72.2 million, making him the highest-paid wide receiver in the NFL.
3. Did Tyreek Hill run track in college?
At Garden City Community College, Hill ran track and played football. As a sophomore in 2013, Hill ran for 659 rushing yards and five touchdowns while catching 67 passes for 532 receiving yards for the Broncbusters football team.
4. What college did Lamar Jackson play for?
Lamar Jackson played college football at the University of Louisville. He was selected 32nd overall by the Ravens in the first round of the 2018 NFL Draft.
5. What college did Tom Brady go to?
Tom Brady graduated from the University of Michigan in 1999 with a 3.3 GPA.
6. What college did Kyler Murray go to?
Kyler Cole Murray is an American football quarterback for the Arizona Cardinals of the National Football League.
Following a stint with Texas A&M, Murray played college football at Oklahoma, where he won the Heisman Trophy as a junior. Murray was selected first overall by the Cardinals in the 2019 NFL Draft.
7. What college did Michael Vick go to?
Michael Vick was a gifted high school athlete. He attended Virginia Tech on a football scholarship.
8. What college did Ray Lewis go to?
Raymond Anthony Lewis Jr. is an American former professional football player who was a linebacker with the Baltimore Ravens for his entire 17-year career in the National Football League. He played college football for the Miami Hurricanes and earned All-America honors.
9. What college did Russell Wilson go to?
Former NC State QB Russell Wilson made his transfer to Wisconsin Badgers.
10. What college did Joe Montana go to?
Joe Montana was raised in Monongahela, Pennsylvania. He excelled at baseball, basketball, and football in high school.
He was offered a basketball scholarship to North Carolina State University in Raleigh, North Carolina. Instead, he went to the University of Notre Dame in South Bend, Indiana, to play collegiate football.
Conclusion:
Now you know all about Tyreek Hill and where Tyreek Hill went to college.
The  Miami Dolphins player Tyreek Hill played college football at Garden City Community College, Oklahoma State, and West Alabama.
We have you got all the info. This article titled "Where did Tyreek Hill go to college" has been so explicit. If you have any other questions or inquiries, please connect with us via the comment section below. Thank you.
Recommended:
Where Did Hamlet Go To School (Shakespeare's Hamlet)
How Much do Dallas Cowboy Cheerleaders Make
How much do EMTs make? (2023 Report)