Why Khaite is America's Next Top Label (2023 Report)
Why Khaite is America's Next Top Label: It's no exaggeration that almost every woman has a piece of Khaite's clothing and accessories as part of her wardrobe. Khaite has had the pleasure of dressing a lot of amazing women and counts a wide group of incredible ladies as customers. You can surely see Khaite on the street worn by all kinds of women.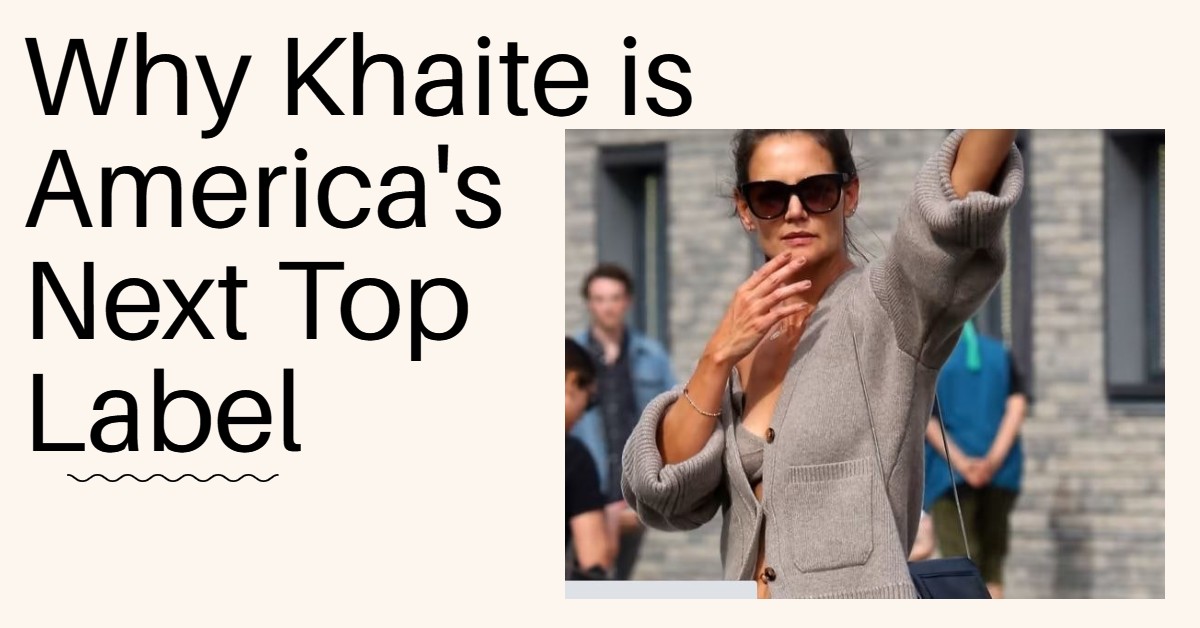 Khaite's design became so popular when a paparazzi image of actress Katie Holmes wearing Khaite's cashmere bra and sweater combo went viral online, and the pieces sold out.
Khaite doesn't just make beautiful dresses. They make accessories too!
We think Khaite is the big deal in women's fashion going forward. We provide the reason why Khaite is America's next top label here.
The Challenge of Making Fashion Easy and Classy
In recent history, no designer rose to the challenge of making fashion easy but classy better than Phoebe Philo. This is why the brand's recent shift toward a more glam-rock aesthetic was so upsetting to many. Following the first Celine show without the beloved designer, Philophiles took to social media to compare her absence to watching the Kavanaugh confirmation hearings.
While terms like for women by women, elevated basics, luxurious essentials, and uniform dressing are becoming more common in the fashion world, no one has combined all of the above as excitingly as Philo.
But then Khaite is taking the world of fashion by storm. We submit that Khaite is America's next top label.
Why Khaite is America's Next Top Label
Catherine Holstein, a former Gap and Vera Wang design director, launched Khaite with a small collection of butter-soft cashmere, perfectly tailored pants, and grown-up denim. Her clothes feel rooted in a woman's day-to-day realities, but they still manage to make many a stylish heart soar. The silhouettes are forward but easy to move in, and they look just as good on Emma Stone as they do on Robin Wright Penn.
Wear it, and you'll feel timelessly feminine, like Meryl Streep in Kramer vs. Kramer in the 1970s. However, these outfits could be worn by any Ellie.
You need to own a Khaite Vanessa jeans. It features a high-rise cut that looks equally good with a turtleneck and slides at the office as it does with a structured blazer and ankle boots at press events. The jean has 2% elastane for a touch of stretch and ultimate comfort.
Stylist Danielle Nachmani who regularly works with young stars like Laura Harrier and Julia Garner, has this to say about Khaite:
"I think from the launch of her brand I fell in love with how effortless it was. Every piece I would want for my wardrobe was in her collection. Timeless pieces that were never overdone and complimented every look I paired it with. I pull her clothes because they allow the women I work with to feel cool but aspirational at the same time."
The industry has taken notice, and the brand is now sold by nearly every online luxury retailer, including Net-a-Porter, Mytheresa, and Saks.
Why Khaite is Killing it
While others are abandoning New York Fashion Week, designer Catherine Holstein is taking advantage of the opportunity, one of many ways she distinguishes herself in a competitive luxury market.
"There has definitely been a shift in who led and who will lead now."
Holstein is well on her way to becoming one of these leaders. In just six years, she's built a business that includes ready-to-wear, footwear, and accessories by combining traditional and modern strategies. She's making inroads in a competitive, fragmented market that breaks independent designers more frequently than it makes them.
Khaite came along at the right moment. She came just before Phoebe Philo exited from Celine. And just at the right time – as Gucci's maximalist approach was at its height.  When there was an opening in the market for a pared-down, luxury take on everyday staples like sweaters and jeans.
Khaite has an unusually balanced approach. It has earned cred through relationships with industry insiders like Vanessa Traina and by selling to premium retailers like Bergdorf Goodman, Harvey Nichols and others. But Khaite is also focused on building its business with customers directly through its e-commerce site, where shoppers can pre-order items right after its runway shows. This represents over 30 percent of the brand's current sales.
Khaite is killing it with effective marketing
In addition, Khaite is killing it with effective marketing. We know that effective marketing is a challenge for every type of consumer brand, especially emerging brands.
We can remember how everyone was obsessed with Katie Holmes's Style in 2019. The internet was filled with the photo of her wearing a cashmere cardigan and bra set from the buzzy New York label Khaite.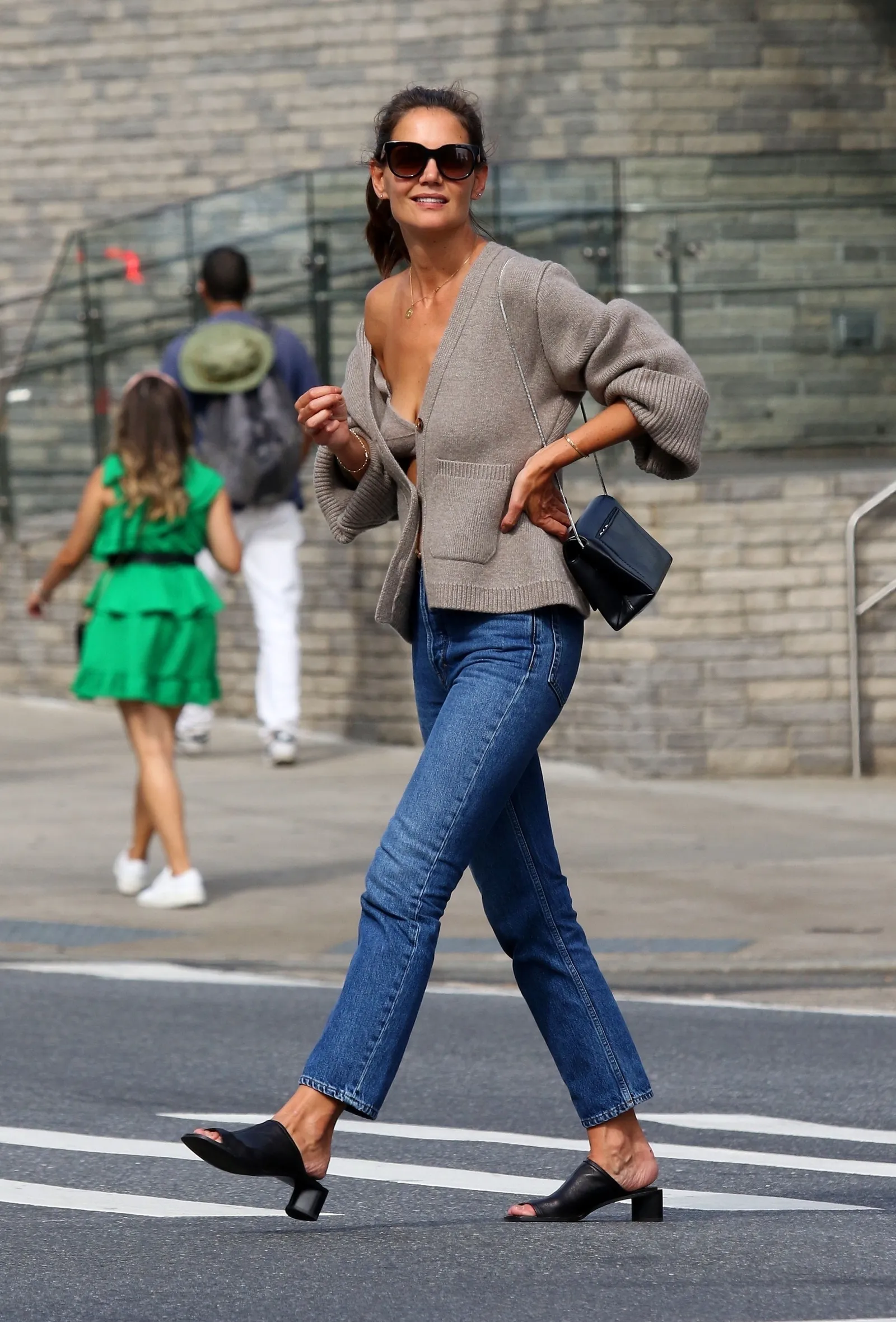 "That actually changed our business, that one image," Holstein said. "You can't pay for press like that."
But you can react to it. Khaite posted the image on Instagram immediately, with shoppable links. The pieces sold out quickly on the brand's website and from its wholesalers, so Khaite set up preorders, which also sold out. Traffic to Khaite's website and Instagram jumped: the site's number of visitors was up 400 percent year-over-year in September 2019. The Instagram account received a record 300,000 hits in the days following the image's release.
Must Read: What is Koolaburra by UGG? All you need to know (2023 Review)
Why Should You Buy Khaite?
Khaite proposes and delivers a profoundly personal wardrobe of nuance and strength, designed to be cherished and made for the now. Khaite's design defies neat distinctions between past and future, reality and illusion, decadence and restraint. Its pace is one of welcome acceleration: the pace of a waking global city that seeks solace in nostalgia. Another aspect of the KHAITE world is revealed with each quickened step.
With recent appearances by celebrities such as Selena Gomez and Kerry Washington wearing Khaite, the brand keep gaining momentum. You definitely need to buy Khaite. It is America's next biggest label.
Why did Catherine Holstein launch Khaite?
Why Catherine Holstein launched Khaite? Listen to her story:
"I had been ranting about the need to find items that I actually wanted to put on every morning. Those treasured pieces I had amassed over the years – my sister's cashmere sweater from Paris in 1998, a pair of Levi's I discovered in Japan, my mother's old Kelly Bag. These are the clothes I can wear four days in a row without thinking twice. But how come I couldn't find it? Sure, there are exquisite designers out there that I adore and continue to purchase, but a lot of the time, it felt almost too precious to take out of my closet."
"I started making plans after several friends pushed me out of the bird's nest."
She launched her namesake line right out of fashion school in 2006, and her first collection was sold at Barneys New York. However, she closed it following the 2008 recession and went to work for a variety of companies, including Vera Wang and J.Crew.
And then she launched Khaite without going back…
"Previously, if you were a young designer, you simply had to be…a young designer," she explained. "Now you have to be really willing…to think about a brand in a full 360-degree way, like Prada or Gucci." That takes a lot more money."
"There's a need for a newer, fresher perspective," says Holstein.
Holstein hopes that her label, Khaite, will fill this void.
The designer's collection is grounded in clean-lined basics and elevated by subtle contrasts. Airy crepe blouses and dresses have long, masculine silhouettes, while sporty, cropped knits are made of rich, felted cashmere.
According to Holstein, the clothing has "a strong, feminine perspective" but "doesn't go girly, precious, or pretty." A muted color palette of buttery cream, hunter green, deep navy, and crisp white evokes '90s-era Gap (where Holstein designed knitwear in her 20s) and results in deceptively simple pieces accented by eccentric details like oversize velvet bows, woven necklines, and extra-long sleeves.
These and other details – double-needle stitching and fabric-covered buttons – may stand out. But "the feeling I'm going for, it comes from the materials," says Holstein.
As a result, Khaite's creative process is collaborative: "I essentially consider myself a filter," she says, "the textile designers are the real artists in this equation."
Her focus has always been on quality materials…
Holstein's focus on material makes her sound less like an auteur and more like an industry wonk when discussing Khaite. –  An effect accentuated by her near-obsessive knowledge of fiber sourcing, fit testing, and different wash processes.
"I have the factory boil it much more than they were really willing to do," she laughs, "I really kind of forced them into it" to create a thick, ultra-soft cashmere.
She also visits Los Angeles on a monthly basis to observe the denim sanding process, which the workers now refer to as "Khaite sanding." "With our washes, I'm very hands on," she says. "I work in a factory."
Who is the designer behind Khaite?
Khaite was founded in 2016 by Catherine Holstein, a designer best known for her namesake brand, which she launched with Barneys New York, as well as her work at Vera Wang and The Elder Statesman. Catherine's label is the most recent to capture the attention of both modest style connoisseurs and high-profile stylists due to its collection of practically perfect wardrobe necessities.
Let us tell you a little bit more about the opulent label…
How do you pronounce Khaite?
The name Kate (KAYT) is a combination of Catherine's nickname Cate and the Greek word Khaite (χαίτη), which means long flowing hair.
Where is Khaite based?
The ready-to-wear womenswear brand that provides chic closet fail-safes to minimalists all over the world is based in New York, USA. Each season, New Yorkers and global Khatie devotees are presented with a super wearable uniform that is appropriate for a wide range of events and environments, from the workplace to the airport to the nightclub.
What's the secret to Khaite's success?
Catherine Holstein uses both traditional and cutting-edge design techniques to create perfectly cut, intricately detailed pieces complete with A1 materials. This allows the designer to create the ultimate hero pieces, such as the perfect pair of jeans, the best LBD, and the most functional leather tote on the market.
When did Khaite become popular?
Previously, Khaite was an under-the-radar brand worn only by fashion insiders and A-list celebrities. However, thanks to Vogue and BoF (Business of Fashion) coverage, a dreamy Khaite x Adidas collaboration, and support from distinguished models and high-profile fashion mavens, the six-year-old brand has become the talk of the town in the world's fashion capitals. That is why Khaite is America's next top label.
How to Buy Khaite
Khaite is available at:
And other luxury retailers.
Conclusion
It was just in 2019 that actress Katie Holmes walked the streets of New York City wearing a cashmere Khaite bra and cardigan look, and the brand quickly became a must-have label among the fashion set.
The brand's leather jackets for fall were nearly impossible to keep in stock. Catherine Holstein, the designer behind Khaite, stayed true to the brand's cool girl appeal for spring 2021.
Holstein's collection included sexy body-skimming knits, seductive ruched dresses, romantic puff shoulder tops, and airy evening gowns.
The designer also included a few of her signature cozy cashmere sweaters, which have helped her become a fashion icon. That is why Khaite is America's next top label! These are investment pieces that will last a lifetime and are both timeless and modern, and youthful.
We hope you enjoyed reading through this article. Let us know your thoughts in the comment section below. Thank you.
Recommended:
Why is Khaite so expensive? (6 Reasons to own a piece of Khaite + All About Khaite)
Why are Berkey Water Filters Banned in California?