Are you aware that people search for "Why I Left eXp Realty" thousands of times each month? This implies that agents are in search of why agents leave exp so they won't make similar errors.
It is said that a lot of agents quit eXp Realty on a daily basis. And in this article, I will show you the reason for this.
In this blog post, I will explain some most important reasons why many agents quit eXp Realty so you can make your choice whether it is best for you or not.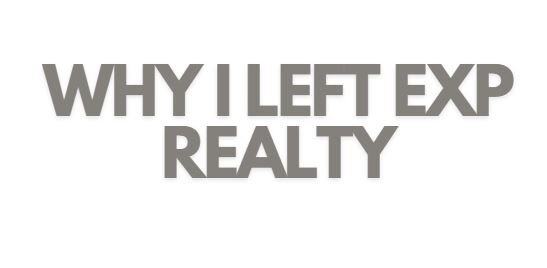 13 Reasons Why Agents Leave eXp Realty
Major reasons why agents leave eXp Realty:
Unrealistic Expectations About Exp Realty
A lot of agents are excited about the many benefits of eXp Realty and try to convince others to sign up on the platform.
However, a real estate agent might realize that they had wrong expectations about the organization and what was needed of them. They were expecting things to be simpler or done on their behalf when in reality, it still requires a great deal of effort to become successful.
This disconnect between reality and expectations can be disappointing and result in people leaving eXp Realty. When you register with any organization, you must have a solid understanding of what is expected of you and keep your expectations reasonable.
If you don't know what to expect, consult various agents in the organization before concluding.
Limited Earning Potential
eXp Realty is an online brokerage, and because of this, agents are projected to earn a fraction of what they would at a real estate office. eXp has launched an agent profit-sharing system that enables agents to receive commissions from other agents' activities. Still, it's difficult for agents to access the program and boost their revenue base.
eXp provides commission splits that are likely to be less than those of its competitors, making it tough for agents to optimize their earnings potential. eXp also offers an additional layer of transaction costs to agents' base commissions, thereby lowering the money they take home. These charges are levied on all transactions, even after an agent has possibly capped. This causes agent dissatisfaction since the 100% commission guarantee is not true.
Poor training and support:
Although there are many training and support facilities for eXp Realty agents, however, some believe it is inadequate, and the platforms do not offer the key resources necessary to find success in a fast-evolving real estate market.
eXp Realty provides some basic training and support for its agents. Still, many feel it's not enough and that eXp fails to provide the necessary resources needed to succeed in a competitive real estate market. Agents regularly have difficulty finding solutions to their inquiries, leaving them feeling annoyed and isolated. Their cloud-based training does not have the engagement that agents wish for, particularly in the areas of role-playing and scripts. The lack of a solid plan of action for the cloud leaves agents looking for solutions without figuring out where to seek help.
eXp Realty's training program for new agents may leave something to be desired; experienced eXp Agents reveal that the present tools are inadequate, leaving them with a shortage of assistance and direction, which may hamper their success. With this in mind, it is obvious that reforms are needed to be made if eXp desires its real estate professionals to achieve true success.
Recruitment Challenges
eXp Realty stands out because it runs on a cloud-based brokerage, allowing agents to conduct business remotely from any place. However, this may make hiring new agents hard since eXp doesn't have a standard physical office space where other brokerages are able to interact with prospective agents. Although eXp has put in place a number of recruitment programs that assist agents in growing their teams, a lot of agents find them tedious and useless.
eXp lacks an organized recruiting team or structure set up to assist agents recruit fresh talent to the ecosystem. Since eXp largely depends on its current agent pool for hiring, it can be challenging for new agents who might not have the resources they need or access to networks to recruit effectively.
Without this recruitment team or structure, agents will invest more of their time in finding new agents and less in helping buyers and sellers. This may result in a decrease in commission earnings.
inadequate real estate tools
eXp Realty provides a wide range of real estate tools designed to assist agents with their daily tasks. Still, many believe eXp falls short in comparison to other brokerages offering more comprehensive toolsets like marketing automation tools and customer relationship management networks. eXp also does not have the most current advanced technology that can give agents an advantage over other agents in their field.
Exorbitant Fees
eXp Realty charges its agents a lot of money for deals they carry out on the site in addition to other charges when they utilize eXp's services like advertising, promotion, generating leads and more. Agents are likely to realize that their commissions are quickly diminishing because of rising fees, leaving them feeling stressed and cheated.
Inadequate brand recognition
eXp Realty is an up-and-coming brokerage and, as a result, has no brand recognition that many of its competitors have established across the years. eXp is making an effort to improve its profile through a number of marketing programs. Still, numerous people believe that eXp must continue to do more to position itself as an influential player in the real estate market.
Inadequate local presence
eXp Realty works as a cloud brokerage and, as a result, does not possess the local presence associated with traditional firms, which can be advantageous to agents seeking to establish relationships with prospective clients. By setting up virtual offices in some locations, eXp has made an effort to close this gap, but many agents find them insufficient and unsatisfactory.
eXp is not yet an established brand in the real estate sector, and this can make it hard for eXp agents to get recognized for their services and build a solid track record within the marketplace.
Complex Technology
eXp Realty's technology is complicated, and agents need to be proficient in technology to be able to use it properly. eXp offers some training on its technology, but numerous agents have trouble understanding how every element function together and get fed up with the intricate nature of eXp's cloud brokerage model.
Because eXp is a cloud-based brokerage, technology is crucial to the performance of the agents in the ecosystem. Sadly, eXp has had difficulty offering satisfactory assistance when it pertains to its technology tools and platforms. Due to eXp's lack of technological support, agents might face technical issues or find out that they are not able to use the eXp tools they need.
Insufficient resources
eXp Realty offers a few resources to its agents, such as the use of online advertising materials, customer management tools, and prospecting services. However, these tend to be limited in scope when compared with those provided by traditional brokerages. eXp additionally fails to provide the resources needed to assist agents in navigating the constantly evolving real estate market and staying viable.
eXp lacks any physical work areas for agents, and this can be an issue as agents depend heavily on in-person interactions with other agents and managers. This absence of face-to-face interaction can make it challenging for agents to get the necessary advice or support they require when working with eXp Realty.
eXp might be among the biggest ecosystems in the real estate sector, yet it continues to lack resources. eXp fails to offer an in-house marketing staff or significant advertising funds to assist agents with their promotional and branding efforts.
Poor Morale
eXp Realty has been bashed for failing to provide a positive work culture, leaving lots of agents feeling neglected and uninspired. eXp is working to improve morale via a number of initiatives, such as providing regular calls with top eXp agents. Still, a lot believe that this is not enough to raise the overall atmosphere at eXp Realty.
Deceptive Promises
eXp Realty is currently criticized for making exaggerated claims about agent success as a way to lure new recruits, leaving numerous agents feeling frustrated when they fall short of the results eXp promised. eXp is trying to tackle this issue by implementing a more realistic expectations program, but a lot of agents still believe eXp fails to be sincere regarding what it can and can't do for them.
eXp was set up on the values of partnership and the free flow of ideas, but some eXp agents reveal that the ecosystem is sometimes not as cordial or amiable as it asserts to be.
Difficult Leadership
eXp Realty's management team is being repeatedly criticized for its low level of openness, with many complaining that eXp's leaders lack accountability and are apathetic to their concerns. eXp has taken steps to strengthen relations between its upper management and its agents through the implementation of monthly town hall meetings. However, many agents continue to feel ignored and dissatisfied when attempting to get responses or assistance from eXp's leadership team.
eXp's corporate team is perceived to be uncaring when it pertains to offering assistance and advice to eXp agents, resulting in annoyance among a lot of eXp agents.
eXp has been condemned for its absence of transparency, particularly when it relates to sharing details of its organizational structure and activities. This absence of transparency can make it hard for eXp agents to figure out how what they do fits into the overall ecosystem.
eXp may not possess an organized management structure, and lots of agents find it hard to know who their supervisors are, what their roles are, and how they fit into eXp's overall structure of operation. Each state is composed of a managing broker and a supporting team, yet the chain of command may be missing. This lack of transparency may result in misunderstandings and anger for agents trying to establish successful careers with eXp Realty.
Recommended: