Why are Berkey Water Filters Banned in California?
Why are Berkey Water Filters Banned in California? – If you're a California resident and you know about the stellar reputation that Berkey countertop water filters have, you might be startled to find that you can't buy many products from this brand where you live.
However, Californians who have sought to acquire a Berkey water filter have likely run into a huge roadblock: these filters are prohibited by law.
The reason is that Berkey has flatly refused to comply with California's law for selling domestic water filtration systems.
California's "AB 1953, SB 1395 & HSC Section 116875" became law in 2009. The "no-lead law," as it is more widely known, prohibits the sale of most Berkey water filters, systems, and products in California and has been around for a while.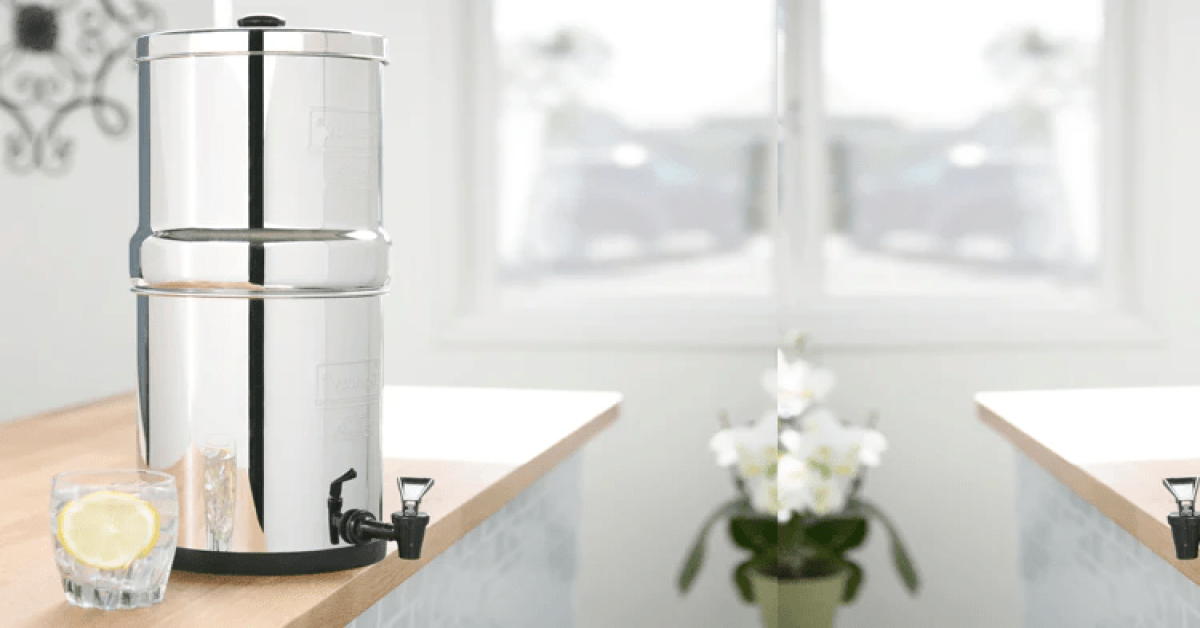 What Says the Law?
Since legal terminologies can sometimes be difficult to understand or confusing, we'll explain everything in layman's terms.
The law says: Any "end-use equipment intended to transmit or dispense water for human consumption through drinking or cooking," as well as any parts of such a device, are prohibited from being marketed in California unless they have been independently certified that it is "lead-free" by an ANSI/NSF-approved corporation.
All water filtration goods and water purification systems are covered by the law, including their components and replacements, not just those that use metal alloys.
Water purification equipment must adhere to the NSF/ANSI/CAN 61-2020 standard to receive lead-free certification from this globally recognized testing lab. NSF/ANSI 61 is the more frequent name for it.
What's Stopping Berkey from Getting Certified?
Berkey has cited the high cost of obtaining independent product testing as the primary reason for their lack of action in this regard.
The Berkey website also suggests that the problem extends beyond monetary considerations.
Here's a snippet from the Berkey website that goes into further detail on the topic:
Although our extensive testing is sufficient for 49 states in the US, it is currently not acceptable for residents of the state of California.

Once NSF certification has been obtained, the state of California additionally requires that companies pay high costs to obtain and maintain certification with the state of California.

In the end, we have concluded that the additional taxes, certifications and red tape have created too large of a barrier for our firm to offer our systems in the state of California.
Also, one Berkey dealer claims that the legislation would require makers of water purification or filtration devices to disclose "secret information" related to their systems, such as details about their production methods, sales figures, and material sources.
Lastly, it's simple to see why Berkey water filters are banned in California, given how unyielding Berkey has been on these concerns.
How does One Get A Berkey Product in California?
Those who reside in the Golden State (California) and are interested in purchasing a Berkey product can do so, though their options will be more limited.
Although Berkey and the state of California have been at odds for some time, the company is nonetheless permitted to sell and distribute certain water filtration products within the Golden State.
Meaning customers in California can lawfully purchase outdoor Berkey systems and products, but an indoor Berkey system cannot be sold.
Since these are for outdoor usage, they are exempt from the regulations that apply to water filters for indoor use.
The following outdoor systems and products are now available for sale in the state of California:
Berkey Light (With or without LED lights)
Black Berkey Filter Elements
Super Sterasyl™ Elements
In addition, click here to view a comprehensive list of the contaminants that Black Berkey filtering elements are claimed to reduce.
How does One Get A Berkey Water Filter in California?
Consequently, even though you have concluded that a high-quality Berkey water filter is what you seek, acquiring one will be impossible so long as you remain a resident of California.
The question remains, though: can it? It would be best to think outside the box to acquire one of these highly regarded water filtering systems.
First, we know that possessing a Berkey water filter in the Golden State is not a crime; it's perhaps not a serious offense, which means that the secret is to buy one from another state.
However, the swiftest and most convenient option is to have a friend or family member from out of state make the purchase and ship it to you.
There's a good chance you have a reliable friend or relative who lives outside of California who would be pleased to do this for you if you are a California resident.
In conclusion, Berkey must first obtain an NSF 61 lead-free certification to comply with the state's rules before selling its indoor systems and products in California.
Manufacturers like Berkey will continue to need third-party testing on all their systems before they can legally sell them in California until new restrictions are implemented, or existing standards are revised.
The Reason Berkey Water Filter can Make You Sick
Most importantly, the Berkey water filter system has stated that it eliminates plastic materials, factory pollutants and residues, carbon, fluoride and mainly nitrate. They clearly mentioned that the Berkey water filter could eradicate nearly 99.9% of germs and close to 95% of toxic metals, which are unsafe for humans.
However, these claims are most likely false because, in the state of Iowa, companies are required to validate their claim by proving it live. However, since Berkey can't authenticate their claim, the company has been banned from selling its products in places like Iowa.
If the company continues to remain evasive about proving its claims as marketed, there's a high likelihood that they are due to being unable to meet or actualize them.
Even when the company claims that the filter system eliminates as much as 95% of contaminants and germs, there is still the presence of toxicants and pollutants that it is unable to get rid of. For instance, it doesn't have a KDF filter, which is effective in eradicating mercury, chlorine and chromium.
Chromium is a contaminant that is typically found in the bodies of waters due to industrial waste emptied into riverways; hence this filter can make you fall sick because it is not effective in clearing that chemical.
Although the Berkey is equipped with Carbon filter, it doesn't have a granular activated carbon filter. A conventional carbon filter can only eliminate toxins with a micron rating of 0.5 to 1.0.
However, if a contaminant or toxin has lower micron ratings (e.g pesticide, disinfection compounds and chlorine), it won't be effectively eliminated. This can cause sickness for people in the long term.
Also see: Why is Khaite so expensive? (6 Reasons to own a piece of Khaite + All About Khaite)
We hope you find this information helpful. Please use any of the share buttons below to share this information.
Feel free to drop any questions or contributions regarding this article in the comment section below.