Top 7 Free Medical Billing and Coding Course (2023 Update)
Doctors and nurses are seen as healthcare system superheroes. But little do you know that other secret agents are assisting them here to give you the care you need. Medical coders and billers are one of those agents.
Starting a medical coder and biller career is very interesting if you know what to do. This article will show you what a medical biller and coder is, how you can start as a medical biller and coder, and all you need to know about the profession.
Keep on reading to find out more about medical billing and coding.
Medical Biller VS Medical Coder; Are There The Same?
Before you begin this journey towards medical billing and coding, you'll need to know exactly what it's about.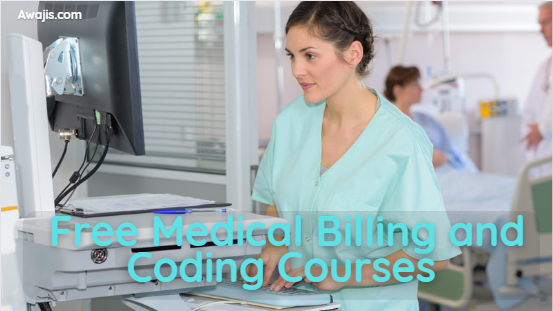 What is Medical Coding?
A medical coder translates medical procedures, diagnoses, and equipment into universal numeric or alphanumeric codes. It helps the medical biller know how to bill the patient accordingly.
For example, let's say a patient makes an appointment. He arrives and tells the doctor he has a fever, heartburn, and stomach aches. The doctor assessed him based on these symptoms and some diagnostic tests. After the trial, it was discovered the patient had an ulcer. The doctor recommends medication and schedules a follow-up appointment with the patient.
After this, all of this necessary patient information is in the doctor's report. A medical coder's job starts where the doctor's job ends. The medical coder takes time and reads through the report. Medical coders translate the information using the universally accepted medical code and input it into the software. It helps the medical biller charge the patient appropriately for the provider's services.
Pro-Tip: Medical coders translate doctors' reports to code. Hence, they need a basic understanding of body systems, anatomy, and physiology.
Fun Fact: Medical billers don't require much knowledge of body systems.
What is Medical Billing?
Medical billers charge patients for the services provided by the primary care provider to get a claim. Medical billers need knowledge of medical records, insurance claims, and ethics. The work of a medical biller starts when a medical coder turns over the translated document.
Pro-tip: Medical billers run through the reports to be sure the patients are billed appropriately. This means medical billers also need a basic knowledge of medical coding.
You can see why medical billing and coding are considered the same even though both are two different lines of work.
Medical billers work with patients, healthcare providers, and insurance companies. Unlike medical coders that work only with healthcare providers.
How Can You Become a Medical Biller and Coder?
Starting as a medical biller and coder requires learning, and it's a continuous process. Medical billers and coders work in insurance companies, hospitals, nursing care homes, acute care facilities, and outpatient settings and even find some remote jobs.
Medical billing and coding jobs are gaining traction. As more healthcare companies rise, more medical billers and coders will be needed. The U.S. Bureau of Labor Statistics outlooks at most 7% job outlook growth for health information and medical records professionals from 2021-2031. There's a massive demand for medical billers and coders in the coming years.
The most important thing is to learn the skill and determine where you want to work. If you'd like to work in a hospital or doctor's office, you'll need to become a Certified Professional Coder. This is the most common certificate to get as a medical coder and biller.
Certified Medicare Compliance Officer (CMCO) certification is also open for those who want to work with Medicare patients. To pass the CPC, you'll need basic knowledge of anatomy, physiology, medical records, etc. You'll also need to decide if you'll learn online or in person.
I have great news for you if you'd love to learn more about medical billing and code online. Don't worry; it's free, though you could pay a small fee for certification.
Let's take a look at the available free courses, shall we?
Top 7 Free Medical Billing and Coding Courses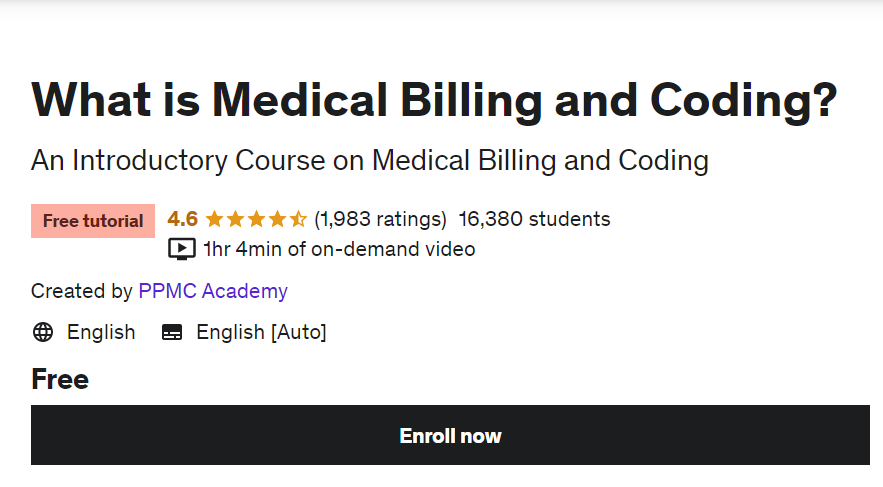 This course offers an introduction to medical billing and coding. It gives an in-depth view of what medical billers and coders do and the roles they perform. It's an excellent course for you to decide if medical billing and coding are for you or not.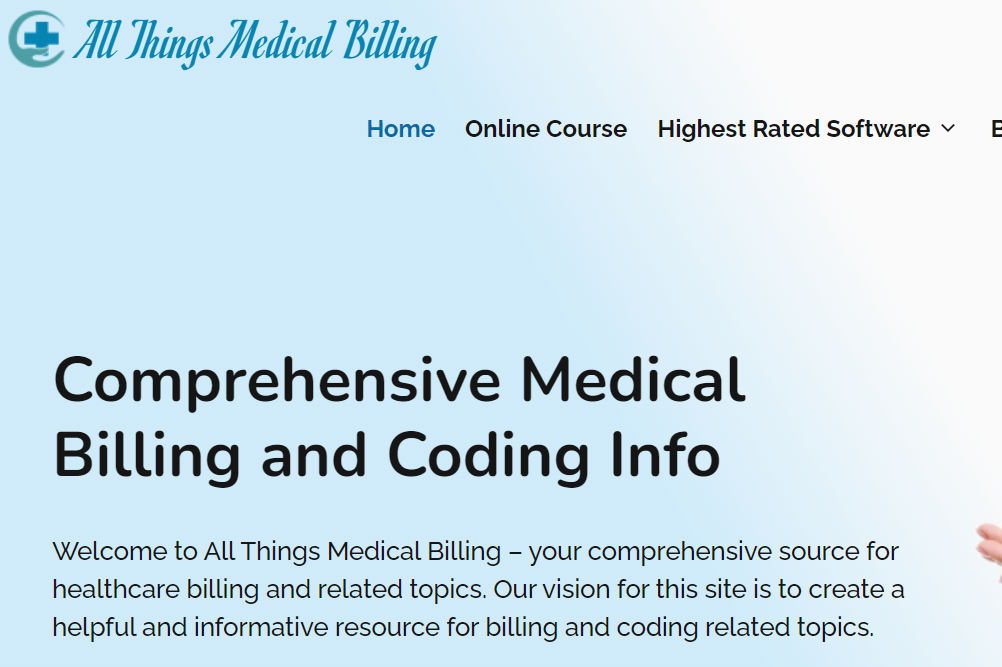 It's a free website dedicated to medical billing and coding. It gives beginners information on what medical billing and coding are about. It also helps them secure jobs and share tips on how to get a remote position and a certification program to apply for.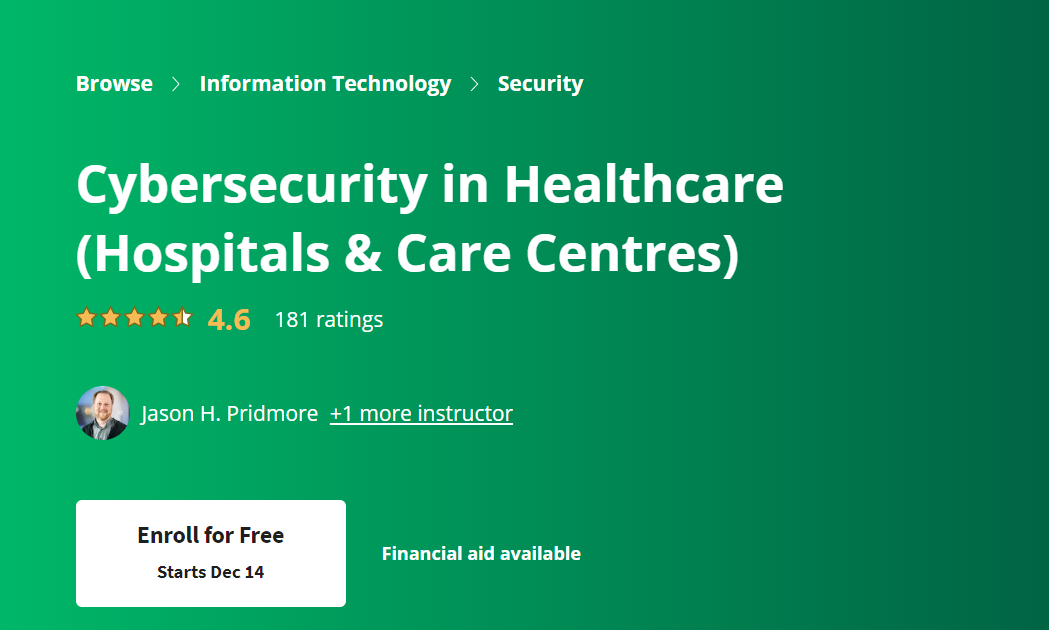 As mentioned earlier, medical coding and billing are a continuous process. Because most of the patient's information is stored online and through software, you must have a basic understanding of cybersecurity and how to protect patients' information.
This course is free, and it's for beginners. You don't need to go deep into cybersecurity. Just the basics are enough. It also teaches you cyber hygiene in the workplace.
This course will teach you much about medical coding and billing, but it will help you understand how to protect your patient's information from hacking and cybercrime.
It is a free platform that gets you what you want. It might be hard juggling from one channel to another. It's best to stick to a few and take down points from areas you need to cover and learn as you progress in the field. A channel I support for beginners in medical coding and billing: Contempo coding.
You can also download the videos and watch and rewatch them. However, you will do no assessments on this platform. It's still an accessible avenue to learn medical coding and billing.
Pro tip: Most employers regard associate degrees in medical coding and billing. At the same time, some are happy with at least some means of certification. It depends on your career goals and what's best suited for you.

This website is dedicated to teaching you everything about medical billing and coding. It has free video classes of 10-15 minutes. It also has PowerPoint presentations, ebook resources and assessment questions to assist in preparing for any professional exam. The platform doesn't offer certification, but the learning process is awesome.
Pro-tip: It's best to focus on learning the skill than getting the certificate from the free training.

Future Learn works with universities and institutes to provide free courses. The course is in video format and also has a transcript of the course detailed out. It has an assessment section to test your understanding and a community to meet with other learners and ask questions.
It's free, but it does require you to pay a fee for the certificate. It may not be a direct course to teach you more about medical coding and billing. It will give you background knowledge on data security.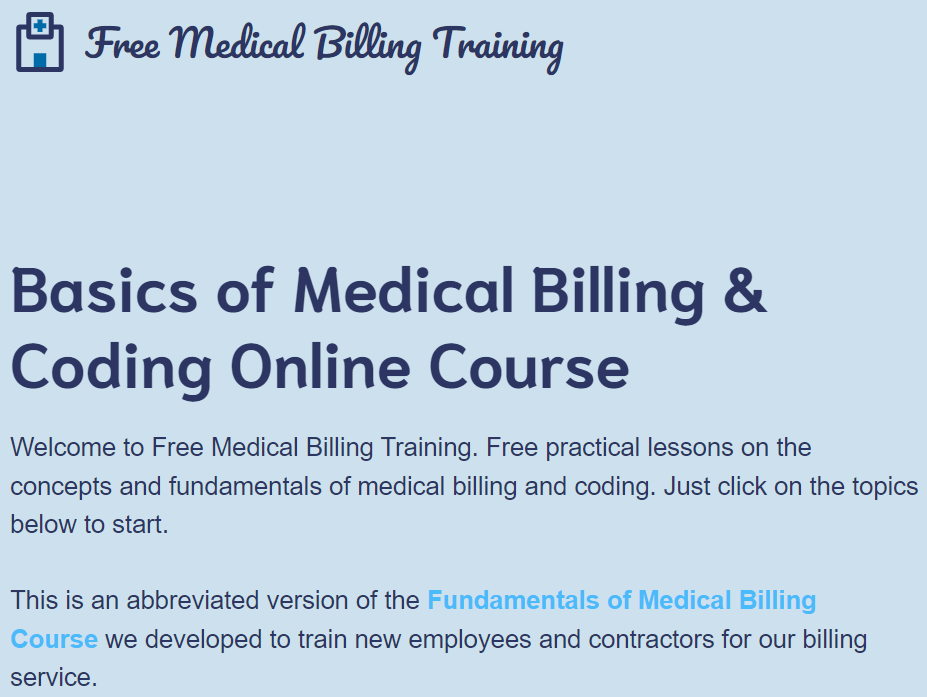 Free Medical Billing Training is an excellent resource for people who wish to learn about the profession but do not have the financial means to invest in schooling or a paid course.
The website provides a free, abridged version of its popular paid medical coding and billing course, which contains over 50 video lectures.
This short, free course covers a range of critical medical coding and billing skills, such as addressing claim concerns, introduction to medical coding, provider and patient setup, and health insurance plans.
While all of the lessons in this short course are written, it is an excellent way to get a glimpse of medical coding and billing and decide if you want to pursue the profession further.
Furthermore, if you like the information in the short introductory course, you can purchase the complete medical coding and billing fundamentals course to explore the topics taught. You may also sign up for a free account on the site to get a more in-depth free trial of the basic course.
Read Related: Top 12 Highest Paying Computer Science Jobs ( 2023 Update)
The work of a medical biller and coder might be tedious as it requires continuous learning. You'll also need refresher courses to keep up with the skill demand.
It's great to know that you don't have to break the bank to learn a lesson you love or achieve your career goals. The help of these free materials and resources will present you with the skills you need.
All you have to show for it is time and dedication. I hope you enjoyed the article. Ensure you share the free medical billing and coding courses mentioned.
Recommended: 
Online Esthetics Schools in the U.S.

Free Online Childcare Training Courses with Certificates

Best Medical Schools in the U.S. (Comprehensive Report – 2023)