Industrial Machinery Components [2023 Guide]
Industrial Machinery Components – A wide variety of machinery is utilized in industrial environments, each serving a specific function.
Most machinery in the industry is designed for a certain function; thus, these machines must be made with high-quality components to perform that function reliably and efficiently.
Also, it's crucial to be familiar with the many components and their applications, as their utilization varies by industry.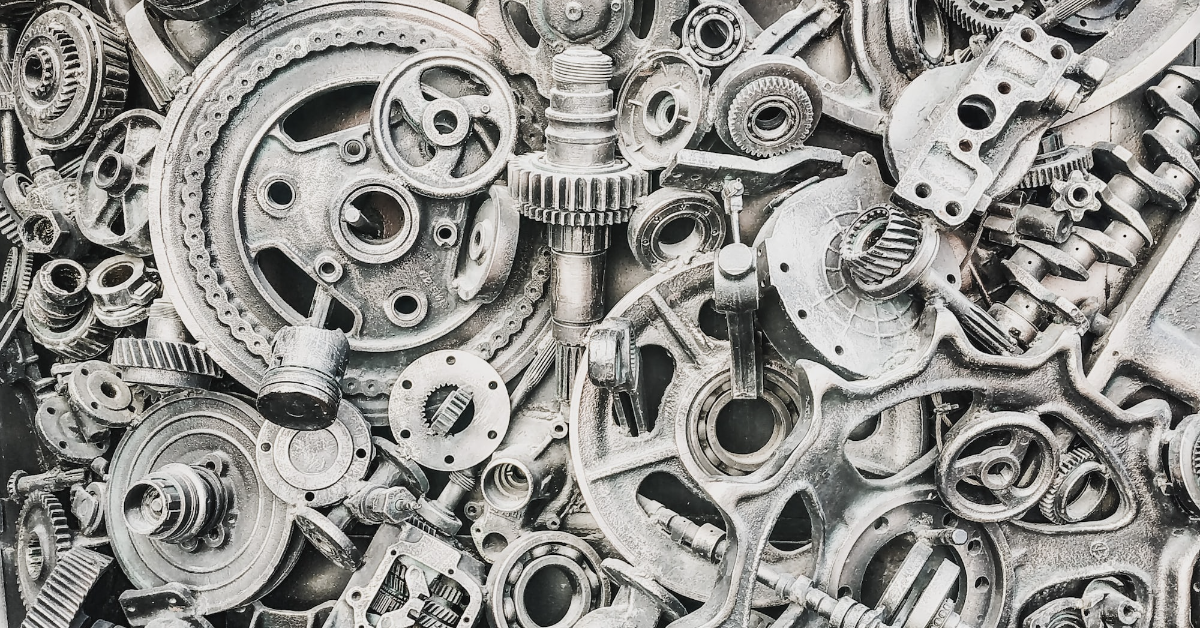 What is considered Industrial Machinery?
Oil fields and building or construction equipment are examples of "industrial machinery," however, this term encompasses any machine utilized in a commercial or industrial setting.
Industrial Machinery Components
The components of a machine can be broken down into four categories, namely:
Control components.
Electrical components.
Movement-regulating components.
Structural components.
Optical components (include telescopes, lenses, and mirrors).
Below is the comprehensive and detailed list of industrial machinery components:
Actuators
Axles
Beams and Struts
Bearings
Belt and cable drives
Brakes and Clutches
Bushings
Buttons
Cam and follower systems
Chain
Compressors
Computer controllers
Couplings
Electric motor
Engine
Fasteners
Flywheel
Fuel pump
Gear trains
High-pressure nozzles
Hydraulics
Indicators
Keys and Cotter pin
Lamps
Linkages
Lubricants
Machine guard
Meters
Oil cooler
Pulleys
Pumps
Screws
Seals
Seat
Sensors
Shafts
Splines
Sprocket
Switches
Valves
1. Actuators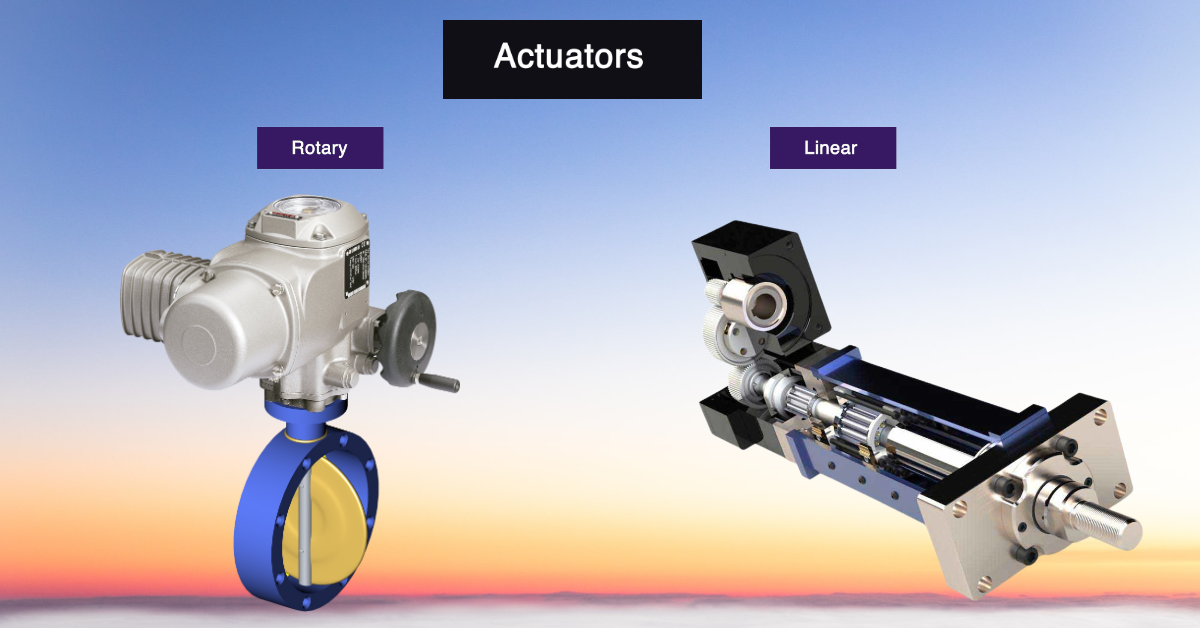 One definition of an actuator is "a machine part that moves and controls some mechanism or system, like by opening a valve." In layman's words, it's a "mover."
Also, the types of actuators include; Soft actuators, Hydraulic, Pneumatic, Electric (including Electromechanical actuators (EMA), Electrohydraulic actuators, Linear motors), Thermal or magnetic, and Mechanical.
2. Axles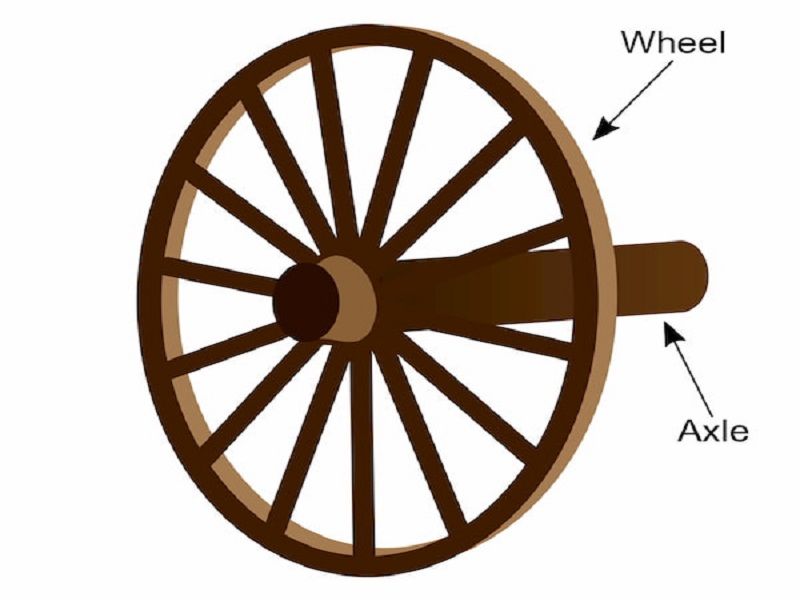 Axle or axletree refers to the central shaft that allows a wheel or gear to rotate. The axle of a vehicle with wheels can either be rigidly attached to the vehicle and rotate in tandem with the wheels, or it can be fixed in place and rotate with the wheels.
3. Beams and Struts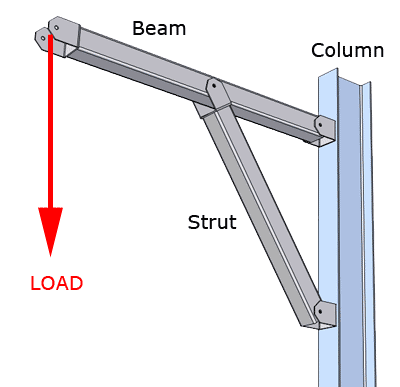 Beams are structural elements that predominantly resist loads perpendicular to the beam's axis. When deflected, it bends rather than breaks.
Struts are most effective in stopping longitudinal compression, though they can also be used in tension.
4. Bearings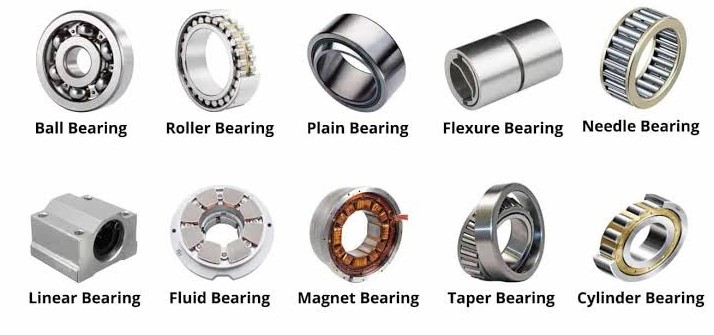 A bearing is a component that decreases friction and provides smooth relative motion.
At least six different types of bearings are in widespread use, each with its unique mode of operation; these include Plain bearings, Rolling-element bearings (Ball bearing and Roller bearing), Jewel bearings, Fluid bearings, Magnetic bearings, and Flexure bearings.
5. Belt and Cable Drives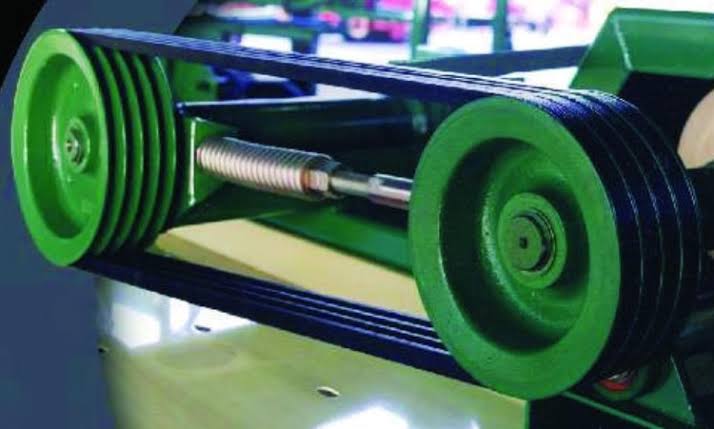 Belts are loops of flexible material that are mechanically linked to two or more parallel spinning shafts. Belts have multiple applications, including creating movement, efficiently transmitting electricity, and detecting and analyzing relative motion.
Cables are used in a cable drive (also known as cable transmission) to transmit rotational motion from one shaft to another.
But flat belt drives, which use smooth wheels and a belt, are just one cable drive that gives way to electric components in modern machinery. So, one of the many modern applications for cable drives is in block and tackle systems.
6. Brakes and Clutches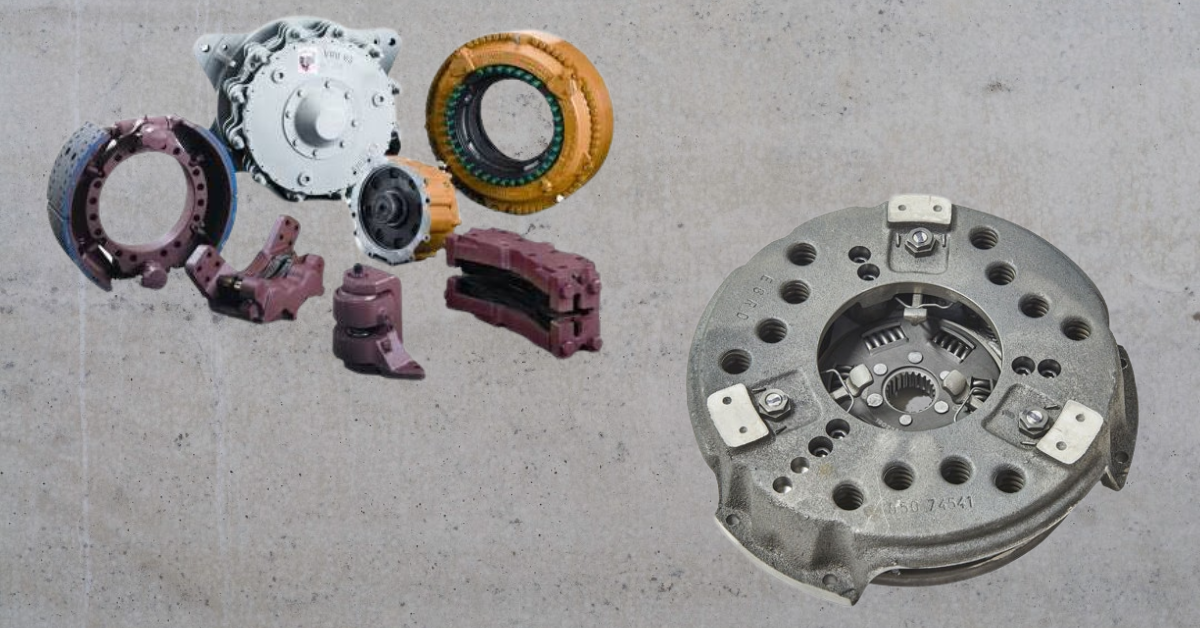 A brake is a mechanical mechanism that slows down a moving system by soaking up the kinetic energy it produces.
Also, its primary function is to reduce or halt the rotation of a wheel, axle, or vehicle by creating frictional resistance to motion. Types of brakes include frictional, pumping, and electromagnetic.
But a clutch engages and disengages power transfer, often from a drive shaft to a driven shaft. Clutches are used to couple and disengage two spinning shafts in their most basic form.
7. Bushings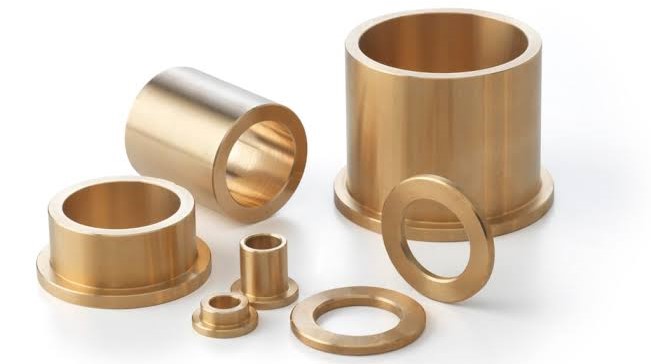 A bushing is an easily replaceable cylindrical lining or sleeve used in machinery to lessen the impact of friction on moving parts, minimize the size of a hole, etc.
8. Buttons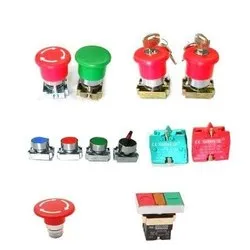 A button is a simple switch to activate or deactivate an action or function in a machine or system.
9. Cam and Follower Systems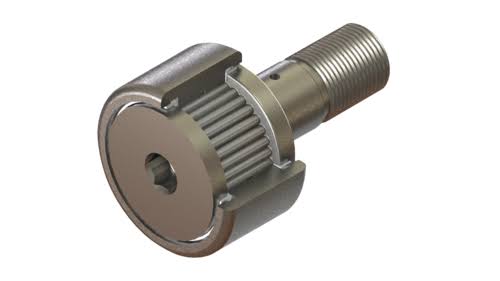 Mechanical linkages often include rotating or sliding components known as cams, which convert rotary motion into linear motion.
But cam followers, sometimes called track followers, are a type of roller or needle bearing specifically made to follow the contours of cam lobes. Types of cam followers include Anti-friction elements, Shape, Stud (Drives and Eccentricity), and Yoke.
10. Chain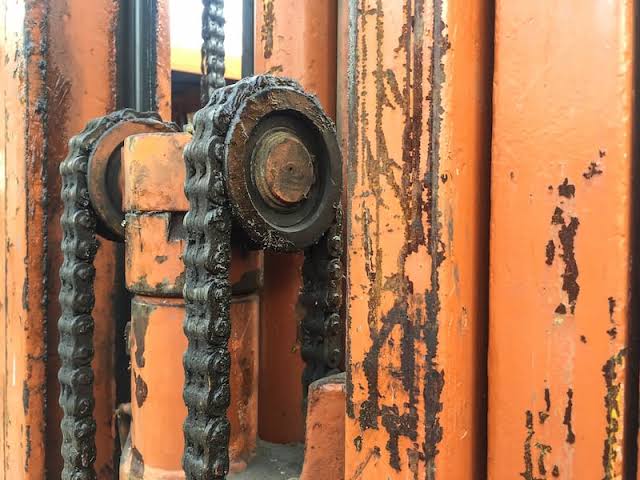 Like a rope, a chain is a series of interconnected parts called links that stretches and curves under compression but straightens and become more rigid under tension.
Also, chains include ball chains, calibrated chains, flat chains, ladder chains, long link chains, O-ring chains, Roller chains, self-lubricating chains, silent chains, stud link chains, and short link chains.
11. Compressors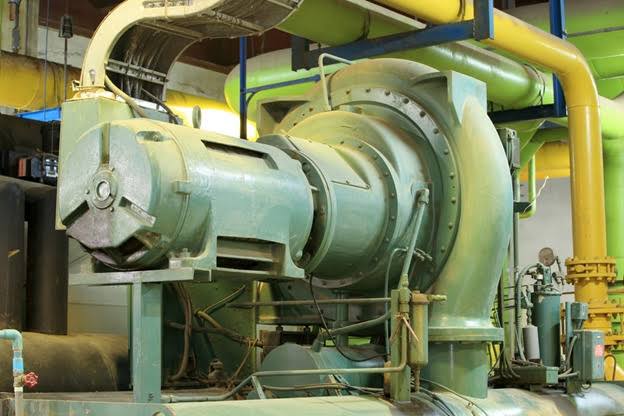 Compressors are mechanical tools for raising air pressure and other gases amenable to compression, and there are two basic types of air compressors: Positive displacement and Dynamic.
12. Computer Controllers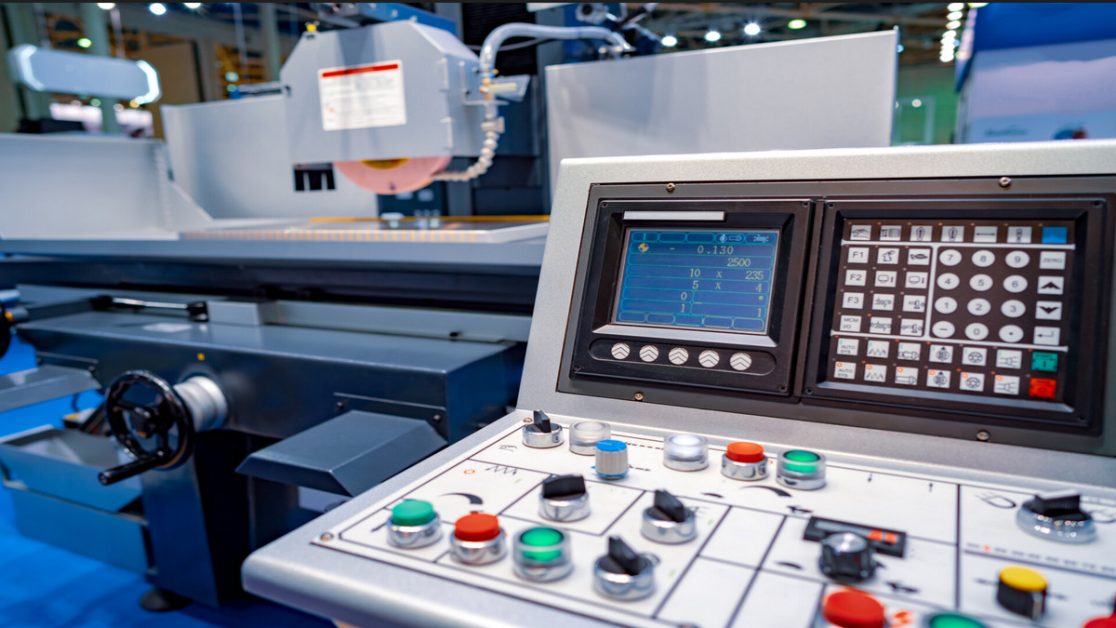 Computer controller refers to an industrial computer customized for machines, robotic devices, and other production processes that necessitate high dependability, simple programming, and rapid problem identification.
13. Couplings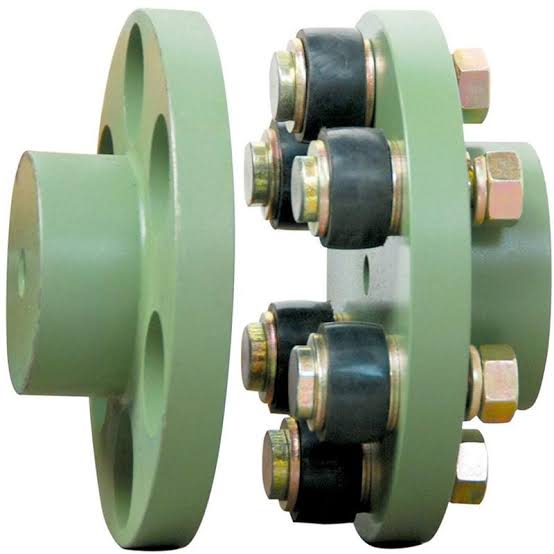 A coupling is a tool that joins two shafts' ends to transfer mechanical energy. Also, couplings unite two pieces of rotating equipment to allow for misalignment, end movement, or both.
14. Electric motor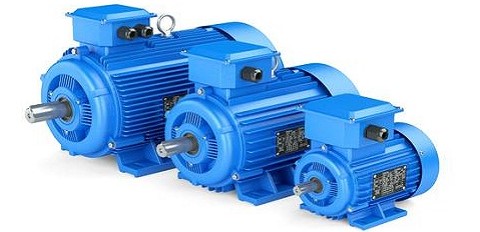 An electric motor is a type of electrical equipment that can transform electrical energy into mechanical energy. Also, torque is applied to the motor shaft when an electric current flows through a wire winding and interacts with the motor's magnetic field.
15. Engine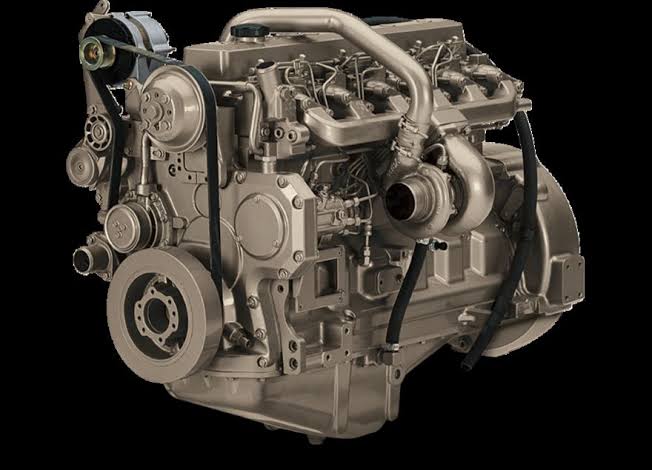 A machine that uses one or more energy sources to generate mechanical energy is called an engine or motor.
16. Fasteners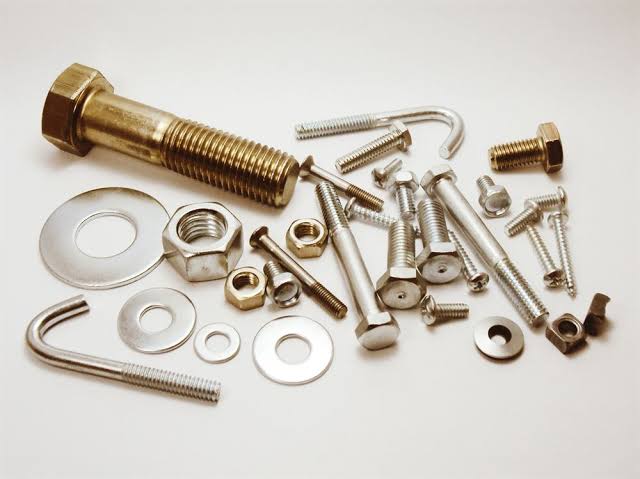 A fastener, or fastening, is a piece of hardware used to attach or link two or multiple objects together mechanically.
In most cases, fasteners affix two objects together that are not intended to last permanently and can be disassembled without causing any damage to either of the original parts.
17. Flywheel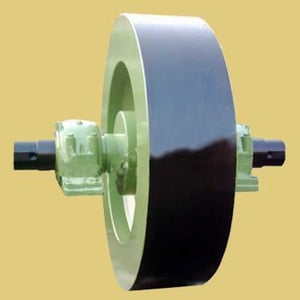 A flywheel is a mechanical tool that stores rotational energy, a form of kinetic energy that is proportional to the product of the moment of inertia and the square of the rotating speed, by using the conservation of angular momentum.
18. Fuel pump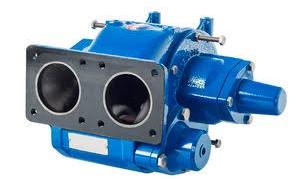 A fuel pump is a mechanical or electronic pump that extracts fuel from a tank to feed a carburetor or fuel injection system with fuel.
19. Gear trains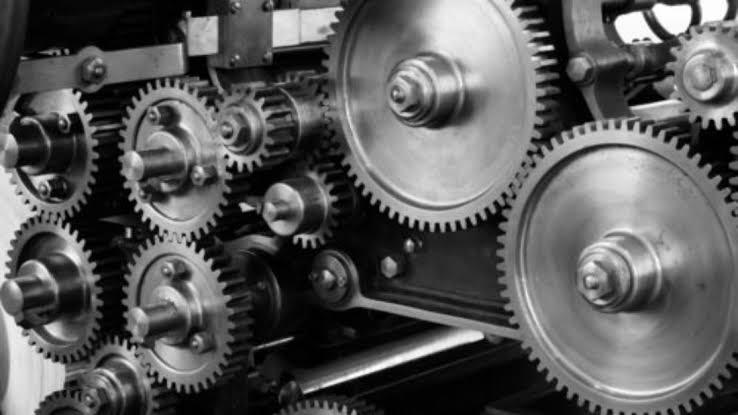 A gear train is a mechanical system created by mounting gears on a frame such that the gear teeth engage.
The gear teeth are created so that the pitch circles of engaging gears roll over each other without slipping, allowing for a seamless rotation transmission from one gear to the next.
20. High-pressure nozzles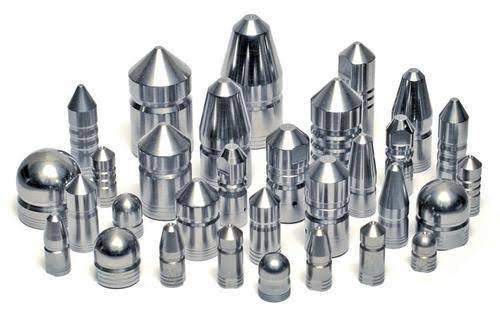 Processes like spraying coolant on a tool when machining it and washing and painting huge objects like tanks are made simple and effective using high-pressure nozzles. But understanding the product details is essential before making a purchase decision.
21. Hydraulics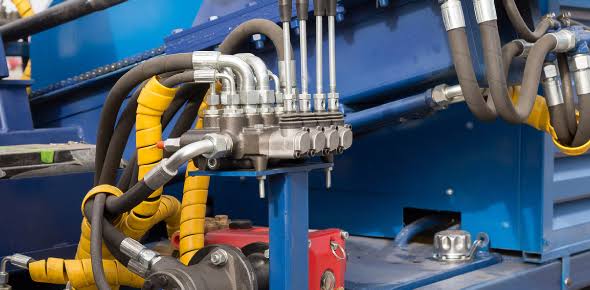 Hydraulics is a branch of engineering that uses pressurized liquids to accomplish tasks, including power generation, control, and transmission, in the context of fluid power applications.
So, in other words, one mechanical function that uses liquid pressure is known as hydraulics.
22. Indicators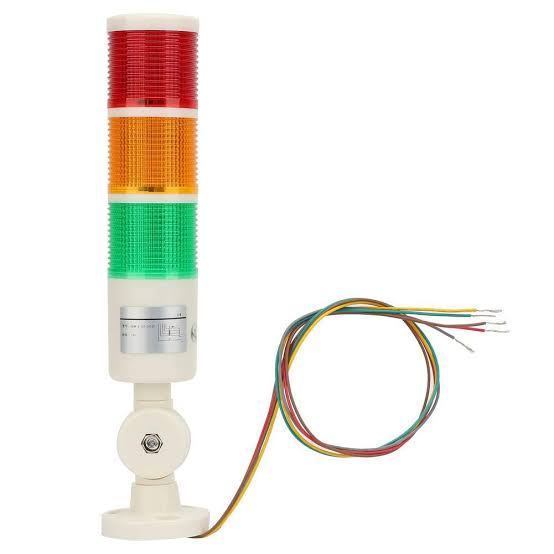 The industrial machine indicator is suitable for machine tools, mechanical equipment, etc.
23. Keys and Cotter pin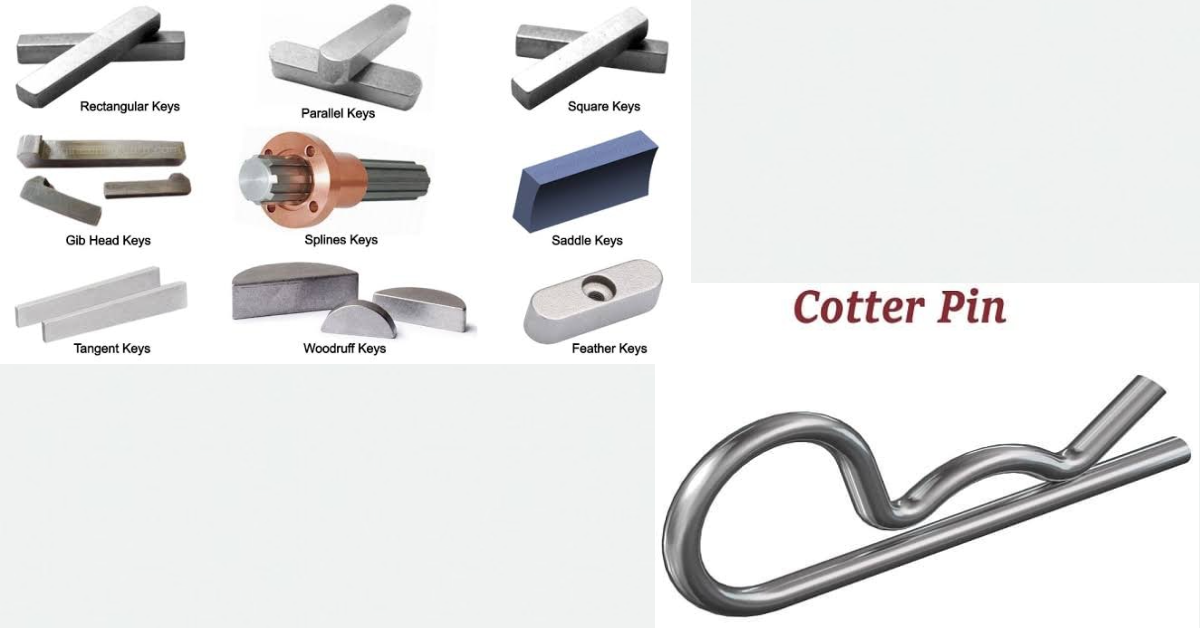 To link a rotating machine part to a shaft, mechanical engineers need a "key." Because the key locks the two pieces in place, preventing them from turning about one another, which could allow torque to be transmitted.
But a cotter pin, often called a cotter key, is a metal fastener with two tines bent during installation, much like a rivet or staple. Also, there is a wide variety of cotter pins; however, most are thick wires with a half-circle cross section.
24. Lamps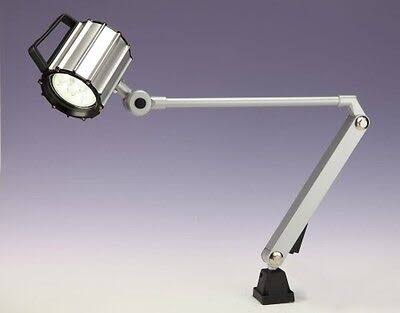 An industrial machine lamp is essential for visibility when working late at night or in a dimly lit workshop.
25. Linkages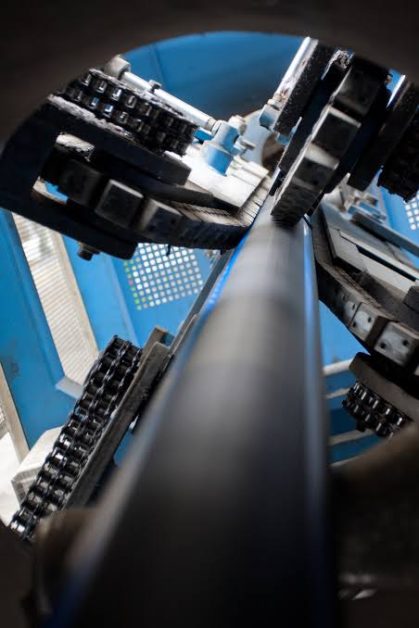 Mechanical linkages are networks of interconnected parts used to control motion and force.
26. Lubricants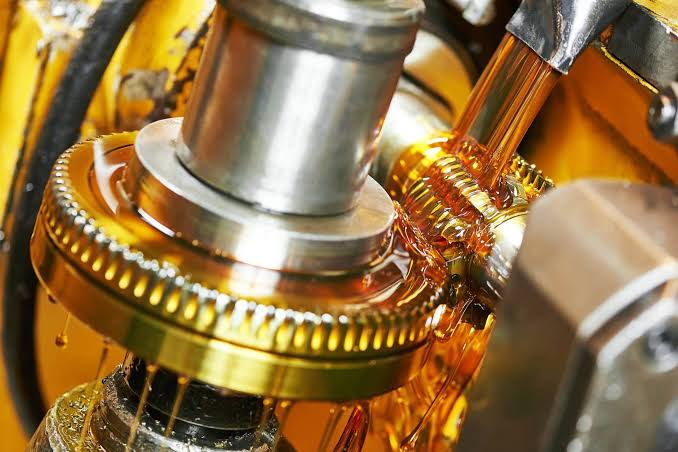 A lubricant is a chemical agent used to lessen the heat produced by moving surfaces by decreasing the friction between them. But it could also be responsible for force transmission, particle transportation, and surface heating and cooling.
27. Machine guard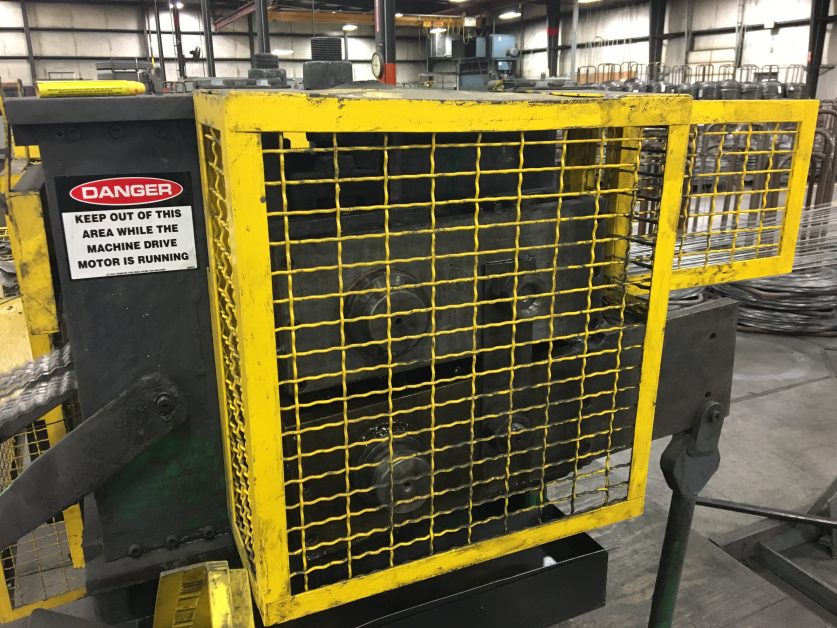 Machine guarding is a safety element installed on or near industrial machines and other technical tools and consists of a shield or device covering potentially dangerous sections of the machine to keep workers safe.
28. Meters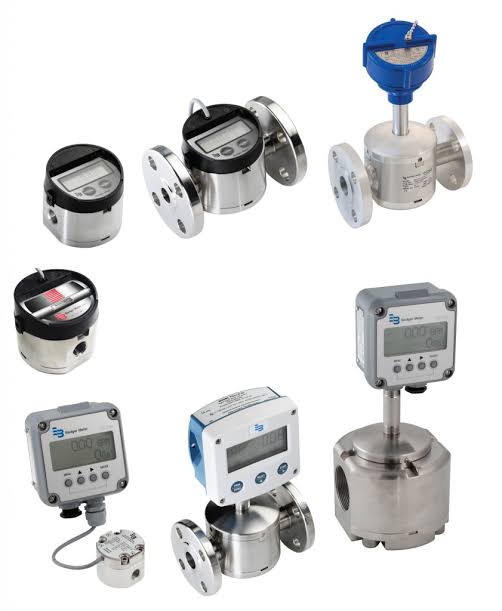 Industrial machine meters have functions such as an hour meter, fuel gauge, water temperature gauge etc. Sometimes, meters also determine the condition/status of the machine.
29. Oil cooler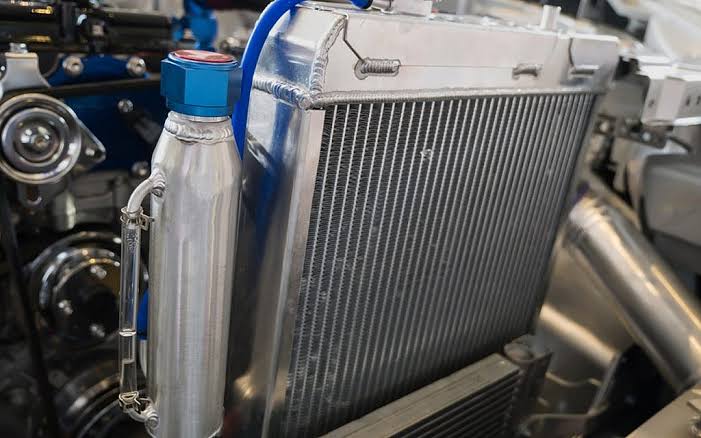 An oil cooler is a tool that cools the engine oil.
30. Pulleys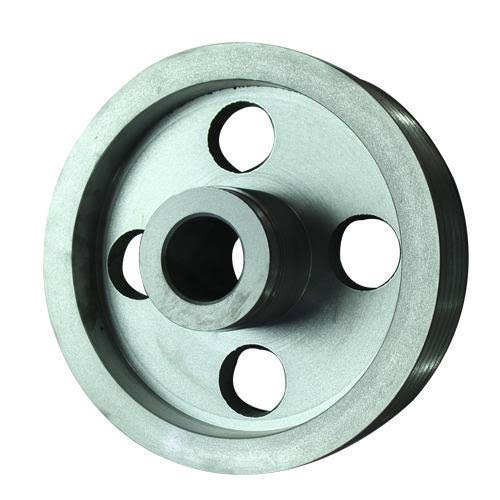 A pulley is a wheel attached to a shaft or axle that facilitates the transfer of power or energy between the shaft and the cable or belt.
31. Pumps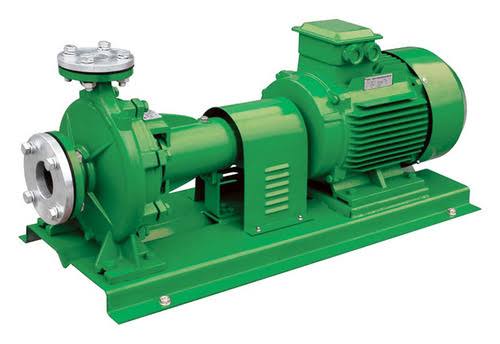 A pump is another type of industrial machinery component that is rarely analyzed. But it has various applications in the manufacturing process and is utilized in virtually every industry to transport fluids and gases through a system.
32. Screws

Both the screw and the bolt are examples of male thread fasteners, which are metal and have a helical ridge.
33. Seals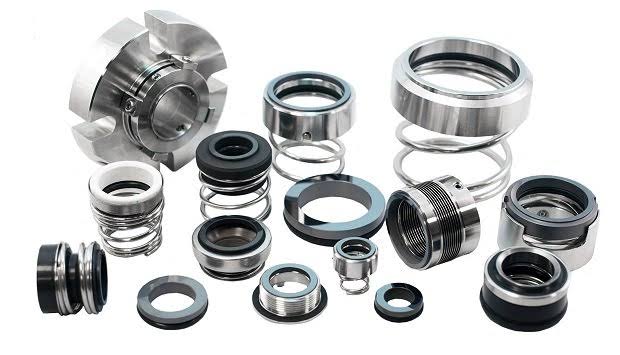 A seal is a mechanical material that helps attach systems and mechanisms by preventing leakage, containing pressure, or keeping out contamination.
In addition, sealants rely on adhesion, and gaskets rely on compression to create an airtight seal.
34. Seat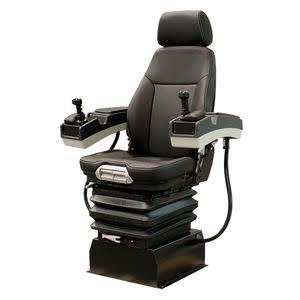 An industrial machinery seat is a tool used to reduce the operator's discomfort and is equipped with features such as height adjustment, suspension, integrated controls, and much more.
35. Sensors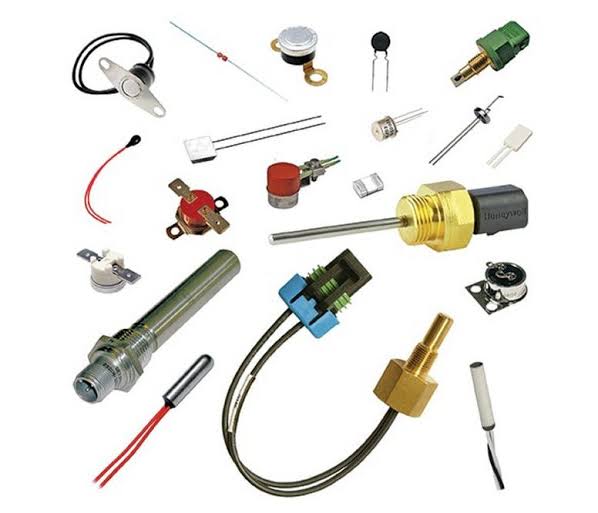 A sensor in industrial machinery is a device that can detect and measure a physical effect and feed that data back into the control system.
A sensor is a piece of hardware that monitors its surroundings and relays that data to another piece of equipment, most often a computer system. In every case, sensors are integrated into a larger system of electronic devices.
36. Shafts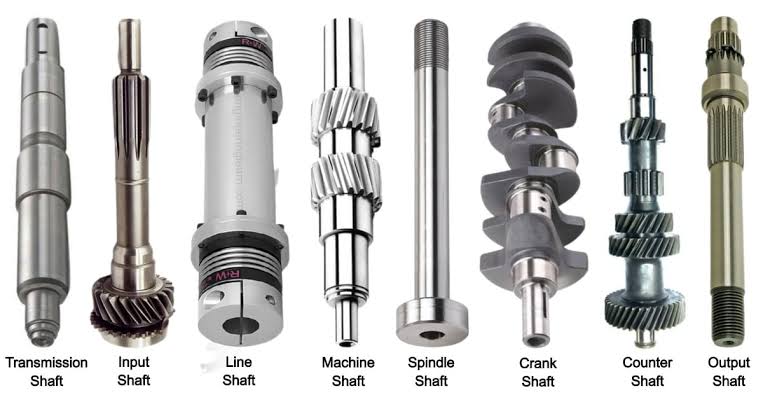 Transmission of mechanical power, torque, and rotation is typically accomplished by using a drive shaft, driveshaft, driving shaft, tail shaft, propeller shaft, or Cardan shaft, which connects other components of a drivetrain that cannot be connected directly due to distance or the need to allow for relative movement between them.
37. Splines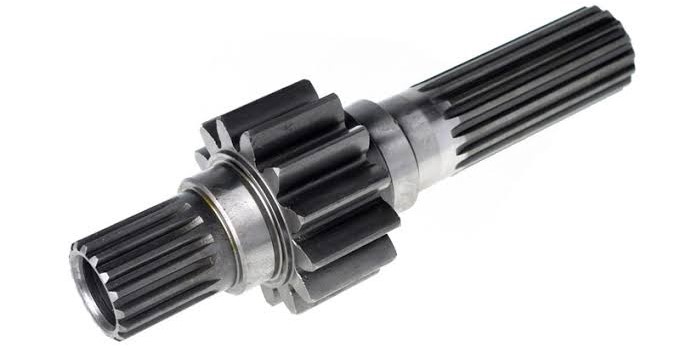 Splines are ridges or teeth on a drive shaft that can transfer torque to a mating piece by fitting into corresponding grooves in that piece while keeping the two in proper angular alignment.
38. Sprocket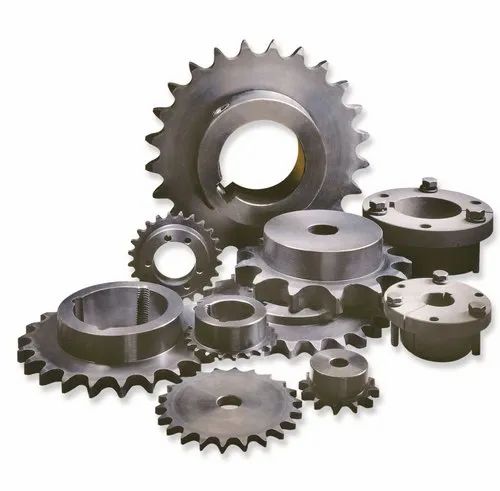 Profiled wheels with teeth designed to mesh with a chain, track, or other perforated or indented material are known as sprockets, sprocket wheels, or chain wheels.
39. Switch Box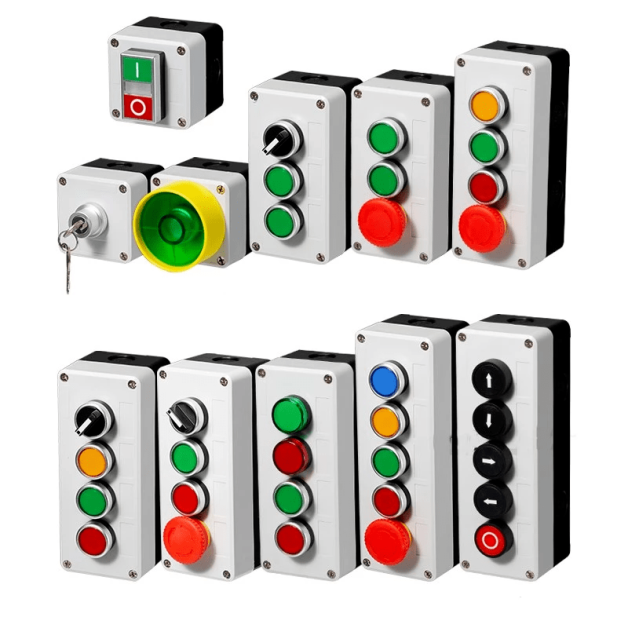 It is a series of switches that pick and determine the various aspects of the machine's work settings and status. Furthermore, it's a container for on/off switches for various purposes.
40. Valves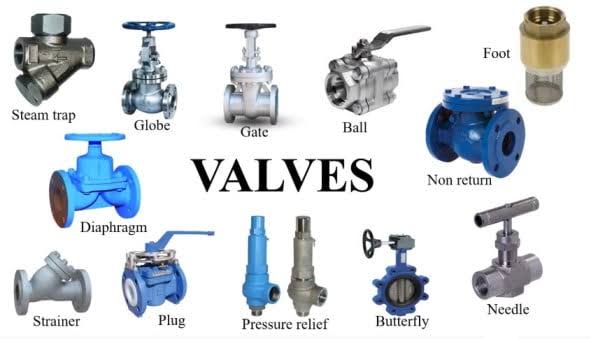 A valve is a device or an object that opens, closes, or partially obstructs passageways to regulate, control, or direct the flow of a fluid (liquids, gases, slurries, or fluidized solids).
Retailers and Dealers of Industrial Machinery Components in the United States
What you need, what you want, your budget, and how often you'll need replacement components are all factors that should be considered before shopping for industrial machinery components.
Most importantly, if you're looking for a certain component, you should shop at internet stores and local dealerships.
Final Thoughts
The term "components" describes all the parts forming a piece of industrial machinery.
Also, the post-shock resistance of any industrial machinery component determines the component's stability and efficiency. In other words, using shock-proof components can lessen the likelihood of malfunctions and repairs during use.
Shock-resistant components can be hard to come by, but with some research, you can find them. Shock resistance tests come in a variety of forms and are widely used.
Therefore, the key is to zero in on the perfect solution for your needs. Possessing a trustworthy contractor who can conduct these evaluations on your behalf is also beneficial.
Related: Trade Schools for Mechanics
We hope you find this information helpful. Please use any of the share buttons below to share this information.
Feel free to drop any questions or contributions regarding this article in the comment section below.