Highest Paying States for Nurse Practitioners (NPs) – 2023 Review
NPs typically earn six figures. But their salaries can range from less than $80,000 to more than $200,000, depending on the state where they practice. Hence, the need to know the highest paying states for nurse practitioners (NPs).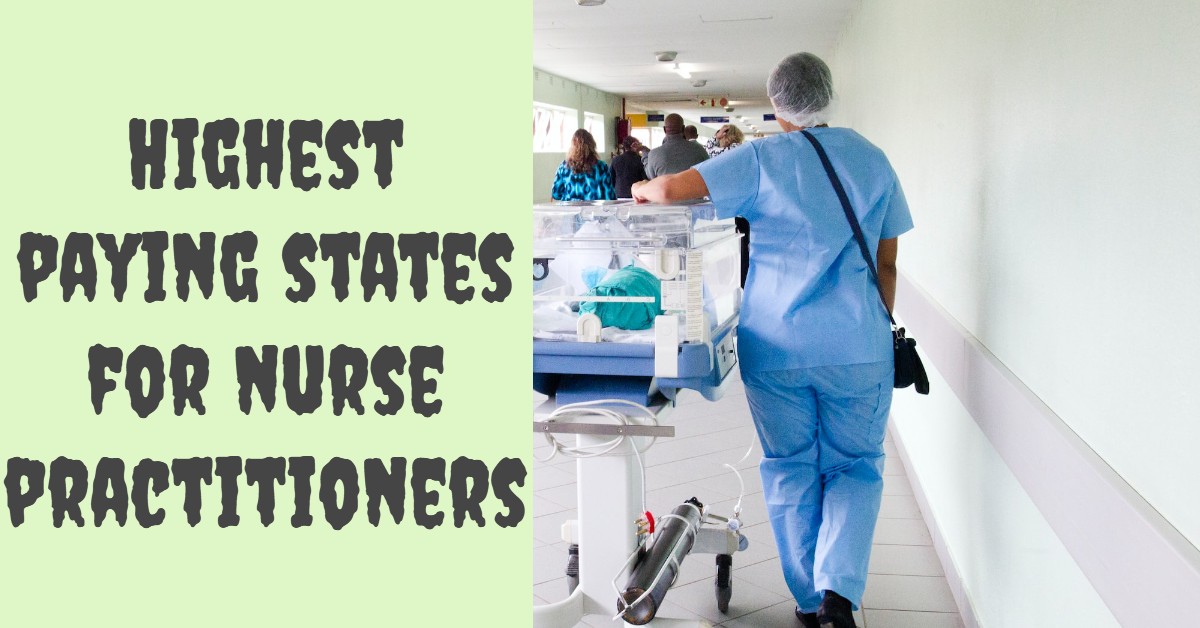 Who are Nurse Practitioners (NPs)?
According to the American Association of Nurse Practitioners (AANP), nurse practitioners (NPs) see over one billion patients annually.
Nurse Practitioners are a subcategory of Advanced Practice Registered Nurses (APRN). In many states, they can practice without the supervision of a doctor, similar to physician assistants.
They can order and interpret tests, review a patient's medical history, diagnose and plan treatment, and prescribe medication.
Registered nurses (RNs), on the other hand, perform essential functions such as medication administration and patient intake but lack practice autonomy.
NPs can specialize in various areas of medicine, including women's health, pediatrics, psychiatric nursing, and urology. However, the majority of them work in primary care. They frequently concentrate on preventative medicine, assisting patients in avoiding problems before they require treatment.
Highly trained NPs hold either a master's or doctoral degree and typically accumulate several years of experience (13.75 on average) as RNs before advancing to an NP role.
With all of these impressive skills, it's no surprise that NPs are paid well. The average annual income is typically well above six figures, though figures vary by location.
How much do Nurse Practitioners (NPs) earn?
According to the U.S. Bureau of Labor Statistics (BLS), nurse practitioners earn a median income of about $124,000.
The top ten percent of NPs earn more than $200,000 annually, while the bottom ten percent earn less than $80,000. Earnings are influenced by geographical location and experience. In addition, the industry in which NPs work and their specialization can influence how much they earn.
Top-paying sectors for NPs
How much NPs earn is influenced by many factors. One of which is the sector the NP work.
The following are the highest-paying industries and their median annual wages:
Outpatient care centers (median annual wage: $128,190)
State, local, and private hospitals (median annual wage: $128,190)
Offices of physicians ($121,280)
Offices of other health practitioners (median annual wage: $104,790)
Educational services; state, local, and private (median annual wage: $102,680)
Top NP specializations
NPs' earnings can be influenced by specialization. The following are the median annual wages for top NP specializations:
Psychiatric mental health nurse practitioner (PMHNP) (median annual pay: $140,146)
Neonatal nurse practitioner (median annual pay: $131,754)
Acute care nurse practitioner (median annual pay: $139,197)
Emergency nurse practitioner (median annual pay: $125,659)
Oncology nurse practitioner (median annual pay:$119,501)
Pediatric nurse practitioner (median annual pay: $113,060)
Highest Paying States for Nurse Practitioners (NPs)
The top-paying states for NPs, according to BLS data, are:
California ($151,830)
New Jersey ($137,010)
New York ($133,940)
Washington ($130,840), and
Massachusetts ($129,540).
Pay is not the only factor to consider for NPs. Also to be considered are the total number of jobs and the rate of job market growth.
According to an Emsy economic modeling study, Texas (19,270), California (19,025), Florida (16,274), New York (16,155), and Tennessee (11,893) are the states with the most NP jobs.
Hawaii has the highest rate of job growth (10 percent between 2021 and 2022), followed by Idaho (nine percent) and Alaska, Arizona, California, Colorado, Georgia, and Nevada (all at eight percent).
Lowest Paying States for Nurse Practitioners (NPs)
We have examined the highest-paying states for nurse practitioners. What about the lowest-paying states? See below.
Tennessee ($95,118)
Alabama ($102,419)
South Carolina ($102,856)
Missouri ($103,500), and
West Virginia ($104,748)
These states have the lowest mean annual wages for NPs, according to Emsy.
All of these states, with the exception of South Carolina, are among the ten with the lowest cost of living.
Wyoming (415), Hawaii (556), North Dakota (647), Vermont (749), and South Dakota (762) have the fewest NP jobs.
Rhode Island and Missouri (4 percent), as well as Delaware, Iowa, Kansas, Maine, Michigan, Mississippi, New Mexico, North Dakota, Ohio, Oklahoma, West Virginia, and Vermont (all at 5 percent), have below-average job growth rates for NPs.
How to Become a Nurse Practitioner
Nurse practitioners must first complete RN education and training. The most desirable degree is a Bachelor of Science in Nursing (BSN).
New York State requires all nurses to earn this credential within ten years of obtaining their license.
An Associate's Degree in Nursing (ADN) or a hospital-based program are two other options.
Transitioning professionals with a bachelor's degree in another field can pursue an accelerated BSN.
A BSN allows degree holders to enter a graduate program without having to complete additional coursework. RN to MSN programs allow students to earn their bachelor's and master's degrees concurrently.
The Master of Science in Nursing (MSN) and the Doctor of Nursing Practice (DNP) are the two graduate degrees that lead to NP certification. The more common option is a master's degree. A master's degree is typically completed in two years for full-time students.
More prestigious universities are now offering online MSN programs than ever before. Students in these programs typically complete didactic (classroom) coursework remotely and clinical rotations at a local hospital.
The steps to becoming a nurse practitioner
Nursing theory, research and assessment, nutrition, pharmacology, microbiology, and anatomy are all covered in the BSN curriculum. Clinical training is also included in the programs.
After finishing your undergraduate studies, you'll be ready to take the National Council Licensure Examination (NCLEX-RN), which assesses fundamental nursing abilities. Those who pass the exam may apply for state licensure. You'll likely submit to a background check and provide additional materials to complete the process. Most NPs work as RNs for several years before applying to graduate school, though not all programs require it.
The Master of Science in Nursing includes both practical and theoretical coursework related to patient care and assessment, pathophysiology, and pharmacology. Students can also take specialty courses and do fieldwork in areas such as working with families, women, or psychiatric patients.
Doctoral degree programs usually take longer and are more rigorous, requiring at least an extra year of study. Programs typically cover similar material but with a greater emphasis on leadership and research-focused coursework.
NPs must pass additional national examinations and meet state requirements. This is to enable the NP to get the required license. Your specialty determines which exams you must pass.
Family nurse practitioners are certified as Family Nurse Practitioners (FNPs), whereas psychiatric nurse practitioners are certified as Psychiatric-Mental Health Nurse Practitioners (Across the Lifespan) Certification (PMHNP-BCs). To perform certain tasks, such as prescribing medications, states may require a background check and additional testing.
Conclusion:
Dedication and commitment are essential traits needed to become a nurse practitioner. When one becomes one, you can be sure to earn good pay.
We have examined the highest-paying states for nurse practitioners. Hoping that you found this piece helpful and informative. We will be glad if you could share the link with others to read. Thank you.
Related:
Top 12 Highest Paying Computer Science Jobs ( 2023 Update)