How much do EMTs make? (2023 Report)
How much do EMTs make?: Emergency Medical Technicians (EMTs) are essential medical workers. They work for private ambulance services, municipal EMS agencies, governments, hospitals, and fire departments. You may be wondering how much an EMT makes. We have provided the weekly, monthly and yearly pay of EMTs below.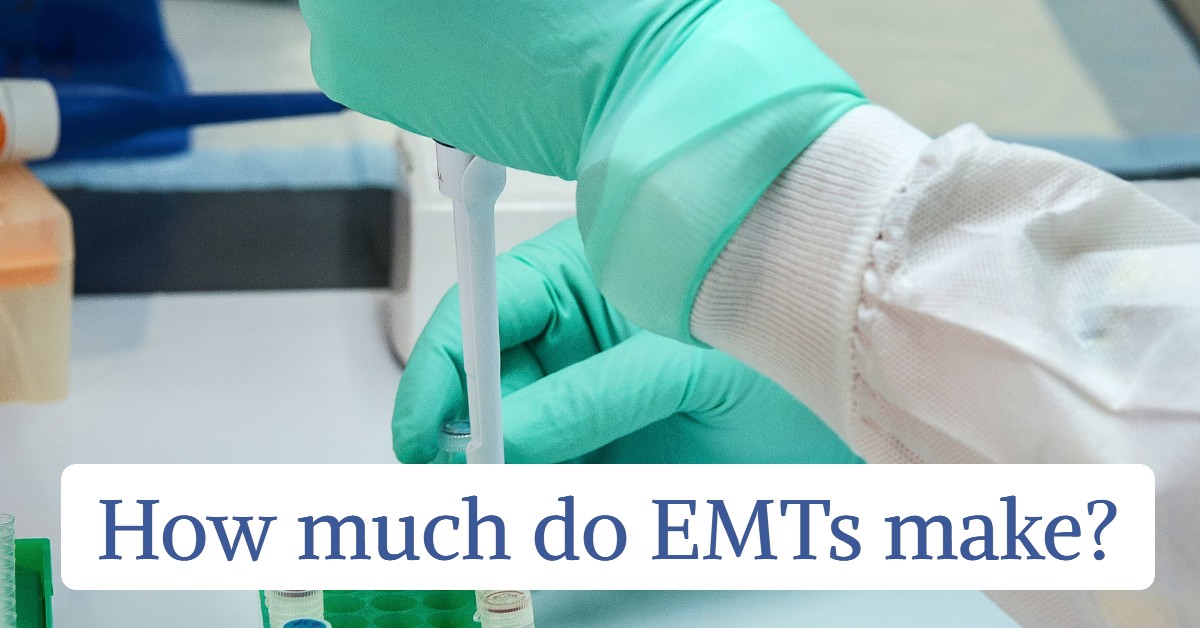 Also included in this piece are the highest-paying locations for EMT jobs and the top industries that pay the highest. You will also find all the information about Emergency Medical Technicians.
How much do EMTs make?
The average annual EMT salary in the United States is $39,000 as of the last quarter of the year 2022. But the range typically falls between $32,300 and $41,010.
ZipRecruiter.com reported that as of December 8, 2022, the average weekly pay for an EMT in the United States is $754 weekly.
Weekly wages are as high as $1,029 and as low as $394.
From the Figure below, it can be seen that the majority of EMT wages currently range between $576 (25th percentile) to $798 (75th percentile) across the United States.
The average pay range for an EMT varies greatly (by as much as $221), which suggests there may be many opportunities for advancement and increased pay based on skill level, location and years of experience.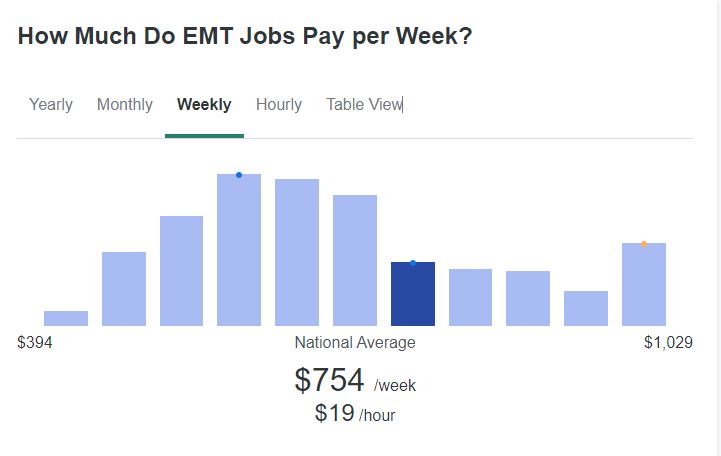 Source: ZipRecruiter.com
Factors that affect how much EMTs make
How much EMTs make can vary significantly depending on various factors. These factors include:
Location
Education
Certifications
Additional skills/skill level, and
The number of years they have worked in the field (years of experience)
Related: How much does TikTok pay you for 1 million views? (2023 Report)
How much do EMTs make? – Emergency Medical Technician Jobs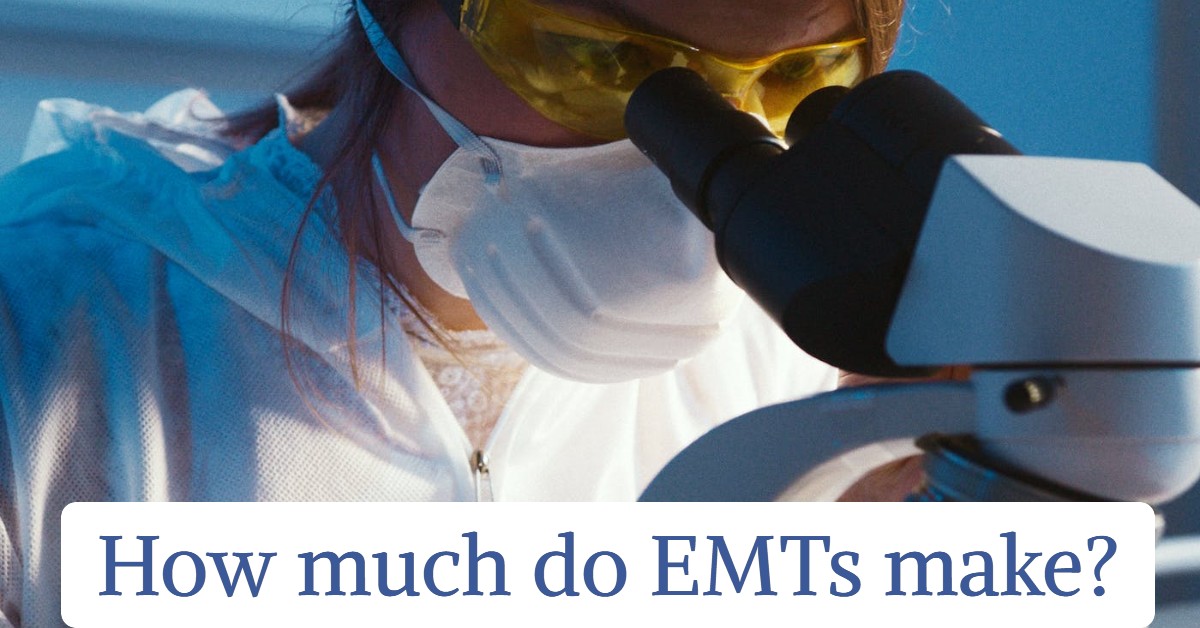 An Emergency Medical Technician (EMT), also known as an ambulance technician, is a health professional who provides emergency medical services. EMTs are frequently found working in ambulances. EMTs provide medical care in accordance with a set of protocols that are usually written by a physician.
Paramedics are a distinct profession in English-speaking countries, with additional educational requirements, qualifications, and scope of practice.
Private ambulance services, municipal EMS agencies, governments, hospitals, and fire departments frequently employ EMTs.
Some EMTs are paid employees, while others (especially in rural areas) volunteer. How much EMTs make depends on location, experience and skill set. They sometimes make over $40,000 yearly.
Getting a job as an emergency medical technician can help you gain essential skills for a lifelong career in the healthcare industry. Professionals in these roles can find positions in different industries and locations, which may also offer varied salaries.
If you're interested in pursuing a job as an EMT, learning what areas and industries offer high-paying salaries might help you search for lucrative positions.
Top 10 highest-paying states for EMTs
Here is a list of ten states where employers pay EMTs well, as well as the average annual salary in each state:
Minnesota: $53,562 per year
Louisiana: $51,153 per year
Alabama: $50,032 per year
North Dakota: $48,935 per year
Texas: $47,869 per year
New York: $46,849 per year
Washington: $46,774 per year
Nevada: $46,705 per year
Oregon: 45,861 per year
Maryland: $45,424 per year
Top 10 Highest Paying Cities for EMT Jobs
We've identified ten cities where the average EMT salary is higher than the national average. Green River, WY, tops the list, with Atkinson, NE, and San Francisco, CA, close behind in second and third place. San Francisco, CA, outperforms the national average by $6,250 (15.9%), and Green River, WY, outperforms the national average by another $10,059 (25.7%).
With average salaries higher than the national average in these ten cities, the opportunities for economic advancement by changing locations as an EMT appear to be extremely fruitful.
Finally, another factor to consider is the average salary for these top ten cities varies very little at 10% between Green River, WY and Kensington, NY, reinforcing the limited potential for much wage advancement. When weighing location and salary for an EMT position, the possibility of a lower cost of living may be the most important factor to consider.
See the table below for the list of the highest-paying cities for EMT jobs.
| City | Annual Salary | Monthly Pay | Weekly Pay | Hourly Wage |
| --- | --- | --- | --- | --- |
| Green River, WY | $49,278 | $4,106 | $947 | $23.69 |
| Atkinson, NE | $48,563 | $4,046 | $933 | $23.35 |
| San Francisco, CA | $45,469 | $3,789 | $874 | $21.86 |
| Cool Valley, MO | $45,394 | $3,782 | $872 | $21.82 |
| Bolinas, CA | $45,319 | $3,776 | $871 | $21.79 |
| Washington, DC | $45,213 | $3,767 | $869 | $21.74 |
| Los Angeles, CA | $44,569 | $3,714 | $857 | $21.43 |
| Jersey City, NJ | $44,510 | $3,709 | $855 | $21.40 |
| Brownsboro, TX | $44,485 | $3,707 | $855 | $21.39 |
| Kensington, NY | $44,397 | $3,699 | $853 | $21.34 |
Source: ZipRecruiter.com
Top 30 highest-paying cities for EMTs
Here is a list of 30 cities where EMTs and paramedics typically earn more than $44,000 per year.
Tacoma, Washington: $64,166 per year
Seattle, Washington: $61,325 per year
Louisville, Kentucky $60,421 per year
Juneau, Alaska: $58,850 per year
Minneapolis, Minnesota: $55,626 per year
Washington D.C.: $53,862 per year
Hartford, Connecticut: $53,130 per year
San Francisco, California: $52,521 per year
New Orleans, Louisiana: $51,898 per year
Honolulu, Hawaii: $51,831 per year
Austin, Texas: $51,101 per year
Norwalk, Connecticut: $51,071 per year
Nantucket Island, Massachusetts: $50,379 per year
Boston, Massachusetts $49,695 per year
Olympia, Washington: $49,353 per year
Las Vegas, Nevada: $48,831 per year
Salinas, California: $48,438 per year
Portland, Maine: $48,112 per year
Nashville, Tennessee: $47,968 per year
Durham, North Carolina: $46,828 per year
Bellevue, Washington: $46,710 per year
Atlanta, Georgia: $46,512 per year
Lawrence, Kansas: $46,188 per year
Kansas City, Missouri: $45,649 per year
Portland, Oregon: $45,498 per year
Dallas, Texas: $45,274 per year
Miami, Florida: $45,023 per year
Philadelphia, Pennsylvania: $44,523 per year
Tucson, Arizona: $44,336 per year
Albuquerque, New Mexico: $44,101 per year
Top industries for EMTs jobs
While many healthcare organizations and facilities employ EMTs, there are also lucrative jobs available in other industries in both the public and private sectors. According to the Bureau of Labor Statistics (BLS), these industries pay well for EMTs:
1. State Governments
EMTs professionals work for state agencies to respond to local disasters and develop state-wide emergency care standards. An EMT employed by the government can earn an average annual salary of $58,730.
2. Companies and other business enterprises
Some EMTs work for private companies such as parks, casinos, and sports arenas. Emergency medicine professionals in this industry can expect to earn an average annual salary of $50,860.
3. Architectural and Engineering Companies
Because architecture and engineering professionals frequently work with hazardous materials and heavy machinery, EMTs can assist in the treatment of workplace injuries and provide health-related advice. As an EMT in this industry, you could earn an average annual salary of $50,090.
4. Outpatient Clinics
EMTs and paramedics are frequently employed by healthcare facilities that do not accept overnight patients, such as urgent care centers, primary care physician's offices, surgery centers, and specialized treatment clinics. These professionals earn an annual salary of $48,670 on average.
5. Medical and Diagnostic Laboratories
Working in these facilities, EMTs and paramedics may collaborate with nurses or other clinical staff to provide emergency care and handle lab equipment. EMTs in these positions can earn an average annual salary of $48,280.
Read Also: What military branch pays the most? (2023 Review)
Top 8 highest-paying EMT jobs to pursue
If you're looking for a job that pays well, you should look into some of the most lucrative EMT jobs. These professionals can also apply their skills to other healthcare careers or apply for advanced roles that will help them advance professionally as medical care providers.
How much do EMTs make? Here are some high-paying EMT jobs that pay more than $40,000 per year:
1. Emergency Medical Dispatcher
Primary duties of an emergency medical dispatcher:
An emergency medical dispatcher handles calls from people in distress. Their duties may include gathering information about the caller's location and condition, providing medical instructions to keep them safe, and dispatching the appropriate emergency medical services (EMS) resources to assist them on-site. They may also record their calls and enter information about each caller's situation and the resources they required into an organization's computer system.
The national average salary of an Emergency Medical Dispatcher:
How much do EMTs make as emergency medical dispatchers? $41,937 per year.
2. Emergency room technician
Primary duties of an emergency room technician:
EMTs assist doctors and nurses in treating patients who require specialized care following a crisis or who develop an unexpected illness. Monitoring patients' vital signs, establishing intravenous (IV) therapy, sterilizing wounds, handling surgical tools, and completing patient paperwork are all responsibilities of an EMT. These professionals may also collect samples for laboratory testing and assist doctors and nurses with imaging tests.
The national average salary of an emergency room technician:
How much do EMTs make as emergency room technicians? $42,641 per year on average.
3. Crime scene technician
Primary duties of a crime scene technician:
Crime scene technicians are law enforcement officers who collect evidence such as fingerprints, weaponry, and fluids from crime scenes. They may be responsible for documenting their findings for police officers, transporting them to forensic laboratories, and photographing crime scenes. When necessary, they also handle specialized forensic equipment and conduct scientific tests. EMTs can use their medical knowledge to examine individuals at crime scenes, study anatomy-related evidence, and determine the safety of investigation procedures.
The national average salary of a crime scene technician:
How much do EMTs make as crime scene technicians? $46,866 per year on average.
4. Health information technician
Primary duties of health information technicians:
A health information technician is a medical professional who is in charge of patient data in a hospital's internal computer system. They can document patients' medical histories, verify information in patients' records, update data in healthcare databases, and analyze data to provide key information to physicians. These professionals typically uphold patient confidentiality standards and cooperate with requests for records and authorizations.
The national average salary of health information technicians:
How much do EMTs make as health information technicians? $50,878 per year average pay.
5. Firefighter
Primary duties of firefighters:
A firefighter is a member of the emergency services who responds to fires both indoors and outdoors. When firefighters arrive on the scene, they typically extinguish building fires and assist people and animals in safely exiting hazardous areas. They can also inspect buildings and outdoor areas for fire hazards, test the effectiveness of fire equipment, and write reports about incidents after they have handled them. These professionals may also educate their community on how to prevent fires or prepare for them before they occur.
National average salary of firefighters:
How much do EMTs make as firefighters? $51,274 per year average pay.
6. Physician assistant
Primary duties of physician assistants:
A physician assistant is a medical professional who provides comprehensive care to patients of all ages.
These professionals may be responsible for taking medical histories, gathering information from patients, ordering diagnostic tests, advising patients on lifestyle choices, administering vaccinations, and prescribing medications, among other things. They may develop long-term treatment plans for patients or refer them to specialists such as cardiologists and psychiatrists.
The national average salary of physician assistants:
How much do EMTs make as physician assistants? $73,743 per year on average.
7. Surgical technician
Primary duties of surgical technician:
A surgical technician is a medical professional who assists surgeons, nurses, anesthesiologists, and other medical personnel during procedures.
Their responsibilities typically include preparing supplies, sanitizing surgical tools, preparing operating rooms for surgeries, and recording patients' medical information prior to the start of a procedure. Surgical technicians may also perform medical duties such as applying stitches or cleaning incision sites during procedures.
The national average salary of surgical technician:
How much do EMTs make as surgical technicians? $79,485 per year on average.
8. Medical technologist
Primary duties:
Medical technologists are healthcare professionals who analyze test results in laboratories. These individuals may perform diagnostic tests on patient samples, interpret test results, count blood cells, and identify various substances such as bacteria.
They may also test samples for compatibility prior to transfusions and write reports that summarize their findings. A medical technologist may also enforce sanitation protocols, keep an inventory of supplies, and teach colleagues how to use testing equipment.
The national average salary of medical technologists:
How much do EMTs make as medical technologists? $91,123 per year on average.
Must Read: How Much do Dallas Cowboy Cheerleaders Make
What Steps Do I Need to Take to Become an EMT?
To become an EMT, you must be 18 years old and have completed a state-approved EMT course. There are no higher education requirements, but you must have a high school diploma or GED.
Before enrolling in an EMT course, some programs have eligibility requirements or prerequisites, such as CPR certification.
There is no prior medical training required; you learn the fundamentals of the job through classroom and practical training.
To become an EMT after completing the program, you must pass the National Registry Emergency Medical Technician cognitive exam.
What Are the Education Requirements for EMTs?
Aspiring EMTs must complete an EMT training program. The EMT training programs are offered at community colleges and vocational schools. The number of study hours varies.
After earning your certificate or associate degree, most states require candidates to take the National Registry of Emergency Medical Technicians EMT exam (NREMT).
Aside from passing the EMT course, prospective EMTs must also obtain CPR certification from a state healthcare provider, such as the American Red Cross.
EMT Duties and Responsibilities
The duties and responsibilities of EMTs include
Transporting patients to a hospital in a safe manner
Execute infection-control procedures.
Answer 911 emergency calls.
During your shifts, remain on-call to respond to emergency requests.
Maintain licensing regulations compliance.
Basic life support and patient care are provided.
Maintain the cleanliness of the ambulance and its equipment.
What is the difference between an EMT and a Paramedic?
Both EMTs and paramedics receive the same basic training. The primary distinction is that paramedics have more training in treating acute injuries or illnesses.
While EMTs can perform CPR, administer glucose, provide oxygen, and handle asthma attacks, paramedics can provide more advanced care, such as intravenous line placement, airway management, and support for patients experiencing heart attacks.
All paramedics begin as EMTs; some use their training as a stepping stone to a different medical career.
Conclusion:
How much do EMTs make? That's clear to you now. The nature of the job, job location and your qualifications and experience play a great role in how much you can make as an EMT.
The average annual salaries reported for EMTs are between $32,000 and $42,000 nationwide. Some earn more than $80,000.
Thank you for reading through this work. We hope you found it elaborate and informative. Please, do well to share it with others. Thank you.
Recommended:
Are Physical Therapists Doctors? (Simplified Answer 2023)
Why Do Orthopedic Surgeons Hate Podiatrists? (Top 7 Reasons)