The Facebook campus is a feature of the Facebook app with a focus for students to engage with one another using a separate Facebook campus profile from original Facebook accounts. 
Owing to the difficulty associated with the pandemic, Facebook introduced the Facebook campus in September 2020. Through Facebook Campus, it is expected that the process of communication within the university community will be easier.
To create a new Facebook campus account, ensure provide accurate information including your university email address and year of graduation. Through a new campus account, you will be able to link up with other colleagues and stay abreast of Groups and Events associated with your school.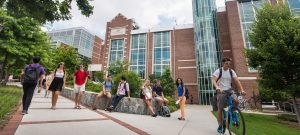 Read: Facebook account settings | How to reset your Facebook account settings
Facebook Campus
The Facebook campus is very helpful, especially in the aspect of forging relationships and maintaining them regardless of distance.  In the United States, Facebook Campus has been introduced in more than 25 schools:
Benedict College
Brown University
California Institute of Technology
College of William & Mary
Duke University
Florida International University
Georgia Southern University
Georgia State University
Johns Hopkins University
Lane College
Lincoln University (Pennsylvania)
Middlebury College
New Jersey Institute of Technology
Northwestern University
Rice University
Sarah Lawrence College
Scripps College
Smith College
Spelman College
Stephen F Austin State University
Tufts University
University at Albany – State University of New York
University of Hartford
University of Louisville
University of Pennsylvania
University of Wisconsin-Eau Claire
Vassar College
Virginia Tech
Wellesley College
Wesleyan University
Read: Singles Dating App on Facebook – Facebook Dating App Download Free | Facebook Dating Profile
How to Create the Facebook campus profile
The Facebook campus is a section part of the Facebook app. Here is how to create a Facebook campus profile.
Fill in your details including your correct email address and year of graduation.
You can also provide other optional details like course, grades, location etc.
When you are through with creating your campus profile, students can interact with their similar-minded colleagues.
You can also find out about the latest organizations and events that are connected to your university.
Contents posted on Facebook campus are only visible to users with Facebook Campus Profile.