what does actively recruiting on linkedin mean
LinkedIn is an amazing website for networking. It creates a conducive space for candidates and recruiters to link up. With over a hundred million daily active users, LinkedIn is among the most popular social platforms on the internet. As a recruiter or candidate who has used the platform over time, I am sure you must have encountered the "actively recruiting" term. What does it connote? Would it have any effect on your recruitment activities?
This is the perfect place to find answers to those questions. In this article, we will explain in detail the meaning of "actively recruiting" on LinkedIn and how you can leverage it to discover competent people.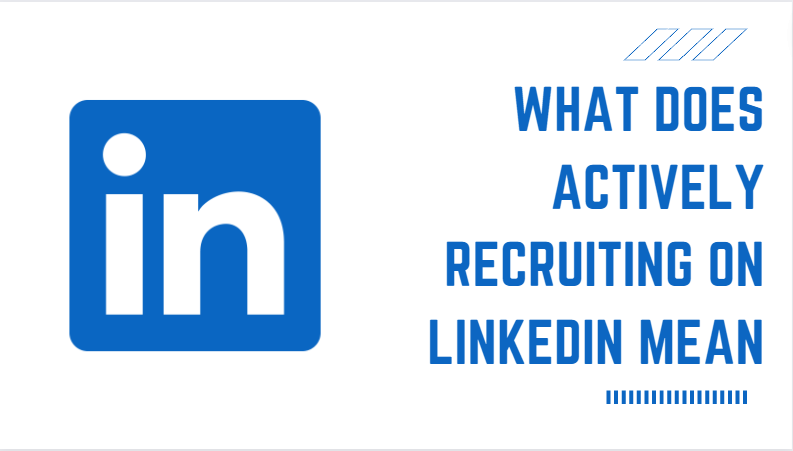 What Does "Actively Recruiting" Mean on LinkedIn?
When job hunting on LinkedIn, it is possible that you may have seen the 'actively recruiting' tag on some posts. This tag can be used by companies to show that they are still reviewing applications due to the past week's hiring activities. In other words, it implies that the recruiter is currently in need of qualified candidates for the vacant position, and they are open to applications.
This is in direct contrast to passive recruiting, which indicates that although the recruiters will accept applications from candidates, they aren't particularly seeking applicants for a particular job.
You will find both on Linkedin because companies and recruiters believe the platform is the best place to find talents.
How Do You Find Active Recruiters on LinkedIn?
For potential candidates and job seekers, there's not much to do. The role of an active recruiter is to find new candidates who will fit properly into job openings in a company.
Thus, it's best to ensure you have a robust presence on LinkedIn. A good way to do this is to make sure your profile is up to date and add the right tags to your description. Furthermore, remember to update your account to "Finding a New Job" below the "Opening to" section on your profile page. This way, it will be easier for recruiters to identify you.
How Do You Recruit Active Candidates on LinkedIn?
How Do You Recruit Active Candidates on LinkedIn? The process is a bit different for recruiters seeking potential employees on LinkedIn. To make things easy, we have divvied it into five easy steps!
Set up your LinkedIn Business Page
You can set up your business page by navigating to the upper right of your page and selecting "work" next to your avatar. The page will serve as your online profile, allowing job seekers to learn directly about your business and its offerings.
Desist from using boring corporate verbiage in your description. Candidates prefer honesty pertaining to brand representation. So ensure your story is genuine!
Create Your Job Ad
After setting up your company page, the next step is to create your job ad.
This will include a job description that will help candidates understand if they are the right fit for the vacant position.
Ensure you add duties and responsibilities, necessary skills, experience and qualifications for the job. Don't forget to add the salary range. LinkedIn has a feature that simplifies this process for you.
Track Your Posting
With LinkedIn, you can track how much impact your job ads are having and whether they are drawing the attention of job seekers. You can access information about the number of people that have seen it and get notified via email each time someone submits an application.
Establish a robust online presence
One of the most important aspects of running a business page on LinkedIn is creating a robust presence. In order words, active engagement is key. LinkedIn thrives on networking and building a network with professional circles. Thus, prospective candidates will look out for some activities on your page.
If your page looks dormant, it won't be enough to attract the best talents, even if they are interested in your position. Ensure your page has a consistent level of activity.
Don't overlook passive candidates
People who aren't actively seeking a new job are known as passive candidates. Although you might not want to go directly after them, once you establish a presence and post the right way, it may be enough to convince them to make a switch. Don't think they won't be persuaded because they aren't directly seeking a new job.
Conclusion
Getting the right candidate for a job can be difficult. However, there are some ways to simplify the process. An effective way is to set your profile to "actively recruiting" on LinkedIn.
Recommended:
What companies are in the capital goods field