Top 16 Most Beautiful NBA Female Reporters (Women in Sports Broadcast 2023)
NBA Female Reporters: Women have received great attention in the NBA. Many female reporters have made it to the top of their game in the National Basketball Association.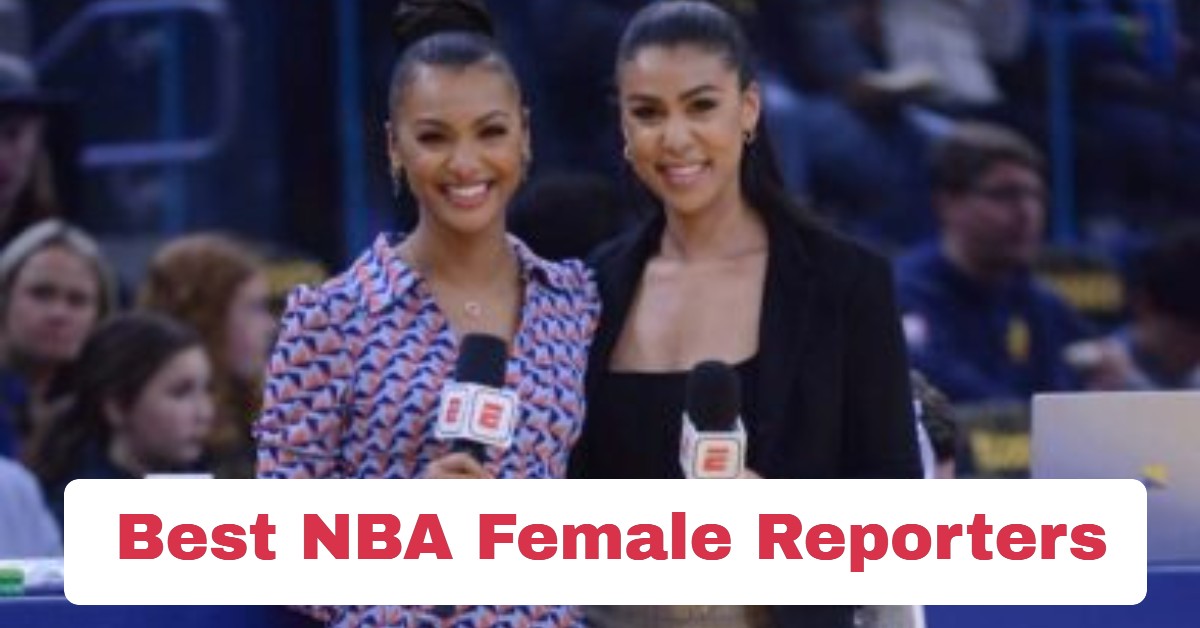 Female reporters have been in the industry for a long time and have established themselves as a consistent component of the NBA program that we look forward to seeing each day.
These female reporters have established themselves as some of the most accomplished journalists in the country.  Their job usually involves accompanying NBA teams across the country and asking challenging questions before, during, and after games.
Here is a collection of the top NBA female reporters with the most following today.
Best NBA Female Reporters
Here are the most beautiful and amazing NBA female reporters (who are at the top of their game today):
1. Malika Rose Andrews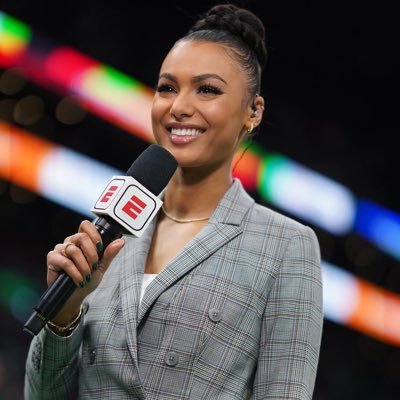 Malika Andrews is one of the best NBA female reporters today. This beautiful journalist was born on January 27, 1995 (currently 27 years old).
She is the host of NBA Today (3 PM ET on ESPN), which replaced The Jump.

She joined ESPN in October 2018 as an online NBA writer and made her broadcast debut as the network's youngest sideline reporter during the 2020 NBA Bubble.
Malika Andrews has been named one of Forbes' 30 Under 30 in Sports for 2021.
The journalist, NBA Reporter and host of ESPN's weekday NBA studio show, NBA Today (2021), cover the NBA league nationally. She also hosts Wednesday editions of NBA Countdown. Her work has appeared across multiple ESPN platforms, including ESPN.com, SportsCenter and ESPN Radio.
Malika Andrews worked as a reporter for the Chicago Tribune for a year before joining ESPN in October 2018. But before then, she spent a year as a James Reston Reporting Fellow in The New York Times sports department.
Malika Andrews is a native of Oakland, California. She earned a bachelor of arts degree from the University of Portland.
Andrews was the editor-in-chief of The Beacon, the university's student newspaper while attending the University of Portland. Her work was recognized by the Society of Professional Journalists, the National Association of Black Journalists, and the Columbia Scholastic Press Association. Andrews won the Best Writer Award among Oregon college students in 2016.
Andrews is a National Association of Black Journalists member who serves on the NABJ Sports Task Force Scholarship Committee. She received the NABJ Michael J. Feeney Emerging Journalist of the Year Award in 2021.
2. Beth Mowins
Elizabeth Mowins was born on May 26, 1967. She is a sports journalist for ESPN, CBS, and Marquee Sports Network. She is a top American play-by-play announcer.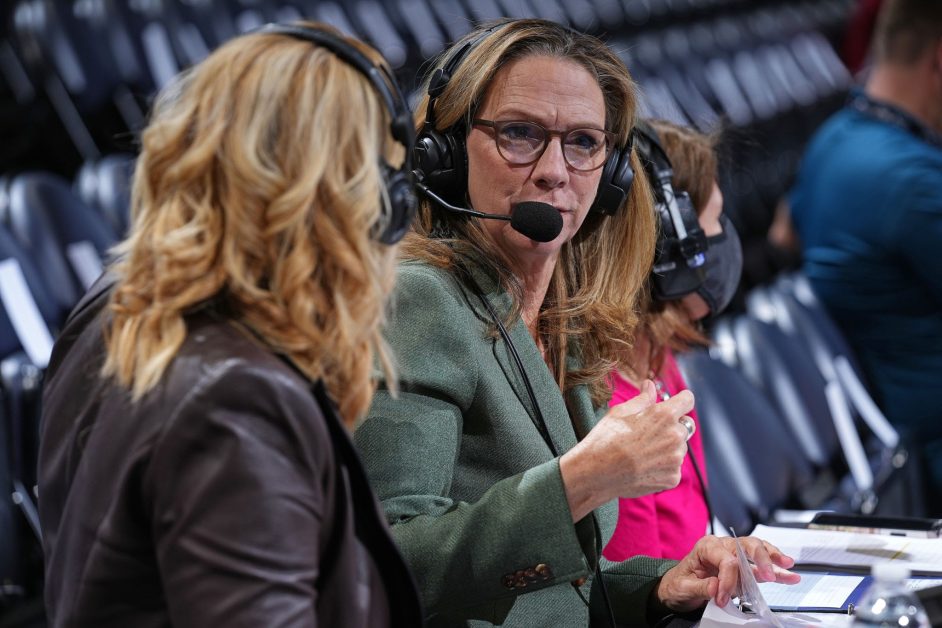 Her career chronicle began in 1991. She usually calls women's college sports, and in 2005, she became the second woman to call nationally televised college football games for ESPN. In 2017, she began doing play-by-play for NFL games, becoming the first woman to call a nationally televised NFL game. In 2021, she became the first woman to call an NBA game on network television.
Aside from being the first of many things for women in sports coverage, Beth Mowins is best known for her work as a sports commentator and sportswriter for ESPN and CBS.
3. Sarah Kustok
Sarah Kustok is a beautiful NBA female reporter and analyst. She works for the YES Network and Fox Sports.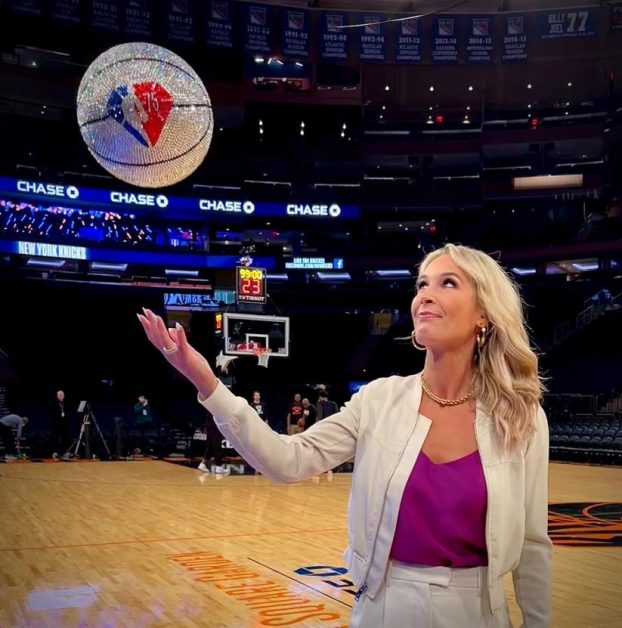 In 2017, she became the first female full-time analyst for an NBA team's local TV broadcasts when the YES Network promoted her from sideline analyst for Brooklyn Nets games.
4. Rachel Nichols
Rachel Michele Nichols is one of the best NBA female reporters today. She was born on October 18, 1973.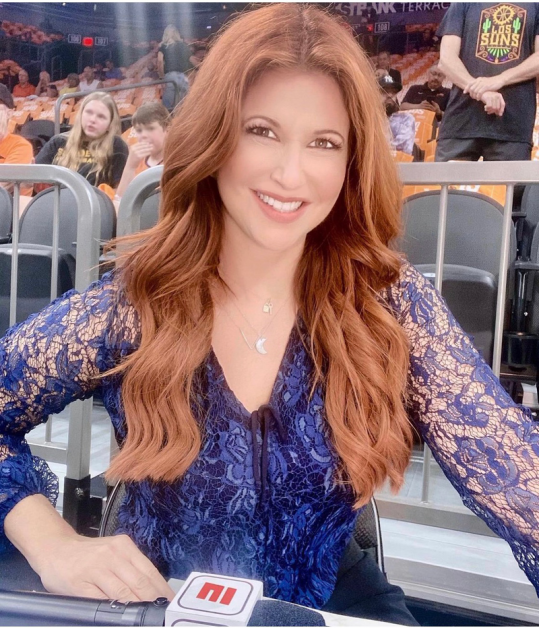 Rachel is an American sportscaster and journalist. She has covered the National Football League (NFL), National Hockey League (NHL), Major League Baseball (MLB), professional tennis, college sports, and the Olympics. She is best known for her work with the NBA.
Sports Illustrated named Nichols "the country's most influential and prominent female sports journalist" in 2014.
Nichols hosts The Jump, a daily program that lasts 30 minutes and focuses on the NBA. This fast-paced program originates from ESPN's Los Angeles studios.
5. Lesley Visser
Lesley Candace Visser is a sports reporter, television and radio personality, and sportswriter. She was born on September 11, 1953.
Lesley Visser is the most highly acclaimed female sportscaster of all time. Visser is the first female NFL analyst on television and the only sportscaster in history to have worked on network broadcasts of the Final Four, NBA Finals, World Series, Triple Crown, Monday Night Football, Olympics, Super Bowl, World Figure Skating Championships, and U.S. Open.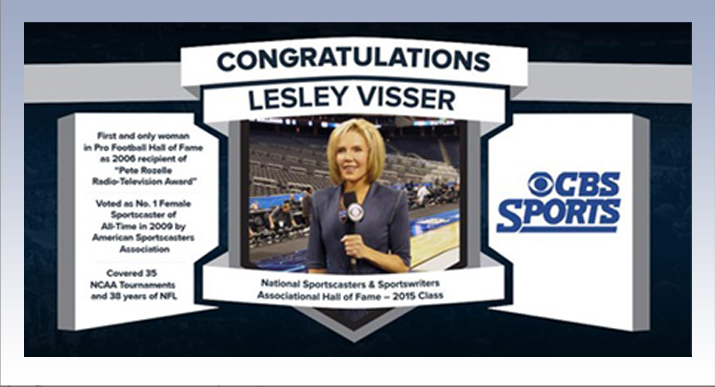 Visser was voted the best female sportscaster of all time in the American Sportscasters Association poll. In the year 2015, she was inducted into the National Sportscasters and Sportswriters Hall of Fame.
Visser was the first woman to be a TV analyst for an NFL game in 2009. She is currently a CBS Sports and News reporter, writes for CBSSports.com, and is a part of WFTL 640 Fox Sports' morning drive in South Florida, as well as one of the hosts of a CBS Sports Network weekly television show called We Need to Talk.
Visser was the first woman to receive the Pete Rozelle Radio-Television Award from the Pro Football Hall of Fame, which recognizes long-term exceptional contributions to radio and television in professional football. In his 2006 induction speech, Pro Football Hall of Famer Troy Aikman said of Visser, "For her work in print and broadcasting, [she] brought respect and professionalism to the field of journalism. I'm honored to be in [her] company today."
6. Stephanie Ready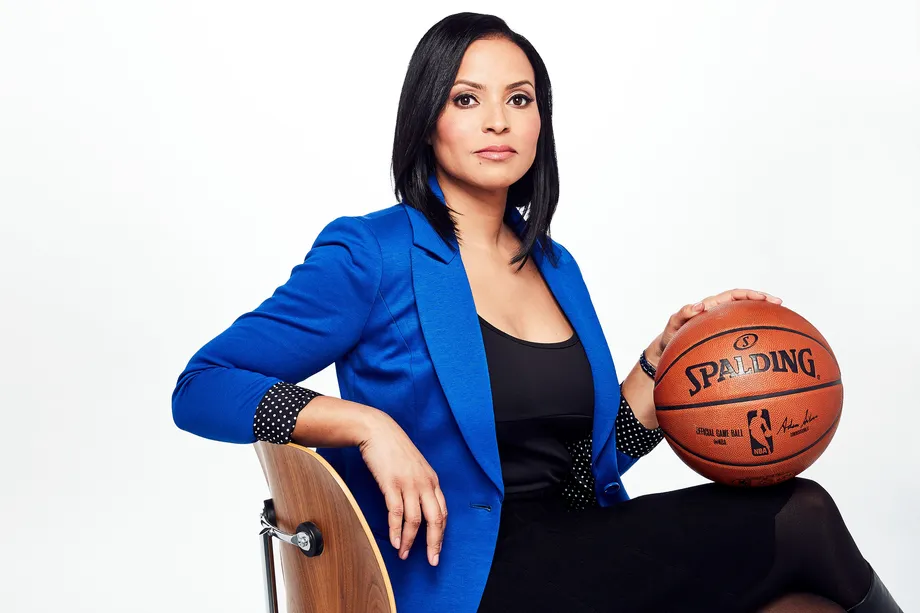 Stephanie Ready is an American broadcaster for NBA on TNT.
She was the first woman to lead a men's professional league basketball team. and worked as a commentator for the National Basketball Association's (NBA) Charlotte Hornets.
Stephanie Ready made history as the first female coach of a men's professional league club in 2001 before moving on to a career in basketball broadcasting. She previously worked as a basketball coach. After a stint as a head coach in the NBA Development League, she joined the Hornets' broadcasting staff and stayed for nearly a decade. She was the first full-time female NBA game commentator at the time.
7. Doris Burke
Here is one of the country's most beautiful NBA female reporters – Doris Burke.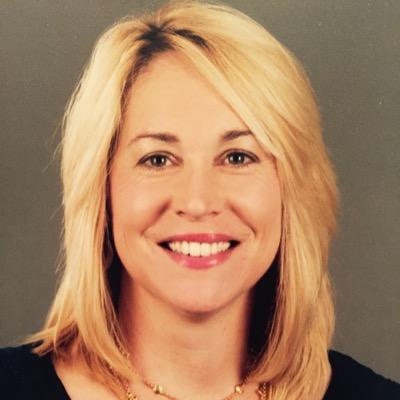 Doris Burke is an American sports announcer and analyst for NBA on ESPN, NBA on ABC, College Basketball on ESPN, and College Basketball on ABC games.
She previously worked as an analyst for WNBA games on MSG. She has also worked on New York Knicks games. Burke was the first female commentator to call a New York Knicks game on radio and television.
8. Kristen Ledlow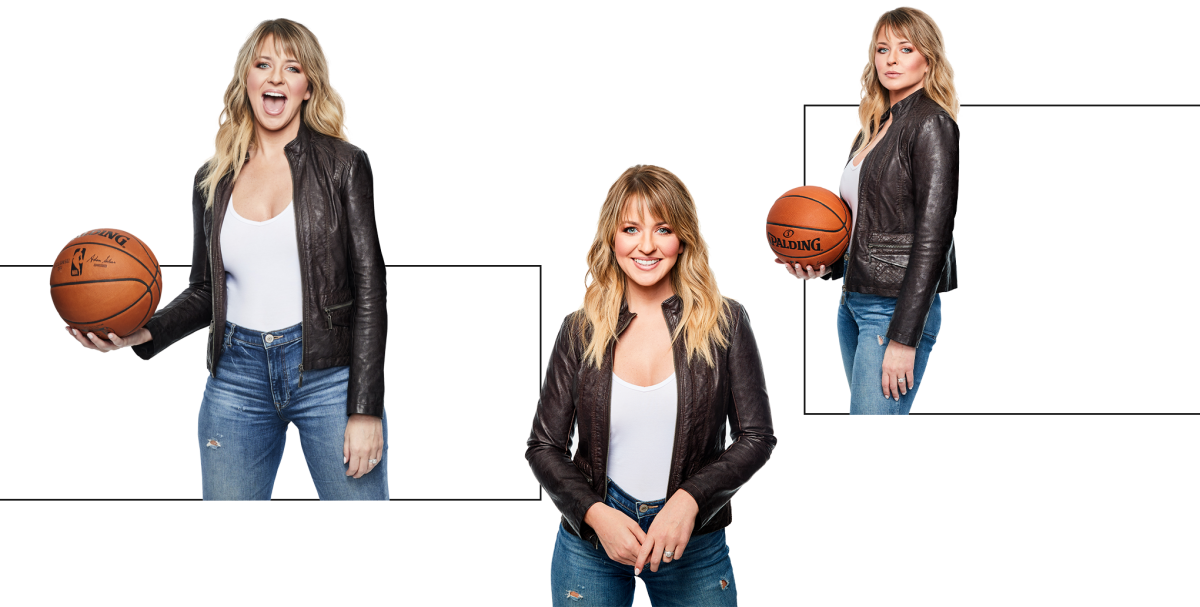 Kristen Ledlow is a broadcaster on NBA TV and TNT.
Her assignments include NBA TV's "Game Time" and TNT's "Inside the NBA," as well as NBA sideline reporting on TNT. Ledlow co-hosts NBA TV's "Handles" with NBA Champion Channing Frye and co-hosts the WNBA MVP Candace Parker's podcast "Ledlow & Parker." She co-starred in the relaunch of NBA Inside Stuff on NBA TV in 2013, alongside Hall of Famer Grant Hill.
Ledlow worked as a sports anchor for CNN and HLN in Atlanta. Prior to joining Turner Sports, Ledlow was a CBS Sports Radio co-host. Ledlow worked for FOX Sports NEXT as a Field Reporter, covering ACC and SEC football and basketball. During the Florida State football season, Ledlow hosted "The Good News Show" on ABC 27 News and worked as a Sideline Reporter on ESPN Radio, in addition to writing for "The Tallahassee Quarterback Club" and "ESPN Tallahassee."
Ledlow, a Southeastern University graduate, was an All-American volleyball player and set school scoring records as a basketball player while majoring in Broadcast and Communication. As a student-athlete, Ledlow covered all athletic events and hosted and produced sports segments for Southeastern's local television network. Following graduation, Ledlow gained industry experience as an intern for Orlando's NBC affiliate during the 2009 NBA Finals and for ESPN during the 2010 ESPY Awards live broadcast.
9. Jackie Macmullan
Jackie MacMullan is an award-winning columnist and author. She is one of the most beautiful and successful NBA female reporters.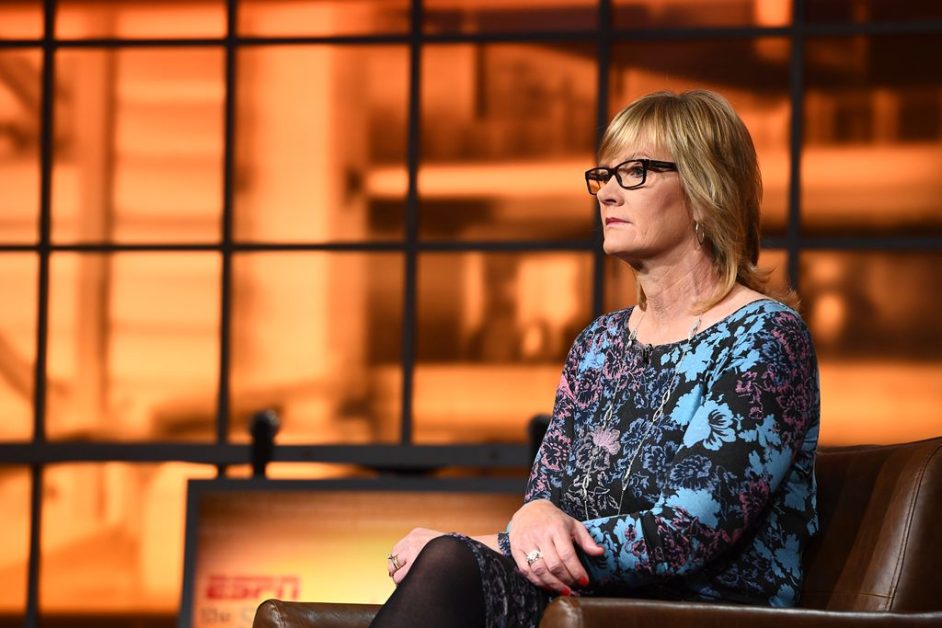 Jackie is a proud recipient of the Basketball Hall of Fame Curt Gowdy Media Award.
10. Tania Ganguli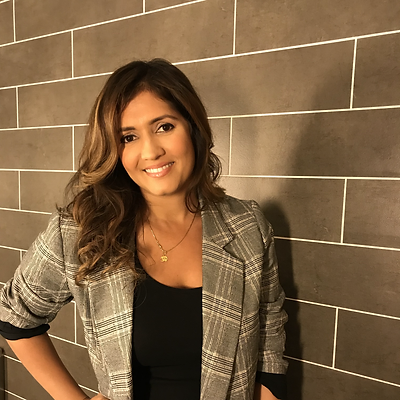 Tania Ganguli has shown herself as one of the most skilled beat reporters in the National Basketball Association.
This beautiful NBA female reporter is a graduate student at the University of Minnesota's Hubbard School of Journalism and Mass Communications. She began that journey after 15 years as a sports journalist.
She was the only woman hired in ESPN's inaugural group of NFL beat writers and the first woman and first woman of color hired as the Los Angeles Times' primary Lakers beat writer.
11. Lisa Salters
Lisa Salters is an American journalist and former college basketball player. She has been a reporter for ESPN and ESPN on ABC since 2000.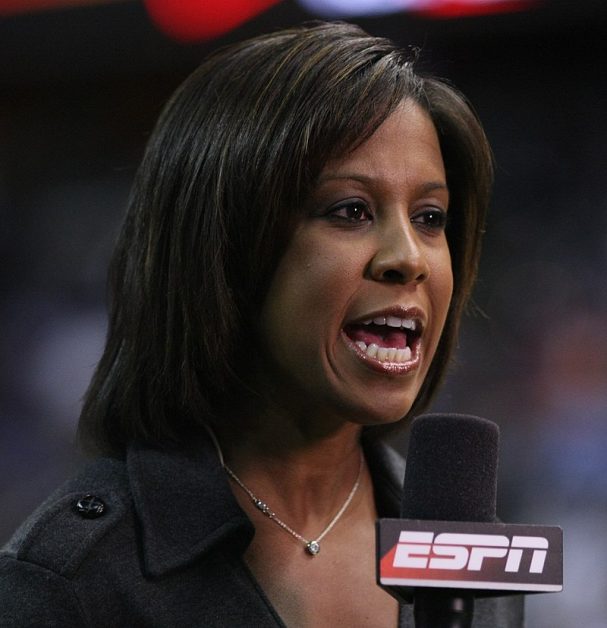 She is a sideline reporter and co-producer for ABC's coverage of the NBA and ESPN's Monday Night Football.
12. Ramona Shelburne
Ramona Shelburne is an NBA female reporter and senior writer for ESPN.com.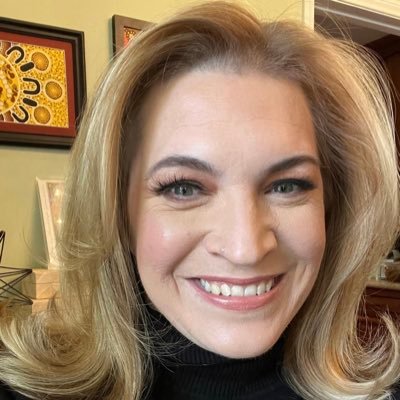 She is a well-known ESPN NBA Insider and a sports journalist in the United States. While still in high school, Shelburne was named the 1997 Los Angeles City Softball Player of the Year. After graduating from high school, she spent four years with the Stanford Cardinal in off-field activities.
Shelburne is an American sports writer who works as an NBA Insider for ESPN. From 2002 to 2009, she worked as a writer and columnist for the Los Angeles Daily News before joining ESPN.
Shelburne made her radio debut on February 14, 2016, when she co-hosted the nationally syndicated radio show Beadle & Shelburne, with Michelle Beadle, the anchor of ESPN SportsNation.
13. Maria Taylor
Maria Taylor is one of the best NBA female reporters.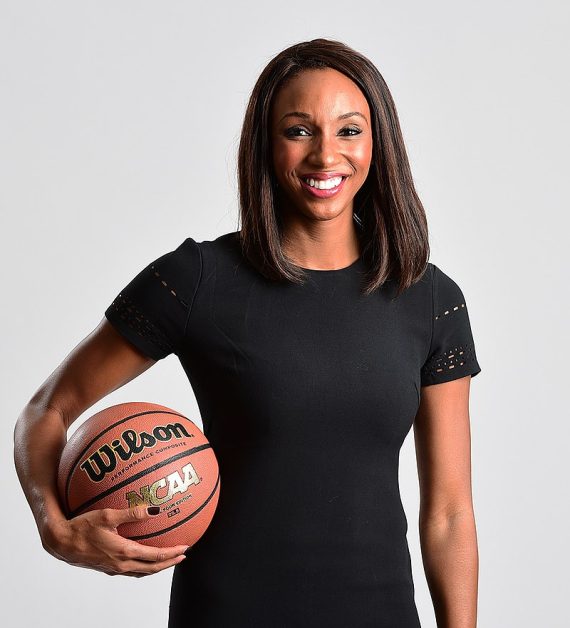 She has worked for ESPN and the SEC Network. She has covered college football, college volleyball, National Basketball Association (NBA), National Football League (NFL), and men's and women's college basketball.
14. Ros Gold-Onwude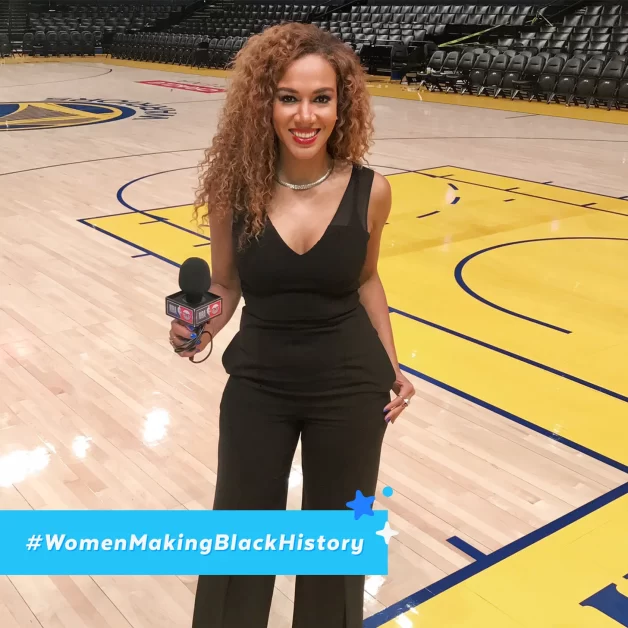 Ros Gold-Onwude is an American-Nigerian sports broadcaster.
Gold-Onwude covers NBA basketball for ESPN on TV, digital, and radio. And she is a weekly fill-in host for First Take with Stephen A. Smith.
Since 2012, Gold-Onwude has covered March Madness, the NCAA tournament, and Pac-12 Men's and Women's college basketball for Pac-12 Networks as an analyst and reporter.
Gold-Onwude recently joined Kevin Durant's and Rich Kleiman's 35 Ventures as one of the faces of "The Boardroom." Gold-Onwude also hosted "Don't at Me," a sports debate show presented by The Players' Tribune and streamed live on Twitter.
15. Allie LaForce
Allie LaForce is a journalist, model, and beauty pageant winner from the United States. She is a Turner Sports reporter who covers the NBA on TNT.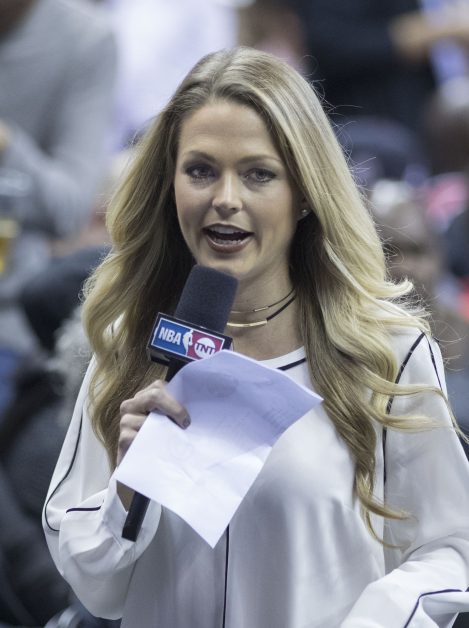 She previously worked as the lead reporter for SEC college football games, a courtside reporter for college basketball games, and the host of CBS Sports Network's We Need to Talk.
LaForce also worked as a broadcast sports anchor and reporter for FOX affiliate WJW in Cleveland, Ohio.
She won an Emmy in 2011 for her work as the host of FOX 8's Friday Night Touchdown high school football show. She was Miss Teen USA in 2005 and attended Ohio University for her college basketball career.
16. Cassidy Hubbarth
Cassidy Hubbarth is a host and reporter @espnNBA. She is one of the best females in the business.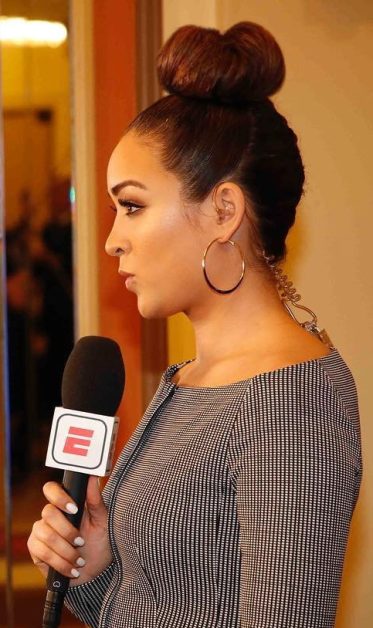 Hubbarth formerly hosts ESPN2's NBA Tonight and also anchors ESPN's SportsCenter and College Football Live.
She is a full-time reporter for ESPN's NBA game telecasts during the regular season and playoffs.
Hubbarth joined ESPN3 in August 2010 as a studio anchor for college football and basketball, in addition to hosting NBA games on the network. She also hosted several special ESPN3 programs, including the Madden Bowl, the Georgia Pro Day, and the Baylor Pro Day.
Conclusion:
When we talk about the NBA, we usually refer to the men's leagues, but there are women all over the place.
As we have seen, a lot of NBA female reporters have been in the business for years now and have become a regular part of the NBA show that we enjoy watching every day.
Recommended: