Is Automotive Aftermarket a Good Career Path?
The automotive aftermarket is known as the secondary market of the automobile sector, dealing with the production, reprocessing, supply, sales, and installation of all automobile components, parts, mechanisms, and equipment.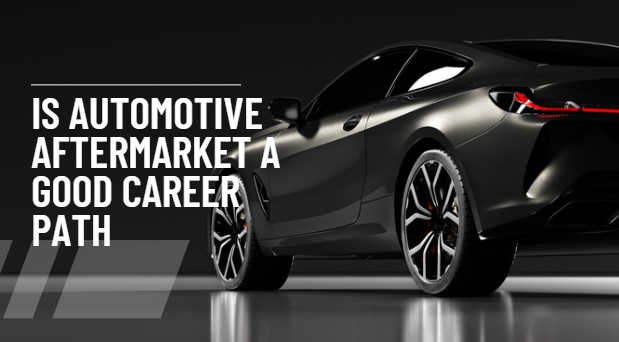 These products are typically manufactured and marketed by businesses besides the original equipment manufacturer (OEM).
The automotive aftermarket can be generally classified into two sectors: replacement parts and accessories.
Examples of replacement parts are wheels, battery packs, shock absorbers, and fuel filters.
Examples of accessories are seat covers, spoilers, and car radios.
The volume of the worldwide automotive aftermarket was projected to be approximately 265 billion U.S. dollars. The biggest markets for automotive aftermarket services and products are the U.S., Europe, and Asia.
The automotive aftermarket is a thriving industry. In order to get ahead, businesses must provide products that are of excellent quality, competitively priced, and aesthetically appealing.
There are a number of reasons why customers may choose to buy aftermarket items/products. They include:
First off, aftermarket products are generally less expensive than OEM components and accessories.
Furthermore, aftermarket products can sometimes provide superior performance or visual appeal than OEM parts.
Lastly, some customers may just prefer to do business with companies other than the OEM.
Is Automotive Aftermarket a Good Career Path?
The automotive aftermarket is a booming sector, and there are numerous career options you can choose from. Regardless of whether you're keen on marketing, brand management, strategic planning, or engineering stuff, there's an opportunity for you in the aftermarket.
The automotive aftermarket is estimated to rise 3.38% in the years ahead, so it's a great time to start considering a career in this line of work.
There are several career options available in the automotive aftermarket, so you'll be able to easily find something which best fits your interest.
Advantages of a career in the automotive aftermarket
The automotive aftermarket industry is a wonderful career destination for numerous reasons.
The automotive aftermarket industry provides its workers with a wide range of benefits.
Among the most valuable advantages is the opportunity for career advancement. In the automotive aftermarket industry, there are numerous roles that come with competitive salary and perks as well as numerous prospects for career growth. The automobile aftermarket industry is also a wonderful place to build new experience and garner new information and skills.
Another advantage of choosing a career in the automotive aftermarket industry is the opportunity to work with the most revolutionary and creative equipment in the world.
The automotive aftermarket is continually changing, and new services and products are regularly being invented. As you work in the automotive aftermarket industry, you will also have the chance to work with technological innovations as they are produced and launched.
Lastly, a career in the automotive aftermarket industry can be a fantastic way of meeting people and building friendships. You will regularly come into contact with people from various parts of the world working in the automobile aftermarket, which is a very dynamic segment of the economy. This may be a fantastic way to make new friends and explore diverse cultures.
The automotive aftermarket sector may be the best fit for you if you're searching for a demanding and adventurous career.
Best Medical Schools in the US (Comprehensive Report)
Downsides to a career in the Automotive Aftermarket Industry
For most people, a job in the automobile aftermarket is a fantastic fit.
However, when considering a career choice, keep in mind that there are a few possible drawbacks.
Poor salaries, occasionally linked to entry-level jobs in the automotive aftermarket sector, are among the major drawbacks. Even though you might be able to secure some lucrative jobs in this industry, like in finance or marketing, making headway in it might be challenging if you're not willing to accept a lower salary.
Another drawback of a career in the automotive aftermarket industry is the heavy workload that is often needed. Working nights and Saturdays are common in this industry, which can make it challenging to establish a positive work balance.
Lastly, it can be hazardous to work in the automotive aftermarket sector. Workers in this industry are constantly exposed to potentially dangerous tools and materials, which can result in fatalities or severe injuries if adequate safety measures are not taken.
Despite these possible drawbacks, many people find that a career in the automotive aftermarket sector is a great fit. If you're considering this industry, ensure that you properly weigh the benefits and drawbacks before deciding.
Job Types and Salaries in the Automotive Aftermarket
The automotive aftermarket is a big sector with a wide range of career opportunities. Here are three of the most popular jobs and their respective average wages:
Auto Body Technician: $65,766 annually
Auto Body Technicians are in charge of fixing and maintaining automobiles. They fix dents, scuffs, and other damage with a wide range of tools and machinery. They can also be in charge of car cleaning and painting.
Auto Service Technician: $51,150 annually
Automotive service technicians look over, fix, and maintain vehicles. They service all kinds and models of automobiles and trucks, including small private cars and big heavy trucks. Most automotive service technicians hold a certificate from high school or an equivalent qualification. Many people attend technical or trade schools for their tertiary education. Automotive service technicians need to be detail-oriented and competent to handle demanding tasks. While most automotive service technicians work in auto shops or car mechanic firms, some may also work for big businesses or in showrooms.
Automotive Parts Specialist: $33,611
Automotive parts specialists are in charge of a wide range of tasks that involve buying, stocking, and distributing components and supplies for automobiles. They can work in auto body workshops, new or used car showrooms, or other similar organizations.
FAQ
What's the ideal career in automotive?
Automotive Repair Manager.
Automotive body engineer.
Car appraiser.
Auto sales executive.
Production designer.
Mechanical Engineer
Engine Specialist
Is there a future in the automotive industry?
A dynamically growing world combined with rising globalization has unearthed previously unthought desires and needs for automobile consumers. As the sector's tech transformation continues to advance, a world of opportunities is starting to open as the entire terrain of the automotive industry changes.
Does it pay off to work in the automobile industry?
For individuals with suitable skill sets and competence, the career has much more to offer, from good pay to steady growth, to exciting projects. Among the most meaningful and rewarding parts of working as an auto technician is the significance of the work.