How Much does it Cost to Become a Pilot
If you have no prior experience and are interested in becoming a pilot, it will cost you $91,995, but if you have a private pilot certificate, it will only cost you $71,995.
Both costs include flight coaching and licensure necessary for becoming a commercial airline pilot with flight instructor qualifications. For student pilots who need financial support, there are many funding options and loans for flying training.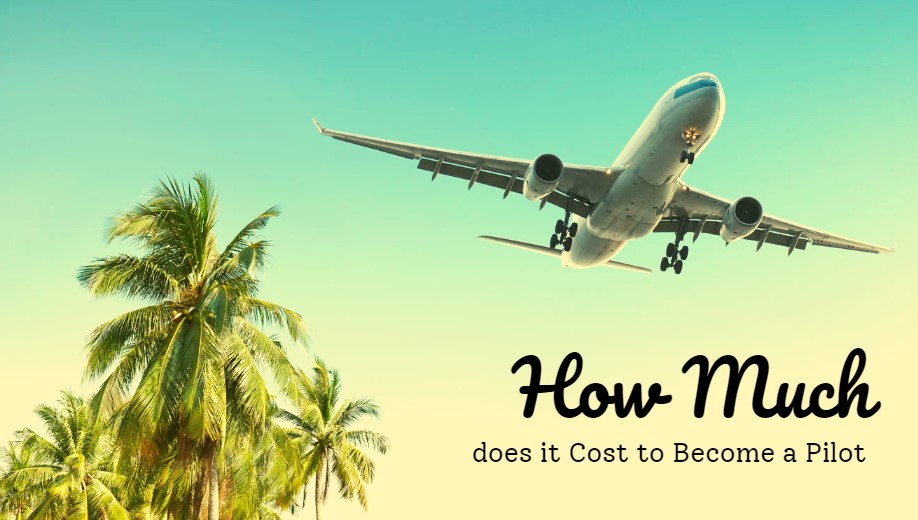 How Much Does Flight School Cost?
Broken down below are the estimated costs of pilot training or flight school. Note that prices may vary across flight training schools around the world.
Start from
Private Pilot Certificate
Start from
Zero Experience
Aviation Tuition to Become a Commercial Pilot
Pilot School Cost
$71,995
$91,995
Additional Expenses (Not Included in Program)
FAA Examiners' Fees & Knowledge Test Fees
(Paid Directly to Examiner & Third-Party Provider)
$8,400
$9,200
Third-Party Application
$200 (varies)
$200 (varies)
Mobile device, Headset, Flight suitcase & Other Pilot Instruments
$1,600 (varies)
$1,600 (varies)
The pricing structure for Private Pilot Licenses, Commercial Pilot Licenses, and Airline Transport Pilot Licenses
The table below shows how much it costs to get a private pilot license, commercial pilot certificate, and airline transport pilot certificate.
Pilot Certificate
Cost
Duration
Private Pilot Certificate
Included in Airline Career Pilot Program
$19,000
2 Months
Commercial Pilot Certificate
Single- and Multi-Engine with Instrument Rating and CFIs
$71,995
5 Months
Airline Transport Pilot Certificate
$5,995
5 Days
Read: Do you need a Bachelors to get a Masters?
How to lower the cost of becoming a pilot
Find a knowledgeable instructor.
A great instructor enjoys sharing their expertise, and the one who is best for you will explain each lesson in a way that will simplify the learning process. It's essential to find an instructor who is flexible and accessible and can work with your schedule.
Spend some time interviewing instructors, and if after one lesson or two you still don't feel at ease, look for a different instructor who will better meet your needs. You are making an investment of time and money. If you struggle during the learning process, it will cost you more time and money.
STUDY!
When you study for each lesson and arrive equipped, you can cut the cost of flight learning significantly. Before leaving for the airport, go through the recommended texts and mentally simulate the activities you'll be undertaking.
Fly frequently.
In a perfect world, you should fly at least twice a week during your flight training.
However, we don't reside in a perfect world. You should make an effort to fly at least once per week.
Use simulators, including desktop and loggable Basic Aviation Training Devices (BATDs).
These tools are excellent for teaching equipment, processes, situations, and instrument protocols, regardless of the fact that they don't behave exactly like a real aircraft.
You can improve your understanding of what you learned in your previous session by training in a simulator.
Realistically, using simulators could cut the cumulative time, hassle and costs of your pilot training by 10% to 15%.
Submit scholarship applications.
Yes, while there are scholarships available, they are usually overlooked. Explore scholarships and submit applications for all of the ones you are eligible for.
Look for a mentor who has previously earned their certificate at your flight school or in your local flying club.
Find a pilot who does what you want to accomplish in aviation and has the qualities and certifications you seek. Mentors are important, and you will benefit immensely from their expertise and advice.
Work as an intern handling things like font desk dispatch and aircraft cleaning.
Whereas internships are generally unpaid roles, there is a vast amount of knowledge to gain by being fully engaged in the pilot training environment. There might even be a chance to access some free flying time.
Speak with your boss about tuition assistance.
Many employers offer compensation for any training their employees undergo. Ask your human resources department if flight training fits your company's program.
Create a strategy.
Create a training schedule with your instructor that is specifically suited to your needs and learning style. Schedule goals for the future and follow through on them.
Review every month or so. You can monitor your progress and stay on track by doing this.
FAQ
How hard is it to become a pilot?
Being an airline pilot is not easy. The most challenging part of training to become an airline pilot is not so much learning to navigate a plane but rather the practical and written exams you have to take and pass during the training. It takes roughly four to five years to qualify as an airline pilot.
Is math in pilot training tough?
When you master the concepts, the calculations themselves are really not hard. All that is required is a complete understanding of the fundamentals: simple arithmetic, algebra, and division, as well as some computational thinking and practice.
How Long Does it Take to Become a Pilot?
| | Starting from Zero Time | Starting with Credit for Private |
| --- | --- | --- |
| Private Pilot | 2 Months | |
| Commercial Pilot | 3 Months | 3 Months |
| Certified Flight Instructor | 2 Months | 2 Months |
| Total Duration | 7 Months | 5 Months |