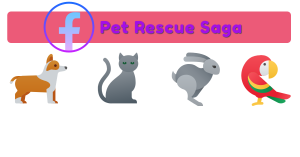 Facebook Gameroom has a plethora of games in store for the game lovers. The games available in the Gameroom cut across most genre you could ever want. Pet Rescue Saga is one of such games, and it basically involves saving pets from supposed "evil" pet snatchers.
See, once upon a time, pets and wild animals used to live together in peace and harmony, no big scary animal eating tiny little pets. Things remained so until said evil pet snatchers begun to abduct pets. As earlier stated, your game play will revolve around you getting these abducted pets to safety. To achieve this goal, you must match bricks of the same colour to clear each level and save pets.
To play the Facebook Pet Rescue saga game, first you have to gain access to the Gameroom. Below, you can find out how to achieve this.
How to Access Facebook Gameroom to Play Pet Rescue Saga
a. On Mobile Devices
Access your Facebook account via the Facebook app.
Tap on the hamburger menu icon.
Select "Games" from the options that pop up.
Search "Pet Rescue Saga".
Once returned in the search result, tap on it.
Hit the "Play" button to start playing.
b. On Computers
Access your Facebook account via the Facebook website
Once access is gained to your account, get to the left hand side of your newsfeed where you have the "Explore" tab.
Scroll down to find and click on "See more".
This will expose more apps. Scroll down to find and select "Games".
Enter "Pet Rescue Saga" in the search bar and hit search.
Click on the "Play" button to begin playing.