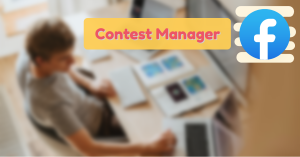 Facebook Contest Manager is Facebook's Contest administrative feature, made available to Facebook users to help them manage contests staged on Facebook. With this feature, Facebook users can create, personalize and monitor contests.
There are several contest manager apps which can be used to administrate contests set up on Facebook. In no particular order, some of the best such apps are;
Heyo
Wishpond
AgoraPulse
Shortstack
Woobox
Easy Promos
A. Heyo
Heyo is a more visual contest builder, compared to its peers. This makes it quite easy to set up contests tailored to meet your needs. Heyo provides template recommendations which cut across various industries. On top of that, Heyo offers a great level of personalization through its editable templates. The icing on the cake is, no code is required to carry out any of the processes required to set up a contest.
Heyo could be considered a "drag and drop" Facebook contest app used by most businesses to promote engagement and amass likes. These two, when put together can fuel purchases and increase sales. Heyo is targeted at entrepreneurs and small and medium-sized businesses.
With Heyo, you get a 7-day full featured free trial, after which you're charged $30/month or $300/year. Building contests is still allowed after the free trial period elapses, only you won't be able to publish them. Also Heyo places no limits on Facebook fans or page traffic, therefore, you don't incur extra costs as you become more successful.
B. Wishpond
This is a contest building and promotion app which allows its users create and manage unlimited campaigns, while offering a wide variety of tools to help customize and add features to contests. Some of those tools include landing page creators, retargeting Ads, email marketing automation, etc. Wishpond also has templates.
Wishpond offers a 14-day free trial option, which after users have to pay $19/month to continue using the app. To use Wishpond's lead database feature though, you would have to pay $44/month. The decision to pay that much is totally up to you. At times, your ROI on Wishpond may be such that going the extra mile for the lead database feature is completely rational.
C. AgoraPulse
AgoraPulse may be considered an all in one contest manager app, seeing as it allows users create apps, qualify, engage, manage contests and even analyze results with its ROI calculation dashboard. AgoraPulse allows you do all of these with ease.
For all its offerings, AgoraPulse charge $39/month for two pages earmarked at 50k fans.
D. Shortstark
Shortstack is one of the most comprehensive contest manager app. It offers a wide variety of features to choose from. There's a bit of learning and getting used to users have to do, but once done, you realize you get to exercise a lot of control over things.
It helps to create contests, campaigns, apps and also landing pages. Business owners could also create their very own custom tabs and contests on fan pages. Photos or videos can be added to promotions.
Shortstark offers flexibility. Not that you have to, but if you're ok with getting your hands a little dirty and doing some coding, there's provision to design with CSS/HTML. Also, if you wish to for some reason, promote your contest with QR codes, or run campaigns that show different content to users in different countries, Shortstack is guaranteed to grant you that much level of control.
Charges for Shortstack are based on a combination of features and audience size. For instance, if you have more than 30,000 fans, you're not allowed to use the $30/month plan. Instead, you'd have to go for the $75/month full package plan.
E. Woobox
Another popular app to use for your contests is Woobox. Though it may be tad more difficult to use than the aforementioned apps, it comes with most of the features they come with too.
Woobox has different selections of contest types to choose from. It also enables Facebook ads creation.
Its pricing is a bit complicated than the rest. Charges are based on a combination of features, number of promotions you can run per month, Facebook audience size and number of pages.
F. Easy Promos
Easy Promos is another good choice to go for. It is free, and provides three different package levels. As a user, you weigh your options and go for the one which best suit your needs for setting up an effective contest, quickly.