How to Change Language on Facebook – Changing your Facebook language to English is somehow difficult especially when the default language is a language you know nothing about.
Facebook is home to more than a hundred languages. So there is a likelihood that Facebook supports your local language.
But I want to let you know that Facebook's language setting is a relatively easy thing to do though some people have been having lots of challenges before they are able to do this due to the fact that they don't know the easiest steps they should take.
That's why in this article, I will have to clearly list out the steps you can use in changing your Facebook language to English.
Continue reading
Also Read: People Who View Your Profile On Facebook – People who visited my profile
How to Easily Set Your Facebook Language to English
Follow the guidelines below to successfully set your Facebook language to English.
NOTE: Chrome users may probably have no problem if given the option to translate it. Otherwise, do the following:
1. Sign Into Your Facebook Account
2. Click Here, after the language page has been displayed, click on "Edit" in the first line and it will show you the list of Languages available to choose from and "Save Changes". Alternatively, Go to Setting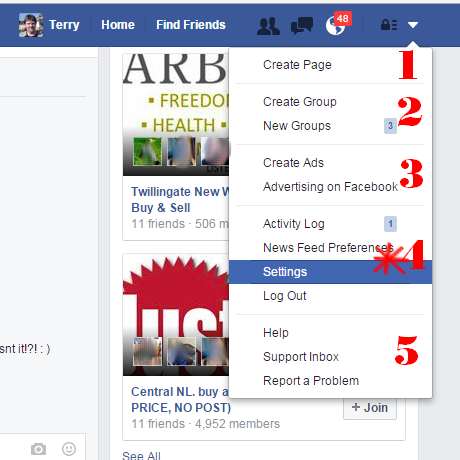 3. Click on the Language symbol ( blue ball)
Also Read: Create A New Facebook Account
4. Click on "Edit" in the first line and it will show you the list of Languages available
5. Choose your Preferred Facebook language in the drop-down menu.
6. Lastly, click on the "Save Changes" button and your language will immediately be set to the preferred language.
Also Read: How To View Your Facebook Profile As Someone Else | View to See My Facebook Profile As Someone Else Does
How to Easily Set Your Facebook Language to English via iPhone or Android
Open the Facebook app and ensure successfully sign in.
Tap on the bottom right corner to access the menu icon.
Tap on 'Settings & Privacy. A submenu will open and you will select 'app language'.
You can now manually change your language to English.
How to Undo a Language Change on Facebook
Did you switch to a language you do not even know on Fb? Even though you don't know some of the menus or settings, you can convert Facebook back into your favourite language.
One solution is to load Facebook through a translation tool, which will automatically convert the entire website to English, making it simpler to understand. However, this does not always work well, and it is also not a permanent solution.
Facebook has the same layout regardless of the language, so you can explore if you fully understand where the right buttons and choices are. Here's how to get it:
Navigate to the language options.
In Facebook's settings, you can choose your language and region.
Select Edit in the Facebook language section (it will be in the current language that you set).
Next to Facebook language, there's an Edit command.
Find your language by selecting Display Facebook in this language from the drop-down option. Then, to save the modification, select Save Changes.
How to Customize Facebook's Translation Options
Some posts on Facebook are automatically translated into your native language. English-language profiles will have their posts automatically translated into English. You can modify this language as well as disable Facebook's automatic translation of posts in a specific language.
From your Facebook Settings section, go to the "Language and Region" tab to change these settings. Select the very first "Edit" link under "Posts From Friends And Pages" to switch the language Facebook automatically converts posts to.
Select the second "Edit" option to block Facebook from converting posts and pages in a given language. When you're finished, input the languages you don't want to be able to translate from and click the "Save Changes" link.
If you have any questions, suggestions, and contributions pertaining to this, kindly use the comment section below, and we shall get back to you as soon as possible.
We also believe that this article was helpful, if yes, please use any of our share buttons below to share this article with your friends and family across the globe.