The Facebook Marketplace allows you to list items and find great deals directly within Facebook. You don't have to download another app or set up a new account. Through the Facebook Marketplace, you can reach thousands of people in your local community and find unique items for sale.
Also, you can find items from clothes to TVs and even cars and real estate. People sell used and new items and it's easy to find listings within your local area. Buying and selling are simple, and you can connect with others and see items in person before you buy.
Marketplace is available in the Facebook app and on desktops and tablets. To access the Marketplace, look at the bottom of the app on iOS or at the top of the app on Android. If using a web browser, you can find Marketplace on the left side of the Facebook page. marketplace isn t available to you
However, if you cannot find the marketplace icon, then there is no need to panic as in this post, I have outlined detailed steps with a screenshot on how you can restore access to your Facebook marketplace.
Step by step guide on how to get the Facebook Marketplace icon again
Here is a detailed guide on what you should do to restore the Facebook market place again.
First, you must know that the Facebook marketplace isn't available to everyone right now.
First thing you should do is try visiting the Marketplace
from this link
.
When you click the link, 3 things are likely to happen.
The link did not work for you
 The link works but it says your access was removed
The link works, but you don't see the  shortcut in the Facebook app
If any of the above options happened, here are possible reasons and remedies.
1. If the link doesn't work for you, it probably means that the Facebook Marketplace isn't available to you right now. Here are the possible reasons why you can't access the Facebook marketplace.
Why Can't I Access the Facebook Marketplace?
The Facebook Marketplace is still being developed, hence, the marketplace is being introduced slowly. What this means is that the Marketplace isn't available to everyone right now.
In other for the Marketplace to be available for you, you must,
Not be new to Facebook. In other to help protect the marketplace community from a scam, Facebook will not allow you access to the Marketplace. Hence, you need to check back later after you must have been engaging with your Facebook account for a while.
Be in a location where Marketplace is available. If you live in (or recently traveled to) a location where Marketplace isn't available, you won't be able to use Marketplace.
Marketplace is only available in the following location: Argentina, Australia, Austria, Belgium, Belize, Bulgaria, Canada, Chile, Costa Rica, Croatia, Cyprus, Czech Republic, Denmark, Ecuador, Estonia, Dominican Republic, Finland, France, Germany, Greece, Hungary, India, Ireland, Italy, Latvia, Lithuania, Luxembourg, Malta, Mexico, Netherlands, New Zealand, Norway, Panama, Paraguay, Peru, Philippines, Poland, Portugal, Puerto Rico, Romania, Singapore, Slovenia, South Africa, Spain, Sweden, Switzerland, Thailand, United Kingdom, United States and Uruguay
Be 18 years or older.
Use Facebook in one of these languages. To use Marketplace, make sure you're using Facebook in one of these languages.

Arabic
Chinese
Czech
Danish
Dutch
English
Finnish
French and French Canadian
German
Hebrew
Hindi
Hungarian
Indonesian (bahasa)
Italian
Malay
Norwegian
Portuguese and Brazilian Portuguese
Slovak
Spanish
Swedish
Thai
Turkish

Afrikaans

Use the latest version of the Facebook app: Marketplace isn't available on older versions of the Facebook app, or on iPhones models older than the iPhone 5.
2. If the link works but it says your access was removed it means that you used Marketplace in a way that goes against the Facebook Marketplace Commerce Policies or Community Standards.
However, if you think you did not violate the policies, you can contact the Facebook team to look into it. To do that,
Go to Facebook.com and click Marketplace in the left column.
Click Request Review and fill out the form.
Facebook will review your appeal and respond to you within a week. Remember to always check for updates in your Support Inbox or the email associated with your Facebook account.
Here is a screenshot on how to do that.
Go to the appeal form and fill the required fields, your name, and the detailed issue.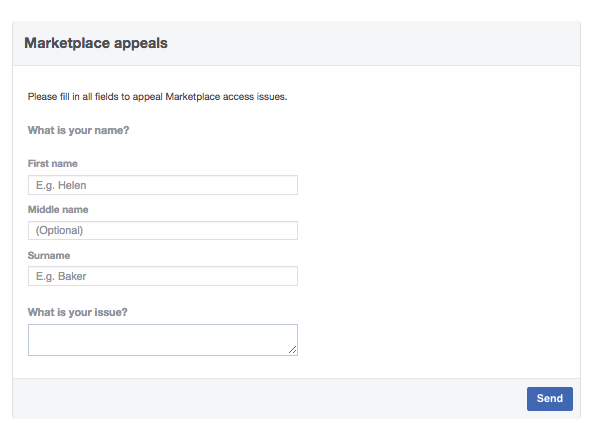 Complete the form by providing the relevant details in the column.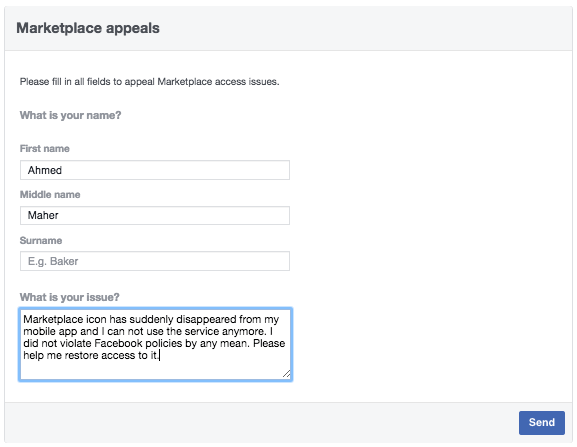 After completing your form, press submit. A notification message will tell you that the form was submitted successfully and you will get a notification within 1-2 business days. You can always check the status of the request via your support inbox at facebook.com/support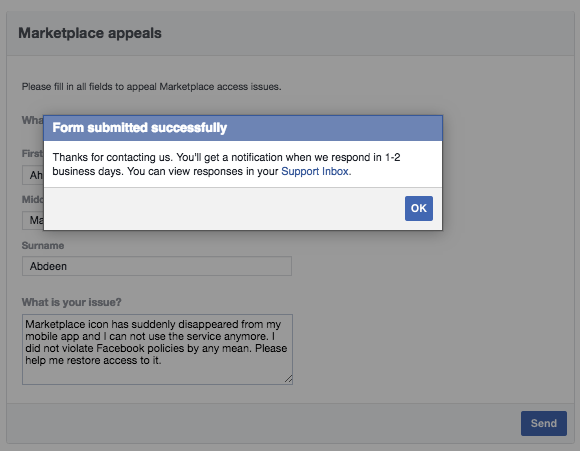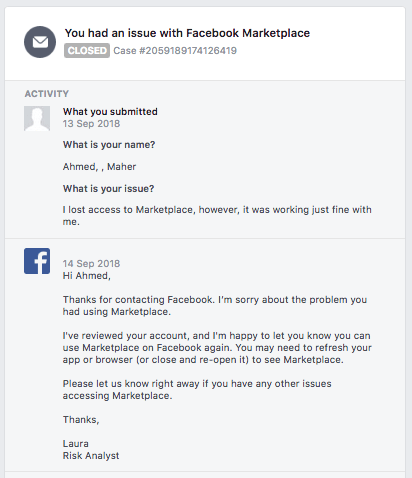 Note: If your Marketplace access has been restored, you may need to refresh Facebook.com or download the latest version of the app.
3. If the link works
, but you don't see the 
shortcut in the Facebook app, try visiting Marketplace from the menu. To do that,
Open the Facebook app.
Tap .
Tap . If you don't see , tap See More.