Does Amazon accept echecks? (2023 Review)
One may ask, does Amazon accept echecks?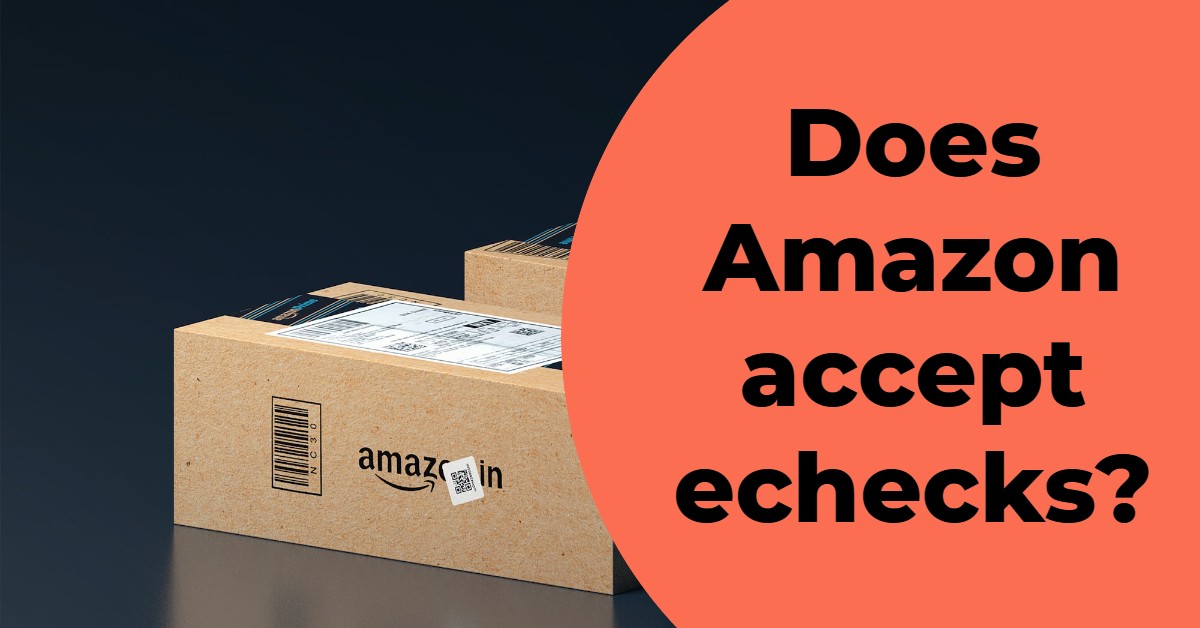 Amazon is the world's largest online retailer, specializing in e-commerce, cloud computing, and online advertising, among other things.
Many sources refer to it as an online darling because it has every product you need from the e-commerce network — from furniture to electronics. You can pretty much get anything from Amazon at competitive prices.
The online marketplace accepts all major credit cards as well as a number of other payment methods. But does Amazon accept echecks? Find out below.
What are echecks?
Before we answer the question of if Amazon accepts echecks, it is pertinent to know what an echeck is.
An e-check, also known as an electronic check, is a payment made electronically from your checking account.
An e-check functions similarly to a traditional check, except that instead of tearing a piece of paper from your checkbook, you provide payment information (such as your bank account, routing number, and payment authorization) via an e-check authorization form. This prepares your payment for electronic processing.
E-check payments have now become the norm as traditional check usage declines.
The ACH (Automated Clearing House) network, which is a critical piece of digital payment infrastructure for US financial institutions, processes electronic checks. You could think of ACH as a metaphorical highway for electronically moving money, and electronic checks are just one type of vehicle on that highway.
E-checks reach their destinations faster than traditional paper checks because paper checks require more logistical overhead to complete payment. When using traditional checks, the recipient's bank must first verify the check before sending it to the originating bank for verification. This may take some time to complete.
E-check processing is much faster, but it still requires the same information to function. When making an electronic check payment, the person must provide their bank routing number, account number, email address, and authorization.
Advantages of echecks
E-checks are analogous to paper checks, as email is to postal mail. E-checks convert all of the data required for a traditional check transaction into digital information that can be transferred electronically around the world.
Business owners use these types of checks for three main reasons: they are faster, they cannot be lost, and they are highly secure.
1. E-checks are fast.
Paper checks can take a week or more to clear before funds can be transferred from one account to another. Banks must confirm a paper check deposit by contacting the bank from which the check originated and confirming all relevant payment details. That can be a lengthy process.
However, e-checks are a digital "upgrade" to traditional paper checks. While they may still take two or three business days to complete, they do not take any longer (and they can sometimes even execute much faster). This reduces processing time and administrative costs, allowing businesses to receive funds sooner.
2. An e-check cannot be lost or misplaced.
It is easy to imagine misplacing a paper check. If this occurs, your only option is to obtain a new check from the person who wrote the first one. You also risk a malicious third party discovering the original check, which could lead to fraud if it is not canceled.
Because e-checks are intangible, they can never be lost. In fact, you have plenty of assistance from computer networks that are experts at keeping track of them.
3. Echecks are extremely safe.
E-checks are inherently more secure than paper checks and include additional consumer safeguards to protect against fraud.
There are five major points of security that contribute to echecks being the robust and dependable payment technology that they are:
i. Authentication:
The first step in the e-check payment process is to ensure that the customer "consents" to part with their money. This authentication is accomplished by verifying the payment submitter's account information.
The goal of authentication is to ensure that no fraudulent payment information is submitted or processed.
ii. Digital signature:
A timestamped digital signature helps to protect against fraud.
iii. Duplicate detection:
Duplicate detection is concerned with preventing fraud by looking for duplicate e-check transactions or other suspicious activity.
iv. Encryption:
Encryption is a well-known cybersecurity practice that conceals sensitive data so that it can move safely through a digital network. If a malicious third party intercepts this data, it is useless to them because they do not possess the private keys that decrypt the data. Every transaction on the ACH network, including e-checks, is encrypted.
v. Certificate authorities:
Certificate authorities are entities that store, sign, and issue digital certificates, such as the widely used SSL certificate, to certify the ownership of the public key used to encrypt data.
With echecks, customers can pay more easily, businesses can receive funds faster, and much of the bank authentication is automated.
Does Amazon accept echecks?
Yes, Amazon accepts echecks.
If you don't have a credit or debit card, you can use your US checking account to pay for your Amazon purchases.
Amazon requires your checking account number and bank routing number.
Amazon.com will deduct the payment from your account electronically. Your bank must accept electronic debits, also known as ACH.
If you frequently shop at Amazon and have an e-check, you'll be pleased to know that Amazon is one of the best online stores that accept eChecks without PayPal.
That, however, is only possible via bank transfer.
How to Use an eCheck to Pay at Amazon Without Using PayPal
Here is how to pay at Amazon using echeck without PayPal:
Purchase your preferred item and proceed to the checkout.
Select the "Add a checking account" option in the Shipping & Payment section of the Amazon checkout stage.
Enter your routing and account numbers, as well as your name, address, and driver's license or state ID number.
Complete the payment, and your item will be delivered.
How to Assign a Checking Account as a Payment Option on Amazon
If you don't have a credit card, you can pay for products with an ACH-enabled U.S. checking account.
Follow the steps below to use your checking account as a payment option:
Select Add a checking account at the Shipping & Payment stage of the checkout process.
Enter the bank routing number, also known as the ABA code.
Then enter the account number. The account must be an ACH-enabled checking account at a bank branch located in the U.S.
Enter the name and the address of the principal account holder.
Provide the principal account holder's valid U.S. driver's license number or state-issued ID number and the issuing state.
Read: How to Archive Amazon Orders (4 Simplified Steps)
Note the Following:
Contact your bank if you're not sure whether your account is ACH-enabled.
You can use any checking account provided your account is a personal account located at a branch in the U.S.
Savings accounts are not eligible.
Corporate and business bank accounts are ONLY accepted for Amazon Business Accounts.
Routing numbers are always nine digits long. Account numbers may be up to 17 digits long.
Some banks list the routing number first on the check, while other banks list the account number first.
Restrictions on Checking Account Purchases on Amazon
Yes, Amazon offers the ability to make purchases using a checking account. But Amazon does not accept echecks for certain purchases. The following are not eligible for purchase with echecks (items that you're unable to purchase with a checking account):
Gift Cards
Amazon Prime memberships
Digital items such as digital music
Subscribe & Save orders
Purchases over a certain amount based on the account's history with Amazon
Other Payment Options Accepted by Amazon.com
The following are other payment options accepted by Amazon:
1. Amazon Store Cards
Amazon accepts its own credit card and line of credit as payment methods. The online retail company also accepts the Amazon.com Platinum Visa Card and the Amazon.com Corporate Credit Line for businesses that use purchase orders.
2. Gift Cards
You can also pay for Amazon purchases with an Amazon.com gift card, which is available in a variety of denominations and can be purchased directly from Amazon as well as any store or outlet that sells Amazon gift cards.
If you use an Amazon gift card that does not have enough funds to cover your purchase, you can complete the transaction with another form of payment. This is the only time you can split payment methods.
Must Read: How to use Visa Gift Card on Amazon (Best Guide 2023)
3. Online Payment Transactions
Amazon's online payment service is safe and secure. All of your personal, credit card, and banking information is encrypted. The online store employs its own security service, which is not part of the Verified by Visa or MasterCard SecureCode systems, but all transactions are still secure from online theft.
4. Amazon Pay
Amazon Pay is a service that allows Amazon customers to use their account information to make purchases on other e-commerce websites. The Amazon Pay service is integrated with Shopify, BigCommerce, Magento, and many other e-commerce platforms, and customers can make payments using Alexa-powered devices.
Amazon Pay is ideal for businesses that primarily conduct online sales.
Payment methods that Amazon.com does not accept
Certain payment methods are not accepted at Amazon.com.
Payment methods that Amazon.com does not accept are as follows:
Checks or postal orders
Cash in any currency
Book tokens
Purchase orders
International wire transfers
Direct debits or standing orders
PayPal
Bank transfers
Pay Monthly
EBT Cash benefits
So, if we ask you once more – does Amazon accept echecks? The answer is YES. We hope you carefully read the guide. It contains all the information about the subject matter.
Recommended:
Jewelry stores that accept echecks (2023 Guide)
Does World Market Take Ebt? (2023 Update)