Facebook is the world's most famous and most prominent social network website, and everyone uses it to share messages, interact and build customer or fan base. But, in some cases, a lot of persons may want to delete their FB account or deactivate it for a short while, but don't know the processes involved.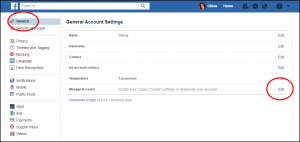 This article will guide you in the process of deleting any Facebook profile in less than 15 minutes.
Let's get started…
Don't know how to delete the Facebook account?
Follow steps to delete your account permanently.
Step 1: Generate a random new password. This will help you to forget your Facebook account password, and it will boost your account deletion even more.
Step 2:Change your Facebook password
Go to settings and privacy
Select: – security and login
Select: – Change password
Put your new password as generated above in step: 1
NOW DELETE YOU FACEBOOK ACCOUNT
Step 3: Click on this link https://www.facebook.com/help/delete_account.
NOTE: – You can get to this link by searching in 'Facebook help' page. All you have to search is 'how to delete the account permanently.' Then follow the steps. You might need to click on 'Let us know' link.
Step 4: Fill up your Facebook password and captcha.
Step 5: At this stage, you have put in your application for permanent account deactivation successfully. The account will be wiped off in fourteen days, as long as you do not attempt to log in within that time.
If you deactivate your Facebook account:
You will be the only one that will be able to view your profile.
Some information like chats can be viewed by friends.
Your name may pop up on restricted friend lists to be viewed by friends.
Your details and activities may still be viewed by admins of groups in which you have a membership.
You can still use messenger.
You can deactivate your account for as long as you'd like, but logging back in or using the account to log into a connected app/service will prompt the reactivation process.
Read: View Blocked list on Facebook